NFL Playoff Picture: Texans to be eliminated with loss to Jaguars
Since the Thursday night football game this week is not the cream of the NFL crop, here's a look at where each team would land after the game pending the outcome.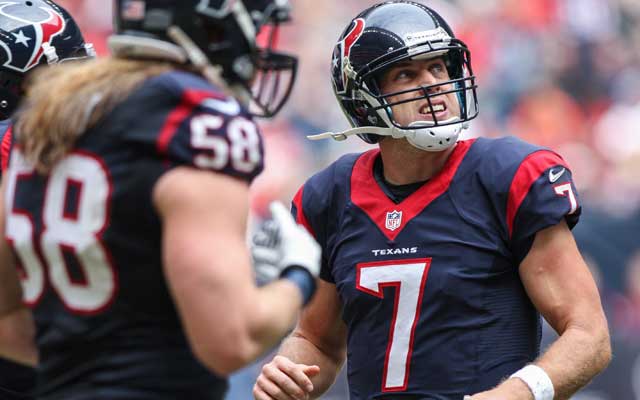 We've had some great NFL games this year, ones like the Broncos-Cowboys offensive fireworks show, the first Broncos-Chiefs "game of the year" and the overtime thriller between the Patriots and Broncos. But they will likely pale in comparison to this Thursday's clash as the 2-10 Houston Texans travel to the 3-9 Jacksonville Jaguars.
OK, maybe not.
Your first playoff picture question regarding these two teams may be, "how is Houston still alive for the playoffs at 2-10?"
Houston mainly benefits from a potential 6-6 conference record if they get to 6-10 with the slight benefit that they have head-to-head wins over San Diego and Tennessee. With Kansas City already having more than 6 wins as a division trailer and currently the #5 seed, Houston needs Baltimore (6-6) and Miami (6-6) to lose out to have a chance on overall record.
Miami losing out forces the New York Jets (5-7 but getting 6th win vs. Miami) to lose their non-Miami games. Miami would also be losing this week to Pittsburgh (5-7) which would give the Steelers a 6th win. The Jets and Steelers losing their non-Miami games gives Cleveland (4-8) two more wins taking the Browns to 6 wins. They also need San Diego (5-7) to beat Oakland (4-8) as the Raiders would get their 5th win against the Jets and would cause issues for Houston at 6-10 with 6-6 conf record and head to head win over the Texans.
So after all that, you get New York Jets and Miami in the East at 6-10 with the Jets on top due to division record. In the North you have Baltimore, Cleveland and Pittsburth at 6-10 with Pittsburgh dropping out of a 3-way tie on division record and Cleveland beating Baltimore on common opponents (5-7 to 4-8). Houston would represent the South at 6-10 and would beat Tennessee if the Titans got six wins on head-to-head sweep. Out West we have San Diego at 6-10 with their win over Oakland. That leaves us with a 4-way tiebreaker at 6-10 between the New York Jets (3-9 conference), Cleveland (5-7 conference), Houston (6-6 conference) and San Diego (4-8 conference). Since all four teams didn't play head-to-head and no team beat or lost to all the others, it would come down to conference record and you can see above that Houston would win that tiebreaker and secure the #6 seed in the AFC Playoffs.  
Now that we have that cleared up, what will be the effect of Thursday's matchup? If the Houston Texans lose or tie, they are eliminated from playoff contention. Simple overall record issue for the Texans. However, if Jacksonville loses, it would still need a win by any of the following teams to be eliminated this week: Miami, Baltimore, NY Jets, Cleveland or San Diego (ties also kick Jacksonville out of the playoffs except for San Diego).
Enjoy the game!
CBS All Access allows viewers to stream every NFL on CBS game in their local market

CBS All Access allows viewers to stream every NFL on CBS game in their local market

Two NFC East divisional foes face off this weekend in a big battle for both teams
Owners and CEOs from several teams released statements in response to Trump's remarks in A...

Nick Kostos won big on Monday nights last season and gives his best 3-team NFL parlay for Week...

CBS All Access allows viewers to stream every NFL on CBS game in their local market