NFL Playoff Schedule 2015: Cowboys-Lions headlines Wild Card Weekend
The dates and times for the NFL playoffs are set.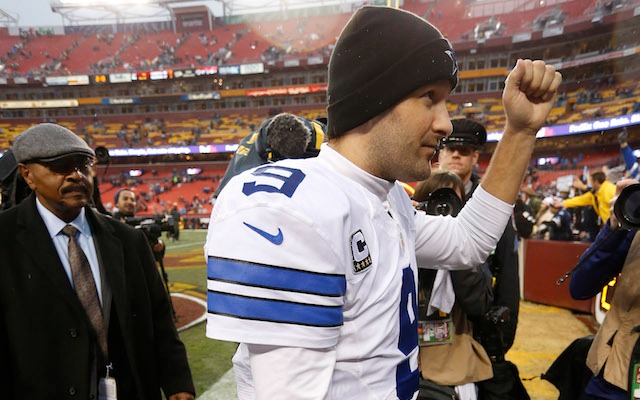 Let the playoffs begin.
The NFL has announced the dates and times for this weekend's wild-card games. The NFL postseason will kick off in Carolina on Saturday with the NFC South champion Panthers hosting the fifth-seeded Arizona Cardinals.
Tony Romo and the Cowboys will make their first playoff appearance in five years on Jan. 4 when they host the Lions. 
Peyton Manning and the Broncos will be the last playoff team in action this postseason. After taking Wild Card Weekend off, the Broncos will open postseason play in Denver at 4:40 p.m. ET on Sunday, Jan. 11, in a game that will be televised on CBS.
Here's the complete wild-card schedule:
Saturday, Jan. 3
NFC: No. 5 Arizona Cardinals at No. 4 Carolina Panthers, 4:35 p.m. ET (ESPN)
AFC: No. 6 Baltimore at No. 3 Pittsburgh, 8:15 p.m. ET (NBC)
Sunday, Jan. 4
AFC: No. 5 Cincinnati at No. 4 Indianapolis 1:05 p.m. ET (CBS)
NFC: No. 6 Detroit at No. 3 Cowboys 4:40 p.m. ET (Fox)
Divisional round schedule
Saturday, Jan. 10
AFC: Baltimore/Cincinnati/Indianapolis at No. 1 New England, 4:35 p.m. ET (NBC)
NFC: Detroit/Carolina/Arizona at No. 1 Seattle, 8:15 p.m. ET (Fox)
Sunday, Jan. 11
NFC: Dallas/Carolina/Arizona at No. 2 Green Bay, 1:05 p.m. ET (Fox)
AFC: Cincinnati/Pittsburgh/Indianapolis at No. 2 Denver, 4:40 p.m. ET (CBS)
Championship Weekend
Sunday, Jan. 18
NFC Championship, 3:05 p.m. ET (Fox)
AFC Championship, 6:40 p.m. ET (CBS)
NFL Playoff Seedings
NFC
1. Seattle
2. Green Bay
3. Dallas
4. Carolina 
5. Arizona
6. Detroit
AFC
1. New England
2. Denver
3. Pittsburgh
4. Indianapolis
5. Cincinnati
6. Baltimore
The Jags were laughingstocks as recently as this summer; now they're 60 minutes from an AFC...

The Jaguars are poised for the biggest upset in recent playoff history

The Broncos may have tipped their hand as to which player they're targeting at No. 5
The Steelers didn't have to look far to find their replacement for Todd Haley

The pop superstar will seek halftime show redemption at Super Bowl LII

Our computer model simulated the AFC and NFC title games 10,000 times with surprising resu...