NFL Power Rankings: Brady puts Pats in top spot after big win over Colts
The Patriots take apart the Colts and last week's No. 1 -- Arizona -- beats the Lions. But New England slides to the top because it has Tom Brady while the Cards start backup Drew Stanton.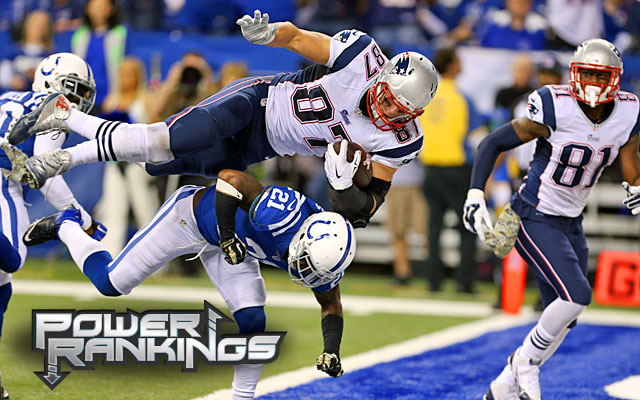 It seemed like quite a dilemma when mulling No. 1 in the Power Rankings this week, a difficult choice between red-hot Arizona and surging New England -- Nos. 1 and 2 last week.
At least that's how it seemed.
The Patriots took apart a solid Colts team, led by superstar in the making Andrew Luck.
The Cardinals? Todd Bowles' defense put the clamps on Matthew Stafford and Calvin Johnson, winning with backup QB Drew Stanton taking the reins from Carson Palmer, who's out for the season.
And that makes the choice clear, right?
One of these clubs starts Tom Brady and the other has ... Stanton, and for the foreseeable future. No contest. Say hello to your new No. 1, the New England Patriots.
| RANK | TEAM | |
| --- | --- | --- |
| 1 | | Partriots (Last week: 2): The 42-20 win over Indianapolis was so complete the Patriots are bumped to No. 1, even though the Cardinals (No. 1 last week) beat Detroit. New England has beaten the other three AFC division leaders by an average score of 43-19 and are in position to play at home throughout the playoffs. |
| 2 | | Cardinals (1): The Cardinals were impressive in beating the Lions at home, but they're playing with backup QB Drew Stanton while the Patriots still have Tom Brady, which was the reason for the switch at No. 1. |
| 3 | | Packers (5): The Packers are 5-1 -- averaging 37 points a game -- over their past six after putting up 53 vs. the Eagles. New England at Green Bay on Nov. 30 (CBS, 4:25 ET) could be a Super Bowl preview. |
| 4 | | Broncos (3): Scoring only seven points in a shocking loss to the Rams spells trouble for the once-invincible Broncos. Injuries to Julius Thomas and Montee Ball will make it tough to hold down the AFC's No. 2 seed. |
| 5 | | Chiefs (10): They play solid defense and run effectively on offense. Not many teams ground and pound against Seattle the way KC did. Tied with Denver atop the AFC West, the Chiefs (7-3) are zeroing in on the division title with an Arrowhead showdown vs. the Broncos coming up Nov. 30. |
| 6 | | Cowboys (7): The Cowboys had a bye Sunday and there were grumblings about Dez Bryant's deal -- never good for team focus with the playoffs in sight. Dallas runs it well, Tony Romo is healthy and the defense hustles. The schedule isn't easy with two left vs. the NFC East-leading Eagles (Nov. 17 at home, Dec. 15 at Philly). Next: The Giants on SNF. |
| 7 | | Lions (4): The Lions hold the NFC North tiebreaker over the Packers, having beaten Green Bay 19-7 on Sept. 21, but aren't scoring enough to be ranked ahead of the Packers. Scoring only six points in Sunday's loss at Arizona is a concern. |
| 8 | | Colts (9): The Colts have failed to stop the Patriots and the Broncos on offense. They currently are the AFC's No. 4 seed but their 27-0 shutout of the Bengals on Oct. 19 figures to eventually move them back up to No. 3. In Week 11, Indy surrendered 199 yards rushing and four TDs to the Pats' Jonas Gray, a former practice squad running back. |
| 9 | | Steelers (12): The Steelers are 6-3 vs. the AFC after beating the Titans 27-24 on Monday night, rebounding from a shocking loss to the Jets. Le'Veon Bell (204 yards vs. TEN) is really on his game and the defense gets Troy Polamalu and Ryan Shazier back after their bye this week. |
| 10 | | Eagles (6): The Eagles got a reality check when they visited the Packers on Sunday. Mark Sanchez looks like he can throw for 300 and two TDs every week, but everything else has to be right for this team to win big. |
| 11 | | Bengals (17): Sure the Bengals lead the AFC North, but they still have to play Pittsburgh twice (Dec. 7 at home, Dec. 28 at PIT) and four of their final six games are on the road. |
| 12 | | Ravens (13): Coming off a Week 11 bye, Baltimore visits the Saints, whose once-rock-solid home-field advantage has disappeared. That's good news for the Ravens, who need to make a move or get left out of the playoffs a second straight year. |
| 13 | | Dolphins (15): Beating Buffalo 22-9 last Thursday helped their playoff hopes, but a trip to Denver could put them right back in the middle of the pack. Ryan Tannehill is starting to look like the real deal and Miami's defense is solid. |
| 14 | | Seahawks (8): In its first outing without DT Brandon Mebane, Seattle struggled against the Chiefs' ground game. Marshawn Lynch and Russell Wilson can run their way past most opponents but the Seahawks' 2-3 road record stings. The three remaining road games are at San Francisco, Philadelphia and Arizona, which are a combined 22-8. |
| 15 | | 49ers (14): Getting Aldon Smith back helps the defense, and rookie Chris Borland has 55 tackles in four games replacing injured LBs. But can Colin Kaepernick deliver in the passing game when opponents take away the run? His numbers have steadily declined the past four games (SF is 2-2); he's averaging only 226 yards in the air and has thrown only four TD passes while taking 19 sacks over that stretch. |
| 16 | | Browns (11): Cleveland was the surprising leader of the NFC North before Sunday's loss to Houston. The Browns have not lost two in a row this season, bouncing back three times after a loss and averaging 26 points in those victories. Can they pull it off a fourth time Sunday at Atlanta? |
| 17 | | Chargers (19): Coming off a three-game skid and a bye, the Chargers returned with a win over the Raiders. But they have a brutal schedule going forward, including trips to Baltimore, San Francisco and Kansas City. Wedged in between those trips are home games against Denver, New England and the Rams. |
| 18 | | Texans (21): Ryan Mallett could make a difference going forward with his ability to throw deep. Winning his first career start without Arian Foster at Cleveland was impressive. The Texans could be a dark horse with a number of winnable games coming up. |
| 19 | | Rams (26): The pass rush came alive a month ago and Shaun Hill has helped the offense. When a team like the Rams beats Seattle, San Francisco and Denver in the space of a month, it's time to take notice. Finishing 8-8 is realistic. |
| 20 | | Bills (18): The Bills battle every week but can't get over the top and are stuck at .500. EJ Manuel beat the Dolphins and Kyle Orton lost to Miami, but remains the QB. If the Bills fall from the playoff race the next few weeks, expect to see Manuel again. |
| 21 | | Falcons (27): There is fight left in the Falcons and a "pride" win over the Panthers tells me the players are still competing for embattled coach Mike Smith. Strange as it seems, the Falcons hold down first place in the NFC South because they are 4-0 in division games. |
| 22 | | Bears (24): Who knows which team will show up? After two embarrassing losses, in which they surrendered a combined 106 points, they beat a Vikings -- limiting them to 13 points. Chicago still has to play the Lions twice (Nov. 27 at Detroit, Dec. 21 at Chicago), and that figures to tell us who the Bears really are. |
| 23 | | Vikings (20): The Vikings are young with a lot of fight and a rookie QB in Teddy Bridgewater. Now without Adrian Peterson the rest of the season (at least), they are building for 2015. I think they fall short of 8-8 this season, but with another solid draft they could contend. |
| 24 | | Saints (16): The Saints have issues, not the least of which is failing to protect home field -- which long as been their calling card. Losing two straight in the Dome -- to the Niners and Bengals -- when scoring a combined 34 points is something I'm not used to in New Orleans. |
| 25 | | Panthers (23): The Panthers won the NFC South last season with great defense and Cam Newton emerging as a star. But this season, the defense isn't rushing the passer as it did in 2013 and Newton has struggled, taking 32 sacks while throwing only 12 TD passes in 11 games. |
| 26 | | Giants (25): The Giants are a shell of what they used to be. Eli Manning takes the blame, but it extends beyond the embattled QB. Riding a five-game skid with the Cowboys -- coming off a bye -- visiting in Week 12 doesn't figure to improve this situation. |
| 27 | | Titans (29): Even though they aren't winning, rookie QB Zach Mettenberger looks legit. There should be optimism for the future with these young players, and I see them playing a spoiler role later this season. |
| 28 | | Buccaneers (31): The Bucs sacked Robert Griffin II six times en route to beating the Redskins, and Josh McCown stabilized Tampa's offense. Rookie WR Mike Evans is a star in the making but there are a lot of missing parts. |
| 29 | | Jets (28): The Jets are coming off a bye after Michael Vick led them to victory over Pittsburgh. They have some winnable games the next few weeks, especially if the secondary can hold up the way they did vs. the Steelers. |
| 30 | | Redskins (22): RG3 is a work in progress ... maybe. Griffin has missed a lot of practice during his career and needs work. Washington is 4-14 in his past 18 starts, he's thrown only two TD passes in 100 throws and is being sacked once every 7.5 pass plays. |
| 31 | | Jaguars (30): Coming off a bye, the Jaguars head into Indianapolis. The Colts won 44-17 in Jacksonville on Sept. 21, so any improvement upon that result would be a sign of progress. |
| 32 | | Raiders (32): Will they go 0-16? The schedule includes two vs. surging KC and a visit to Denver, the Niners and improving St. Louis. If the Raiders fail to win any of those, Buffalo on Dec. 21 at Oakland is their best shot. I hope it doesn't happen and I do believe there is some fight still left in this team. |
The Jaguars are taking some cool cleats with them to England

Tickets are dirt cheap and very much still available for the TNF matchup

The Lions are being recognized after beating two popular preseason picks to make the playo...
Hernandez was 27 when he committed suicide in April 2017

Mowins is set to become the first female play-by-play announcer in NFL on CBS hisory

The Rams have struggled against the 49ers but that was during the Jeff Fisher era