NFL Power Rankings: Colts are No. 1, but may not be here long
Indy's No. 1, for now. As impressive as wins over the Broncos, Seahawks and 49ers are, depriving Andrew Luck of lost-for-the-season Reggie Wayne figures to make the stay at the top a short one.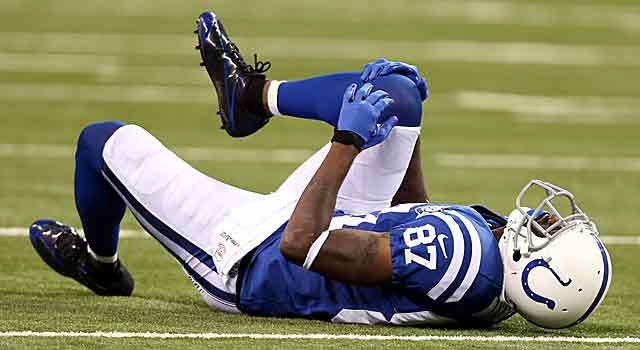 Indy's win over the Broncos was impressive, as are victories over the Seahawks and 49ers. However, a season-ending knee injury for wideout Reggie Wayne deprives Andrew Luck of a central target and damages its chances of remaining No. 1.
That brings us to the 7-0 Kansas City Chiefs. Why aren't they No. 1? If this were college football, we would use the term "strength of schedule." They don't have any. While the defense is strong, issues lurk on offense and they haven't beaten anyone like San Francisco or Seattle.
So, let's get into the this week's Power Rankings.
1. Indianapolis Colts: The Colts beat the Broncos on Sunday, and hold wins over the Seahawks and 49ers. They may not hold the top spot for long because Reggie Wayne is out, but the 7-0 Chiefs must beat teams like Indy has to take over the top spot.
2. Seattle Seahawks: No team has won the week after they play the Seahawks all season, as I pointed out more than a week ago. Last week they recorded seven sacks by eight players. Hard to figure out where the pressure is coming from.
3. Kansas City Chiefs: KC is undefeated, and some would automatically put the Chiefs in the top spot, but I can't yet. Their defense is great but the offense leaves some things to be desired. Four wins have come without Alex Smith throwing a touchdown pass.
4. Denver Broncos: The loss to the Colts is a bump in the road, and it was clear that playing on the road with two backup offensive tackles was difficult. Look for most teams to play man-under, two-deep schemes all season, feeling that four-man pressure up front can get to Peyton Manning.
5. New Orleans Saints: The Saints had a bye last week coming off a loss to the Patriots. It will be difficult to stay in the top five if Jimmy Graham isn't 100 percent going forward.
6. San Francisco 49ers: Re-committing to the run spawned the current four-game winning streak (averaging 33 points). No word on the return of Aldon Smith, which becomes a concern the longer he's out. The Jaguars are up next, which means that winning streak reaches five.
7. Cincinnati Bengals: Winning at Detroit with Andy Dalton throwing for 372 yards and three TDs is a strong indication this team will continue heading up the board. However, failing to sack Matthew Stafford in 51 pass attempts is a concern.
8. Green Bay Packers: The Packers are running out of receivers and pass rushers, but still win. The next two games are against division opponents Minnesota and Chicago. That's when we find out if Green Bay can weather these injuries.
9. Dallas Cowboys: Playing without DeMarcus Ware and DeMarco Murray seemed to give the Cowboys an excuse for a loss at Philly. Instead, the Cowboys limited the Eagles to three points and knocked Nick Foles out of the game. Anytime a defense limits LeSean McCoy to 55 yards at 3.1 per rush, it's doing something right. That defense has surrendered only 19 points the past two games.
10. New England Patriots: Too many mistakes and the most costly penalty by any team this season cost the Patriots a win at the Jets. They will regroup and be ready for the Dolphins at home. Rob Gronkowski looked good in his return.
11. San Diego Chargers: They made a quick turnaround from a MNF win over the Colts to take care of the winless Jags. I like the way Ryan Mathews has run the ball in the past two weeks (43 carries, 212 yards, 4.93 yards per carry).
12. Detroit Lions: The Lions can put up points but the defense really struggled against Cincinnati. The Cowboys and Tony Romo are up next, and they throw the ball as well as the Bengals.
13. Baltimore Ravens: The Ravens are 1-3 in the past four weeks, averaging just under 20 points a game. With two division games -- Cleveland and Cincinnati -- up next, any hope of winning the division will be decided by Nov. 10.
14. New York Jets: The front office is going to have a hard time firing Rex Ryan. His defense is excellent, the players love playing for him. He has a 38-33 record, including two AFC championship game trips. After beating New England in Week 7, he is 4-7 vs. Brady.
15. Pittsburgh Steelers: They're not dead yet! The Steelers have returned to their roots: very solid defense, a good running game and a QB who makes big plays. They have yielded only 22 points in consecutive wins. Le'Veon Bell makes a difference running the ball.
16. Carolina Panthers: The front seven on defense is among the league's best, and when the offense is turnover-free they win. In case you missed it, the Panthers have given up fewer than 12 points a game over the past month while going 3-1.
17. Chicago Bears: Jay Cutler is out at least four weeks (groin) and that's trouble. The Bears go to Green Bay, where the Bears have lost five straight while scoring only 10 points per game -- and that was with Cutler.
18. Atlanta Falcons: Matt Ryan showed why he gets paid the big bucks -- getting a win over Tampa without starting wide receives Julio Jones or Roddy White. Unfortunately, their 2-4 record can't be denied.
19. Tennessee Titans: A tough team with good players in the trenches. However, two turnovers last week led to a 14-point difference in the loss to San Francisco. I see some real promise in Jake Locker and things will get better for this club.
20. Cleveland Browns: Brandon Weeden is completing 52.8 percent of his throws and he gets sacked once every 10 attempts. Unless that changes, Cleveland will not move up this board.
21. Miami Dolphins: The bubble has burst in South Florida. The Dolphins were coming off a bye at home against a Bills team starting its backup QB. They lost and there are no excuses.
22. Washington Redskins: The defense is really struggling, and the offense will not overcome 30-plus point games by opposing teams. In Week 7, RG3 and Co., outscored the Bears -- getting 45 points. But the next two weeks they face Peyton Manning and Philip Rivers.
23. Buffalo Bills: My hat's off to Doug Marone for playing Thad Lewis when he lost EJ Manuel. That being said, the Bills need Manuel back to go anywhere.
24. Oakland Raiders: Things were quiet in Oakland with a Week 8 bye, but Terrelle Pryor can't continue to lead the team in rushing and be sacked once every eight pass plays. He will break down.
25. Philadelphia Eagles: A week ago, the speculation was that it was time for Nick Foles to be the permanent starter. But he suffered a concussion vs. the Cowboys and probably heading to the bench in favor of Mike Vick.
26. Arizona Cardinals: This is a decent defense. But on the other side of the ball, suspect pass protection for Carson Palmer makes them an up-and-down team.
27. St. Louis Rams: Sam Bradford is out and so are the Rams' chances for this season. Time to start preparing for 2014.
28. Houston Texans: There was some excitement about Case Keenum off the bench at QB. Then he was sacked five times, lost a fumble and the game. The injuries are mounting and this team may be done for this season.
29. New York Giants: They finally got their first win, but there are still so many issues. They struggle to run the ball, protect the quarterback and rush the passer.
30. Minnesota Vikings: Monday night looked like a job interview for Josh Freeman. He was in Minnesota for a few practices and they called 54 pass plays in his first game.
31. Tampa Bay Buccaneers: What part of 0-6 do you want to discuss? The 87 points scored, the switch at QB which was supposed to give the team the best chance to win or the head coach?
32. Jacksonville Jaguars: It will not be long before the Jaguars move out of the basement. They play hard and Justin Blackmon and Cecil Shorts will help win a game.
The Green Bay Packers quarterback seems to be a go for the Carolina Panthers game

Shazier's season might be over, but he still wants to help his team

The young head coach took the blame after a heartbreaking loss to the Eagles
Our computer model simulated every Week 15 NFL game 10,000 times with very surprising resu...

Britt is going from the worst team in football to a Super Bowl contender

With three weeks to go in the regular season, the MVP race is wide open