NFL Power Rankings: Payton has Saints rolling; Chiefs still stunning
The Saints are stacked on offense and the defense ain't bad, but the return of Sean Payton is what really makes them a contender again. Elsewhere, the Falcons are falling fast.
The first quarter of the NFL season had its surprises. The Chiefs are into the top four after a 4-0 start, while the Lions are in the top 10.
It's also a bit shocking to see the Giants and Steelers near the bottom, and the Falcons falling fast, but it's only four weeks. There's still plenty of football to be played.
1. Denver Broncos: The scoring machine is operating at high speed and the defense can stand on its own. If an opponent could score 50 on them they would have a chance.
2. Seattle Seahawks: Their road woes are a thing of the past. They are 5-1 in their past six away from Seattle, have held opponents to 17.5 points per game and rushed for 174 yards a game.
3. New Orleans Saints: Who says a coach doesn't make a difference? Drew Brees has so many weapons and the defense ain't bad!
4. Kansas City Chiefs: The season's biggest surprise. Andy Reid is working toward coach of the year. They do not beat themselves.
5. New England Patriots: An impressive road win in Atlanta over a Matt Ryan team that was 34-5 at home. The loss of Vince Wilfork will have a lasting effect on this Pats team, but right now they are riding high.
6. Indianapolis Colts: The Colts run the ball better than expected and Andrew Luck is like a 10-year vet under center. The defense doesn't lose games.
7. Detroit Lions: Bill Parcells says you are what your record says you are. Well, then the 3-1 Lions, who just put a whipping on the Bears, are pretty good at 3-1. Hopefully they can keep their focus going forward. What a difference Reggie Bush makes to this team.
8. Chicago Bears: The Bears weren't going undefeated, and they had their first setback this week. It will be an opportunity for us to see how Marc Trestman handles his team after a defeat.
9. San Francisco 49ers: The 49ers righted their ship after two straight losses by running the ball to the tune of 40 carries and 219 yards. That formula will keep them climbing back into the top five.
10. Miami Dolphins: So they lost to the Saints in New Orleans! This team is a tough out for anyone, and when they get Cameron Wake back, watch out.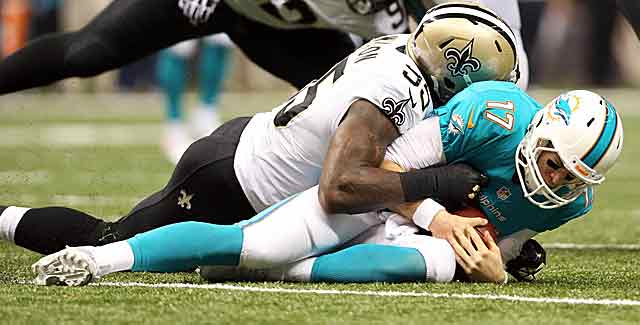 11. Tennessee Titans: Is it difficult to see the Titans this high up in the standings? Tennessee is a tough out, and you better be pretty good up front on your offensive and defensive line against these guys or they will beat you. The loss of Jake Locker is tough, but Ryan Fitzpatrick can keep this team moving forward.
12. Cincinnati Bengals: The loss to the Browns was a setback for sure, and the Bengals have to learn how to be on top of their game every week or they will be one and done in the playoffs once again.
13. Houston Texans: There will not be a change at quarterback, but there are concerns about Matt Schaub and getting this team where it needs to go. I wonder who called that pass play which turned into an interception when the Texans had the game against Seattle under control.
14. San Diego Chargers: The demise of Philip Rivers has been grossly overstated. Rivers, without Malcolm Floyd, still looks like a guy having a Pro Bowl year. Last year it took Rivers until his eighth game to throw his 11th TD pass. He's done it in four games this year.
15. Green Bay Packers: The Packers had a bye and a chance to regroup. They move up a spot without playing because of the teams around them that lost.
16. Dallas Cowboys: Just when I was ready to believe in the Cowboys they looked like earlier versions of the Dallas experience. I said last week that when DeMarco Murray gets 20 carries, the team is 10-0. He got 14 carries in the loss to San Diego.
17. Cleveland Browns: Brian Hoyer and the return of WR Josh Gordon have opened up this offense and with a solid defense it may be time to stop looking at the Browns like a last-place team. They are tied for first in the AFC North.
18. Atlanta Falcons: Too many injuries and no real running game to complement the passing attack. One more loss and they will fall to the bottom 10.
19. Carolina Panthers: The Panthers are coming off a bye and should be healthy. Their front 7 on defense is one of the best in the NFL. If they balance up the run game and get Cam Newton going in the right direction, they can contend.
20. Buffalo Bills: Three rookies making a big difference. EJ Manuel, Robert Woods and Kiko Alonzo are the building blocks for the future and they may be ready for some real noise this season.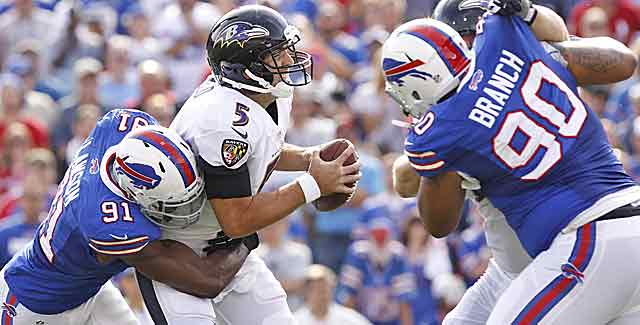 21. Baltimore Ravens: Joe Flacco can't throw five interceptions and take four sacks. The Ravens can't run for 2.7 yards a carry against the 30th-ranked run defense in Buffalo and expect this team to stay in the top 12.
22. Philadelphia Eagles: The Eagles offense is interesting but not intimidating and the defense is a liability. Denver just put a club-record 52 points on them. Peyton Manning scored on all five trips to the red zone against the Eagles.
23. Arizona Cardinals: The Cardinals were asleep for most of the game against the Bucs but came alive with the interceptions by Patrick Peterson. They will not beat good teams playing the way they did last week.
24. Washington Redskins: Beating the Raiders in Oakland is a start, but the Skins have a long way to go. If the injury to Alfred Morris keeps him out for any length of time the team will struggle. Washington is not playing Matt Flynn every week.
25. New York Jets: Rex Ryan probably has to win to keep his job but he's on the road with a rookie quarterback who looks lost at times.
26. Minnesota Vikings: Just let Matt Cassel play as long as the team keeps winning.
27. Oakland Raiders: Another A for effort, but without Terrell Pryor's escape skills we were quickly reminded of just how bad the offensive line is because Flynn was sacked seven times.
28. Pittsburgh Steelers: Ben Roethlisberger called his team the worst in the NFL. He will face the Jets and Oakland this month, and he should watch some Jacksonville tape to restore his confidence.
29. New York Giants: I don't know how Eli Manning will finish 16 games behind this offensive line. Last season, it took 441 pass plays and 12 games for Eli to be sacked 14 times. This year it took 165 pass plays and four games.
30. St. Louis Rams: Sam Bradford looked like a lost guy on the field last week and with zero running game, and the offense couldn't do a thing.
31. Tampa Bay Buccaneers: The Mike Glennon era is here and the Stadium already looks empty.
32. Jacksonville Jaguars: Thirty-one points in four games equals eight per game.
The bulletin board material is piling up for Sunday's AFC Championship game

The right tackle was behind the underdog masks and is now selling 'Home Dogs' shirts

Everything you need to know about the AFC and NFC title games
The Jaguars are poised for the biggest upset in recent playoff history

The Broncos might have tipped their hand as to which player they're targeting at No. 5

The Jags were laughingstocks as recently as this summer; now they're 60 minutes from an AFC...