NFL preseason: Nine things to take away from Thursday's games
Here's everything you need to know about Thursday night's action.
• 5 min read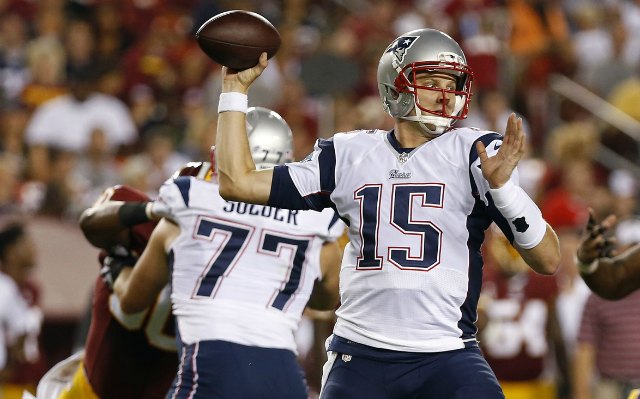 More NFL: Preseason scores |  Videos & GIFs |  Training Camp updates | Manziel
Coming off the Hall of Fame game last weekend, Thursday night was the first slate of multiple preseason games for the 2014 season. And there was plenty to digest.
Here were nine things I noticed from the six games played Thursday night in the first week of exhibition football.
1) You have to wonder if, once again, the Patriots are showcasing fourth-year backup quarterback Ryan Mallett for a trade. After all, they drafted Jimmy Garoppolo in the second round this year, leading to speculation about the availability of Mallett, and coach Bill Belichick made sure to give Mallett the start vs. the Redskins.
If teams were hungering for a possible Mallett trade, Thursday's performance might have slowed some of that momentum.
Mallett wasn't horrible -- he certainly was no Blaine Gabbert (see below) -- but he wasn't great either. He was just kind of OK. Which would be fine if he had Garoppolo's lack of experience. But at some point, Mallett has to show he can be an NFL quarterback, and thus far, his results -- mostly in the preseason -- have been spotty.
On his first series, Mallett showed nice movement in the pocket before throwing a pass that would have netted New England a first down if it weren't for an offensive holding penalty. On the first pass of his second series, he threw at Kenbrell Thompkins' feet, and the ball hit the turf before it could get to the receiver.
Mallett, who completed 5 of 12 attempts for 55 yards, threw a couple nice passes that were negated by penalties, and he seemed to get comfortable. But then he'd throw a terrible-looking jump pass that seemingly went over the head of everybody.
So, is he more tradeworthy now? Probably not.
Mallett is staring down his initial target on seemingly every throw. Shows me that he hasn't really grown much since hitting the NFL.

— NFL Philosophy (@NFLosophy) August 8, 2014
2) While Michael Vick continues to insist that he's the backup quarterback and Geno Smith is the Jets starter, Vick continued to look like a guy who still can make plays. (He's also a guy who can use his immense gifts to get himself and his team in trouble, but that wasn't the point on Thursday.)
During the Jets win vs. the Colts, Vick made an impressive run, getting around the left end and scrambling for 15 yards. Otherwise, he was ordinary, completing 3 of 6 passes for 17 yards and leading a touchdown drive while Smith went 4 of 6 for 33 yards while gaining another 10 yards on the ground.
Either way, free agent pickup Eric Decker could be important to Smith's development. They connected on the Jets first snap of the game, and later, a nice gain made by the two was wiped out by a false start penalty.
At this point, it'd still make perfect sense for Smith to be ahead of Vick on the depth chart. But the idea of Vick starting is something worth keeping in the back of your mind.
3) With the news that Cowboys starter Tony Romo would sit out the first preseason game as he takes it easy after offseason back surgery, that meant THIS GUY was going to start.
But you want to hear something surreal? Brandon Weeden looked good vs. the Chargers. He completed 13 of 17 passes for 109 yards and a touchdown. Just as importantly, he had no bad plays, no awful-looking interceptions.
And his touchdown throw was impressive, as he rolled right to escape pressure before unleashing a strike across his body to tight end James Hanna, who was already on the ground.
He threw a bad ball in the second quarter when Richard Marshall stepped in front of a Weeden throw and intercepted it, but in keeping with Weeden's charmed existence, the play was nullified because of a defensive holding penalty.
Yet ....
@ChrisBurke_SI @joshkatzowitz People in Cleveland and nationally were fooled by Weeden in preseason last year. Looked effective there

— Pete Smith (@PeteSmithWTFP) August 8, 2014
4) Last month, the Colts lost one of their starting linemen, Donald Thomas to a season-ending quadriceps injury.
In its first preseason game vs. the Jets, Indianapolis lost another member of that offensive line when starting center Khaled Holmes injured his ankle on the first series of the game.
He walked off the field under his own power, but he didn't return to the game.
Undrafted free agent Jonotthan Harrison immediately showed the value of Holmes when his snap on a third-and-goal went awry, hitting quarterback Andrew Luck in the shoulder pad and forcing him to fall on the ball. A potential touchdown gave way to a field goal, and the Colts have to hope that Holmes' injury isn't serious.  
5) So much for those new non-dad pants for Jim Harbaugh. This was certainly a disappointing development.
Pleats! My eyes! RT @Ravens The Harbaugh brothers meet on the Ravens shield to chat it out before the game. pic.twitter.com/RE1iF6jIVJ

— Melissa Jacobs (@thefootballgirl) August 7, 2014
6) Because the Bengals lost defensive coordinator Mike Zimmer to the Vikings, you had to wonder how well new defensive coordinator Paul Guenther's unit would perform. With the first-teamers on the field, the answer: pretty well.
The Chiefs' first-team offense went three-and-out on the first drive, and on the next series, Bengals defensive end Robert Geathers strip-sacked Kansas City quarterback Alex Smith to force the turnover.
7) There was some unfortunate news in the first quarter of the Seahawks-Broncos game when the game was delayed by lightning. Naturally, I sympathized with one group in particular.
That would be the sports writers who had to wait out the delay with deadline looming. Don't worry. I don't expect you to sympathize.
8) The 49ers had better hope Colin Kaepernick can stay healthy all season. Because backup Blaine Gabbert, picked up in an offseason trade from Jacksonville for a sixth-round pick, looked horrendous.
He tossed an awful-looking interception after staring down his receiver, and he was inaccurate with most of his passes. Overall, he finished 3 of 11 for 20 yards and that pick.
He taught us all an important lesson.
You want to know why guys like Dalton get paid? Fear of dudes like Gabbert having to play.

— Eric Edholm (@Eric_Edholm) August 8, 2014
9) Fresh off his new contract that could be worth up to $115 million but is actually more like a mid-tier quarterback's deal, Bengals quarterback Andy Dalton started the game with a 53-yard bomb to A.J. Green. Which led me to this conclusion:
THE NEW DEAL IS TOTALLY WORTH IT.
Particularly since Jason Campbell did his bestMatt Schaub impression and threw two pick-6s. 
Fans have been sending Anthony Barr plenty of hate mail over Aaron Rodgers' injury

Here's every official injury designation for each NFL team for Week 15

Foles replaced Vick during his previous tenure in Philadelphia, appearing in the 2013 play...
Mike Tierney has owned NFL totals and has a strong play for Chargers-Chiefs on Saturday

Dorsey didn't guarantee Jackson would return as coach in 2018

Everything you need to know about the Packers-Panthers game on Sunday afternoon