NFL preseason: Tom Brady's first action of 2014 is a success
Here are seven things to take away from Friday's preseason games.
• 5 min read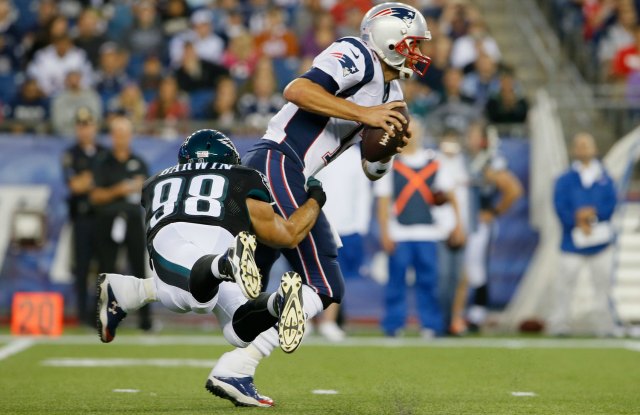 More NFL: Photos |  Videos & GIFs |  Training Camp updates | Manziel
Yes, it's preseason Week No. 2. But that doesn't mean Friday's exhibitions weren't important. They don't count in the standings, but they do give us a hint into (maybe) what we can expect to see once the regular season begins (is it here yet?). Even if the starters play for only about a quarter. As my colleague Ryan Wilson says, "Let's get to the knee-jerk reactions from Friday night's action!"
1) We saw Tom Brady for the first time this season and ...
He performed pretty well.
Brady didn't play in the team's first preseason game last week, but against the Philadelphia Eagles , Brady got to flex some of his muscles (and, once again, touch the butts of his centers).
Last week, it was all about seeing what Ryan Mallett could do and what kind of trade value he might offer (the answers: nothing all that impressive and probably not great). But on Friday, Brady got his turn -- for part of the first quarter, anyway.
After spending part of the week practicing against the Eagles, he completed 8 of 10 passes for 81 yards, a touchdown (on a beautiful back-shoulder ball to Kenbrell Thompkins ) and an interception.
The interception probably wasn't his fault -- the blame most likely lies with tight end Steve Maneri , who turned the wrong way coming out of his break -- but there wasn't a great explanation for why Brady did this.
Tom Brady's tackle attempt on Cary Williams' pick 6. Brady, ahem, failed. pic.twitter.com/bo8FZyYJYc

— Josh Katzowitz (@joshkatzowitz) August 15, 2014
Hey, Tom. Take it easy, buddy. There's still a whole season left to play.
2) The penalties made watching Friday's games brutal:
The NFL on Friday said that, through 17 preseason games (in other words, the games before Friday night), there had been 47 more defensive holding calls than had been whistled in 2013.
Those defensive holding/illegal contact/hands to the face infractions will be points of emphasis this season, and Dean Blandino, the man in charge of officiating, has said that won't change.
We saw this Friday night over and over again. In fact, during the second play from scrimmage of the first game of the night in Philadelphia vs. New England, officials called a hands to the face on the New England Patriots  offense. A couple of defensive holdings on the Eagles on the Patriots second drive gave them two first downs.
And it never ended.
We heard this from the referees multiple times throughout the night: "There are multiple flags on the play. Both on the defense. Both holding."
The New Orleans Saints - Tennessee Titans game wasn't much better.
Make that 14 accepted, 16 called penalties on the Saints.

— Larry Holder (@LarryHolder) August 16, 2014
That Holder tweet, by the way, came while the first half still was being played. And as the game wound down ...
22 Saints penalties. No words.

— Larry Holder (@LarryHolder) August 16, 2014
The (slightly) good news about the increased emphasis on making life harder for the defense: through the first 17 games of the preseason, the average game time has increased by only 1 minute, 10 seconds, according to the league.
But the Eagles-Patriots game, with 21 penalties for 169 total yards, was not fun to watch, despite the 42-35 New England win. And we heard all about it on the Twittersphere.
@richeisen It better change during the regular season or the #NFL will seriously lose fans…btw, officials were terrible last year as well

— Matt Williamson (@WilliamsonNFL) August 16, 2014

3) Is Jimmy Garoppolo the Patriots No. 2 quarterback now?
After Brady's night was over, Garoppolo -- not Ryan Mallett -- entered the game with about 5 minutes to play in the first quarter. True, Mallett has been dealing with an injury and hasn't practiced as much this week, but this was not a good sign for Mallett, especially coming off his mediocre performance in New England's first preseason game.
Even worse for Mallett, Garoppolo -- who completed 6 of 12 passes for 72 yards and two touchdowns -- played pretty well.
On his first touchdown throw, Garoppolo looked off his eventual receiver before turning to his left and hitting James Develin on a wheel route that turned into a 15-yard score. On his second throwing score, Garoppolo found Brandon LaFell in traffic for the 4-yard touchdown.
There have been whispers that Mallett is in danger of losing his roster spot, which might account for this first-half look.
Looks less than enthused RT @AlbertBreer: Body-language police about to apprehend Ryan Mallett. pic.twitter.com/CGmORqXash

— David Ely (@David_Ely) August 16, 2014
But Mallett had a strong second half, connecting with Brian Tyms on a nice 17-yard touchdown pass in the third quarter while completing 7 of 11 passes for 92 yards.
4) Nick Fairley loses his starting job, and C.J. Mosley takes it:
After the Detroit Lions defensive tackle worked with the second-team defense in practice this week, coach Jim Caldwell, despite saying not to read too much into who practiced with whom, demoted Fairley behind C.J. Mosley on Friday.
This is exactly what Caldwell said after Fairley worked with the backups in practice: "Who said he was playing on the twos? Was there a depth chart that said anything about it? ... What you see more so than anything else is we decide how we rep guys. It doesn't necessarily mean they're one, they're two, they're three, whatever it might be. It just depends on the situation. Don't read a whole lot into it."
Word is that the team is upset with Fairley's apparent weight gain, and though Fairley shrugged his shoulders this week when asked why he was playing with the No. 2s, it seems clear that the coaching staff is either 1) not happy with him or 2) trying to figure out a way to motivate him to play better. Or it could be both.
5) The San Diego Chargers first-half defense looked horrendous:
The Seattle Seahawks did whatever they wanted Friday, grabbing a 24-0 lead in the second quarter as Russell Wilson went 11 of 13 for 121 yards and two rushing touchdowns and Robert Turbin recorded 83 yards and a score on 12 carries.
San Diego's defense ranked No. 22 last season, but it struggled mightily against a talented Seattle offense.
All offseason we heard what a problem the Chargers secondary was going to be. But damn if that front 7 doesn't scare the hell out of me too.

— Aaron Nagler (@AaronNagler) August 16, 2014
6) Marshawn Lynch saw his first preseason game action of the season:
We think.
He was listed among the starters who played on the first play of the first series. But when the Seahawks started calling running plays, Lynch was nowhere to be found. Robert Turbin and Christine Michael took those first-team snaps.


Cardinals' running back says he's feeling more energized

The Vikings' receiver is wearing his heart on his foot

The Ravens need help on the offensive line after dealing with injuries and a surprise reti...
The new Dolphins quarterback offered high praise for his receiver after his first preseason...

LeSean McCoy was probably a pretty popular person in the Bills locker room on Thursday

Kaepernick is unsigned, but he is continuing to make waves off the field