NFL Stock Watch: 2013's impressive trio of rookie running backs
The NFL Stock Watch takes a look at who's up and who's down around the NFL. This week it breaks down the trio of impressive rookie running backs in the NFL.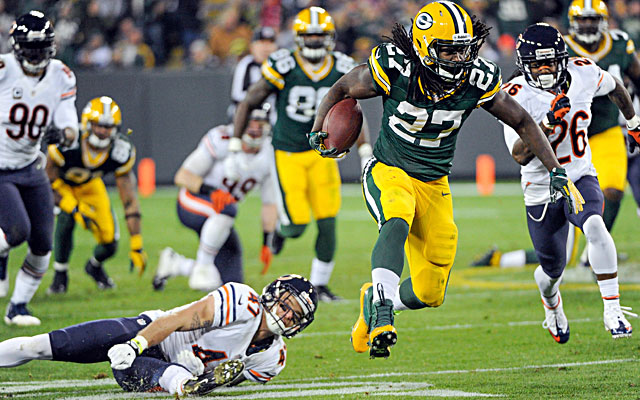 Last year's best known for a trio of rookie quarterbacks -- namely Andrew Luck , Robert Griffin III and Russell Wilson -- that dominated headlines and carried their respective teams into the playoffs. The outstanding trio of rookie running backs -- Eddie Lacy , Zac Stacy and Giovani Bernard -- we've seen emerge this year won't have the same postseason impact, but they've been impressive nonetheless.
The best part? They don't cost nuthin'. All of them were drafted in the second round of less during the 2013 NFL Draft, proving once again that you can high-quality talent at a low cost at the running back position.
A very nice investment indeed.
Eddie Lacy is probably the favorite for Offensive Rookie of the Year at this point. Since the start of Week 5 of the NFL season, he leads the NFL in rushing with 545 rushing yards. And he's getting better as he piles on carries: his 119 in that timeframe gives him a 4.58 yards per carry average over his last five games.
Watch his 56-yard scamper against the Chicago Bears from Monday night and you see exactly what makes him such a dangerous runner.
OK, OK, so maybe that was a giant hole created by the Green Bay Packers and maybe that was some bad defense by the Bears:
But you gotta remember most of this game Lacy was running against stacked front because Aaron Rodgers suffered an injury on Green Bay's first series. And he still managed 150 rushing yards -- a career high -- on 22 carries. His running style reminds me of Marshawn Lynch , flashing a powerful combination of strength and speed that looks almost violent on screen. He's the runner that Trent Richardson was supposed to be.
Giovani Bernard - The biggest issue for Gio in trying to win the OROY award isn't talent. No, no, no. It's getting the reps that's holding Gio back. In the last three games, Bernard has just 21 rushing attempts. That's one less than Lacy had last game alone!
Of course, Lacy can't do what Gio can when he touches the ball. For instance:
That's what makes Gio so impressive as a  By the way, Internet salute to Jon Bois of SB Nation for remaking that run into this.
Zac Stacy is the wild card in this group. The St. Louis Rams drafted him in the fifth round out of Vanderbilt and lots of people thought he could step in and make a difference for St. Louis. But he was buried on the depth chart behind Daryl Richardson and Isaiah Pead . Those guys couldn't do much, Stacy stepped in and he's crushing it. Despite taking just one snap in the first four weeks of the season, Stacy has 475 yards on the year.
That's even more impressive when you consider Sam Bradford went down against the Carolina Panthers in Week 7. In the two weeks since, Stacy's been grubbing at the buffet, rushing 53 times for 261 yards. That's an unsustainable pace but watch his 32-yard run against the Tennessee Titans last week and tell me this guy isn't the future of the Rams:
Even with guys swarming all over him, Stacy managed to bounce the ball outside twice and then flash burst to pick up the extra yardage on the sideline.
The running back position isn't nearly as important as it used to be. But these three youngsters provide hope for the future of feature backs in an era when we don't see many of them. 
Matt Ryan , QB, Atlanta Falcons : For the second-straight week, Ryan laid an egg. This time it was against the Panthers, as Ryan threw three picks. That gives him just two touchdowns and seven interceptions in his last two games. He's working without weapons or much protection, and on his first pick Luke Kuechly made a great play on a throw directed at Tony Gonzalez . Maybe this is a guy pressing. But it's not a guy who looks capable of carrying his team right now.
Ray Rice , RB, Baltimore Ravens : Things keep getting worse for the Ravens running game this year. Rice has 259 rushing yards this season and is averaging just 2.7 yards per carry. Last week Baltimore's leading rusher was ... Joe Flacco ??? The franchise quarterback carried the ball three times for 25 yards. The offensive line -- even with the addition of Eugene Monroe -- isn't blocking well at all. And you'd think that at some point Rice would get it going. But thus far he's been a massive letdown.
The 49ers' last three wins have come against the Rams though they're 0-19 against everyone...

The Rams have struggled against the 49ers but that was during the Jeff Fisher era

Two weeks into the season, the Chiefs keep creating long touchdowns. Can they keep it up?
CBS All Access allows viewers to stream every NFL on CBS game in their local market

CBS All Access allows viewers to stream every NFL on CBS game in their local market

CBS All Access allows viewers to stream every NFL on CBS game in their local market