NFL teams will offer in-seat visits from cheerleaders in 2014
In 2014, NFL stadiums will be offering something you can't get at home: In-seat visits from your favorite team's cheerleaders.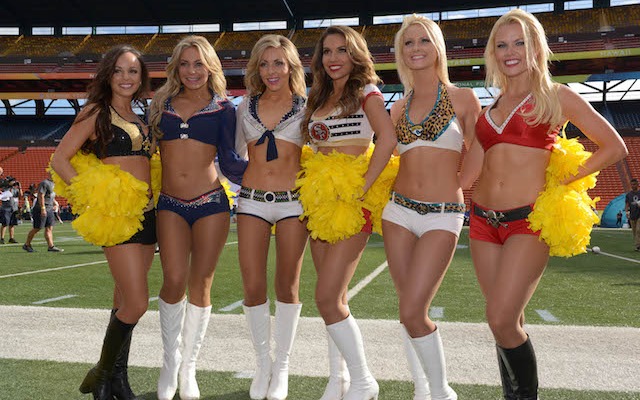 The NFL doesn't want you watching games at home, it wants you at the stadium cheering on your favorite team -- and spending lots of money. To get you to the stadium, the league knows it needs to offer things you can't get at home -- like cheerleaders, visiting you at your seat. 
That's one of the many perks that will be offered in 2014 as the NFL partners with app developer Experience in an effort to enhance the in-stadium experience for fans. Besides cheerleader visits, the app will also give fans the power to upgrade their seat and earn perks like pregame field passes, according to Sports Business Journal. 
The Buccaneers, Falcons and Seahawks were the only three teams to use the app in 2013, but that number should jump up to at least 16 teams for the 2014 season, according to Brian Lafemina, the NFL's senior vice president of club business development. 
In Seattle, the app allowed season-ticket holders to do things like kick field goals after the game. In Atlanta, the app allowed season-ticket holders to purchase 'experiences,' something the team had great success with, according to Falcons' chief marketing officer Jim Smith. 
"Anything from pregame on-field, to a birthday message, to cheerleader visits, to mascot visits, to the fly-by pass, which is a dedicated lane where you don't wait to get into the stadium," Smith said. "All the experiential things sold out within the first four hours they were made available."
Each individual team will decide whether the app is available to everyone or just season-ticket holders.
Hopefully the Titans will be doing in-seat cheerleader visits, because the field definitely isn't a safe place for Tennessee cheerleaders. 
Ken Norton Jr. didn't even last a week in San Francisco

One bettor in Vegas is going to make some serious money if the Jaguars win it all

The Jaguars, Vikings and Eagles have combined to win exactly zero Super Bowls ever
The Steelers wilted under the pressure of the postseason

The Bears fan is now officially linked up with the Packers quarterback

The Cardinals have the future in mind at quarterback with the dynamic Louisville quarterback...