NFL to award annual Deacon Jones Award to league sack leader
The NFL will now present an annual award in honor of Hall of Famer Deacon Jones to the league leader in sacks.
• 1 min read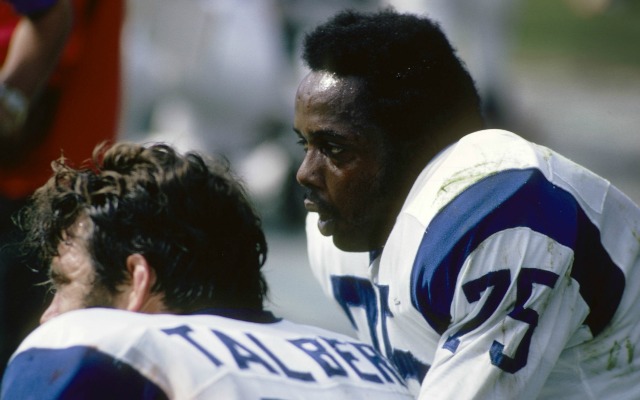 Less than three weeks after Hall of Fame defensive end David "Deacon" Jones died at the age of 74, the NFL said Saturday that the Deacon Jones Award will now be awarded annually to the defender who leads the league in sacks.
According to NFL.com, the award is expected to be announced at Jones' memorial service in Los Angeles on Saturday.
Jones spent most of his 14-year career with the LA Rams, where he managed eight Pro Bowl berths as a valuable member of the "Fearsome Foursome." He was the first to make use of the head slap on opposing offensive linemen. And though sack stats weren't kept during that time, Jones reportedly had four seasons with the Rams with at least 20.
As CBSSports.com's Clark Judge wrote, "Jones made the sack what it is today -- a barometer of pass rushers -- not only by what he did but by what he said. He reportedly was the first to coin the phrase, 'sacking the quarterback,' and it stuck.
"Washington GM Bruce Allen called Jones 'a giant' on and off the field, and he's right about that. The guy was as good an interview and storyteller as he was a football player, an ambassador who helped popularize the game.
"But he was more than that. He was a trailblazer. He drew our attention to a play that we appreciated but never recognized. … 'He redefined the game,' said St. Louis Rams executive vice president and COO Kevin Demoff."
Also on the long TD, Marcus Mariota saved his lineman from what may have been a disastrous...

The Titans looked dead in the water for three quarters, but scored 21 in the final frame to...

Hearing scheduled for Tuesday in U.S. District Court in New York
Trump's tweets, rallies and contact with NFL owners will be a major part of Kaepernick's legal...

Nick Kostos, a.k.a. 'Mr. Monday Night,' has owned Monday Night Football

Mariota missed last week's game with a hamstring injury