NFL to Panthers DE Greg Hardy: Your face paint is a uniform violation
Greg Hardy is going to get fined by the NFL if he decides to wear his 'Kraken' face paint this season.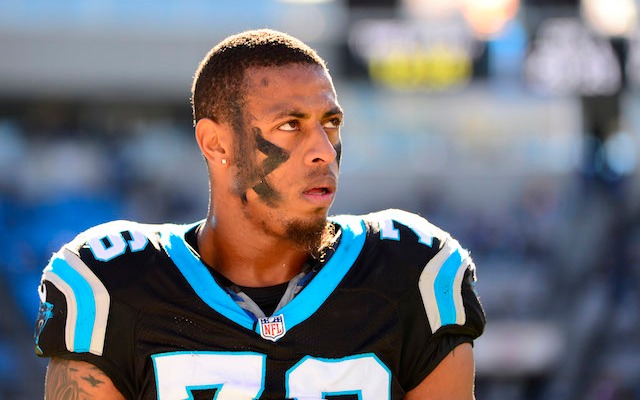 If the 'Kraken' shows up in Tampa Bay on Sunday, he's going to cost Greg Hardy some money. The 'Kraken' is Hardy's alter-ego on game day and the face paint design that Hardy uses to create the 'Kraken' has been outlawed by the NFL. 
The league office sent a memo to the Panthers listing all the possible uniform violations for this season and at the top of the list was Hardy's face paint. 
Violations this season include Greg Hardy face paint. #Panthers pic.twitter.com/gVyP32jyP7

— David Newton (@DNewtonespn) September 4, 2014
A spokesman for the league office told ESPN.com that the rule against face paint isn't a new one. However, the spokesman didn't confirm whether or not Hardy had ever been fined for the 'Kraken' paint. 
The guess here is that Hardy probably has never been fined for the face paint, otherwise he probably would've stopped wearing it earlier in his career. Hardy has been wearing the 'Kraken' paint since at least 2012.
Breaking the NFL dress code isn't cheap and Hardy knows that, he was fined $5,250 for wearing gold cleats last season. The NFL probably put Hardy's picture in the memo so he knows not to turn into the 'Kraken' this season. 
So what is the Kraken?
"The Kraken is a giant monster that just demolishes everything that moves," Hardy said in 2011. "On Wednesday or Thursday, I go down in my subconscious. I find him, and I unlock the cage. About Saturday he usually comes out. Then he's always out on Sunday. I don't control him then. What he does when I'm not there, I don't know."
Hardy better get the 'Kraken' under control this season or he could owe the league some serious money. 
Gordon's various suspensions will once again prevent him from truly reaching free agency

The Colts traded for Brissett prior to the start of last season due to health concerns for...

Colvin was a big part of Jacksonville's defensive improvement but is likely moving on
Vinatieri is about to finalize a deal to return for his age-46 season

Freddie Roach is one of the most decorated boxing trainers there is

Gruden knows about the pressure of his new gig, and he isn't shying away from it