NFL Trends: The harsh truth of firing season; odds against No. 1 seeds
What really goes on behind the scenes when a coach gets axed? It's never pretty. We also look at playoff pretenders and the odds against No. 1 seeds.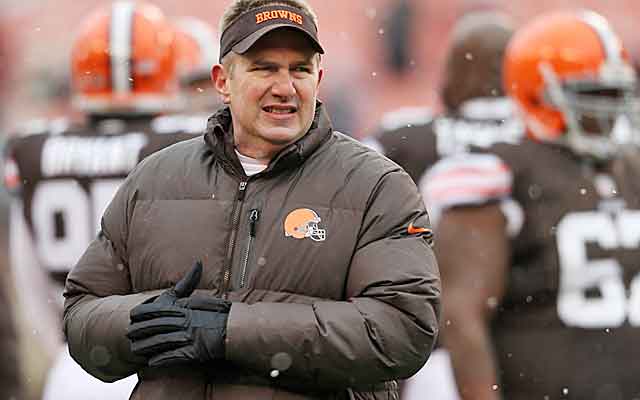 Twelve teams are in the postseason while at least six NFL head coaches and their coaching staffs are not having a happy new year as they figure out what's next in their coaching lives.
Between the playoff teams and the firings, there are a wide range of emotions this time of year.
There was a five-year span in my NFL career where I was involved with four different head coaches. The firings weren't pretty, to say the least.
Once an owner gets an appetite for firing his coach, rather than weathering the storm of a poor season or two, the club is usually headed down a steep cliff with the end result being a bad franchise.
Pete Carroll was one of the four head coaches fired in that five-season stretch. He got the same treatment Rob Chudzinski got in Cleveland this week, being let go in less than 365 days on the job.
I hope for Chud's sake he winds up like Carroll, coaching another team in the playoffs, while making the Browns look bad for their decision. I had a number of Cleveland fans voice their frustrations to me over the Browns constant firing of coaches. They wonder why their team can't operate like the Steelers, a franchise with just three coaches since 1969.
Even the Bengals frustrate the Browns fans because Bengals owner Mike Brown refused to fire Marvin Lewis when times were tough in 2007-08 and Cincinnati won just 11 games in two seasons. Since the start of the 2009 season the Bengals have won 44 games. They are also in the playoffs for the third straight year.
I went back and counted the number of assistant coaches, front office people, scouts, trainers, secretaries, PR staff and support people that were caught up in the four staff changes that I was involved with, and I wish I didn't, because it was a bleak reality.
There were a combined 82 people let go from those four regime changes, and less than half of them ever returned to an NFL team. There are a lot more people looking for work to start 2014 than just the six head coaches who have already been let go.
I am always asked this time of year how the firing-hiring process works. The answer is it can take on many different styles. The firing usually is driven by the owner and he can be influenced by a number of people.
Cases in point:
• I have seen the owner's wife drive the final nail into the coach's coffin.
• I've seen the 'bean counter' CFO scare the owner into thinking he had to fire the coach because of empty seats and, more importantly, luxury box owners screaming they wouldn't renew if the coach came back.
• I've seen friends of the owner have way too much influence on the owner and convince him to let the coach go.
• I remember a former team doctor scare an owner into believing that the coach was taking too many medical risks in the draft and playing guys he felt shouldn't play.
Of course some impulsive owners listen to the media and respond to that noise. The smart owners don't let any of those issues influence their decision.
Men like John Mara and Art Rooney listen to their football people and know why a situation is bad and how to fix it.
When it comes time to make a coaching change this process can take many twists and turns.
Some owners hire a consultant while others use a head-hunting firm. Teams and owners that head in this direction either don't know enough about viable candidates or don't believe the GM is capable of leading the search.
My experience with search firms hired to look for NFL head coaches is that the firms don't really know the candidates or enough about the job of coaching a team to be in the middle of the process, but some teams pay lots of money for a list they could have done themselves.
I know an owner who will remain nameless who had a search firm in place more as a cover-up so he could work behind the scenes. He called me, among a few others, trying to secure a certain candidate on his own because he didn't want his GM involved in the real search because he was planning to fire him as well if he could get the right guy.
I once set up a secret meeting between an owner and a candidate at a remote spot outside the United States and the owner flew in on his plane with the team logo on the side. End of the secret meeting, to say the least.
I worked for an owner that let the GM hire the first two head coaches and then, unannounced, hired the third by himself and on the fourth used a liaison to communicate with the fourth coach.
How you get to the right person isn't the question, but getting the right person and keeping him through the bad times is the challenge. For example, back in September, the outside world thought Ron Rivera was a dead man walking and now he's a coach of the year candidate.
NFL head coaches aren't naive and that's why they have contracts with guaranteed money.
When a head coach gets fired they receive the rest of the money in the contract with few exceptions. Occasionally an owner will try and fire a coach with cause. Translation: the owner doesn't want to pay the remaining portion of the contract and thinks he can prove the coach did something to breech the contract.
Al Davis refused to pay Mike Shanahan or Lane Kiffin the remaining money on their deals and, to my knowledge, went to his grave without ever paying off the deals. Most NFL head coaches have 'offset' language in their contracts that states if the coach is fired and he takes another job in the NFL as a head coach or assistant, the former team can recoup that portion of his new contract.
For example, if a head coach is fired and the club owes him one year at $5 million but the coach gets a coordinator position at $1 million then the old club only owes him $4 million. Some teams are now forcing college coaching positions into the 'offset' language so a fired coach can't run straight to a college job and double dip.
Fired head coaches are very attractive to NFL teams because they can pay them a low salary while they are still under their old contract and get a very good coach. The NFL will step in if a new club tries to go too low with a salary on a former head coach. The league will insist that the new salary is somewhat on par with the market.
Believe me, teams still get a quality coach below value most of the time. I had a head coach once say "that there are no true head coaches in the NFL just a bunch of coordinators that are occasionally head coaches for a little while."
There's a lot of truth in that statement. At this time there are 17 former head coaches in coordinator roles and another six in other capacities with clubs.
For others less fortunate to find work in the NFL, the media is an outlet for very few while others find something to do in the college or even the high school ranks.
Some others call it quits and retire. I see a number of former head coaches down in Southwest Florida playing golf with little else to do. As for the assistant coaches fired this past week, maybe 35 percent will catch on with another team, but when I get to the Senior Bowl in Mobile on Jan. 20, there will be close to 100 men looking for work with a desperate look on their faces.
Record vs. the best
All 12 teams left in the 2013 season feel like once you get in anything can happen. In one sense that's true, but let's look at how all 12 teams did this year against playoff-caliber teams.
It's easy to beef up an overall record against weak teams, but inside the schedule your record against playoff qualifiers may tell a different story. Some teams have faced seven playoff teams and are battle-tested while others faced just three playoff teams.
San Diego Chargers: 5-2, beat Philadelphia, Indianapolis, Denver and Kansas City twice.
Indianapolis Colts: 4-2, beat San Francisco, Seattle, Denver, Kansas City.
Denver Broncos: 4-3, beat Philadelphia, San Diego, Kansas City twice.
Cincinnati Bengals: 4-0, beat Green Bay, New England, San Diego, Indianapolis.
Seattle Seahawks: 3-2, beat Carolina, San Francisco, New Orleans.
Carolina Panthers: 3-2, beat San Francisco, New England, New Orleans.
San Francisco 49ers: 2-4, beat Green Bay, Seattle.
New Orleans Saints: 2-3, beat San Francisco, Carolina.
New England Patriots: 2-2, beat New Orleans, Denver.
Kansas City Chiefs: 1-5, beat Philadelphia.
Philadelphia Eagles: 1-3 beat Green Bay.
Green Bay Packers: 0-3.
The coveted No. 1 seed
Teams focus all season long on winning enough games to get the No. 1 seed in the playoffs to have all the postseason games go through their home field on the road to the Super Bowl. The home field for the Denver Broncos and Seattle Seahawks looks very attractive and makes them the favorites to reach New York for the title game.
One Seahawks player told me the late-season loss to Arizona served as a wakeup call that the team could lose at home. It's a silver lining for sure, having home-field advantage, but history says it is still going to be a rocky road for both the Seahawks and Broncos. If you go back to 2000 and look at No. 1 seeds there's only a 42 percent chance that teams make it to the Super Bowl and only a 7 percent chance of winning the big game.
Only one time since 2000 did both No. 1 seeds make the super bowl. Keep in mind the No. 6 seed or the last team to even make the playoffs has as many super bowl wins as the No. 1 seed. Does anybody feel as good about the San Diego Chargers or New Orleans Saints as they do about the Broncos or Seahawks?
They probably should, but not many fans do.
Quick facts for this week's eight teams
• The Saints, who will play in Philadelphia this week, have never won a road playoff game.
• Andy Dalton hasn't thrown a postseason touchdown in two playoff games but he has thrown four interceptions. The Bengals have lost five consecutive playoff games since their last victory in 1990.
• The Chiefs have lost seven consecutive playoff games. Their last postseason victory came in the 1993 season with Joe Montana under center.
• The Saints have not scored 30 points in any road game this season. They averaged 18 points in road games and 34 at home.
• Drew Brees as the Saints QB in cold weather is 2-6, and in those games his team averaged 24 points.
• LeSean McCoy averages 23 touches and 135 yards a game, and seven of his nine rushing touchdowns are at home.
• Nick Foles has been sacked 11 times in his past three games.
• The Niners are 3-0 against the Packers in the past 12 months and they averaged 36 points a game against the Packers defense.
• In the past three 49ers-Packers games, the 49ers have rushed for 600 yards while the Packers rushed for 212 yards.
• Green Bay has won only three of its past seven home playoff games.
• Robert Mathis of the Colts has 19 1/2 sacks this year with 13 of them coming at home.
• When the Chiefs and Colts met two weeks ago, Indianapolis got to Alex Smith five times -- and that game was in Kansas City.
• The Bengals are 8-0 at home, averaging 34 points a game and giving up 17.
Pick Six Newsletter
Get the day's big stories + fun stuff you love like mock drafts, picks and power rankings.
Please check the opt-in box to acknowledge that you would like to subscribe.
Thanks for signing up!
Keep an eye on your inbox for the latest sports news.
Sorry!
There was an error processing your subscription.
Matthews joins the reigning NFC champs after a 10-year run with the Packers

Burfict has found a new home in Oakland one day after getting cut by the Bengals

Cobb is coming off a successful eight-year run with the Packers
Lewis is entering his fourth year in the league

If Kraft accepts the offer, the charges of misdemeanor soliciting prostitution will be dro...

As rumors swirl, the Cardinals will meet with the player many expect to go No. 1 overall