NFL Twitter reacts to the Ray Rice suspension news
Ray Rice was suspended for two games by the NFL. Twitter responded. Here's some of the best of what people had to say.
More NFL: Photos |   Videos & GIFs |  Stories | Training Camps | Johnny Manziel watch 
Ray Rice was arrested on one count of aggravated assault back in March. Here are the details: 
Ray Rice gets 2 games for this pic.twitter.com/i4EDcGciPR

— Eric Macramalla (@EricOnSportsLaw) July 24, 2014
Today we learned of the punishment. Two games. NFL Twitter, your thoughts, please?
B. Meriweather: 2 game suspension for hitting 2 grown men in helmets that were "defenseless." R. Rice: 2 games for beating defenseless woman

— Jeff Hansen (@rakoto10) July 24, 2014
Josh Gordon facing a year-long suspension for smoking pot. Ray Rice gets two games for beating up his wife. Unreal.

— Michael David Smith (@MichaelDavSmith) July 24, 2014
Women, understandably where a bit peeved.
I'm furious and sad. And sad and furious. It's cool I have this platform, but @nflcommish you had the power and failed miserably.

— Andrea Hangst (@FBALL_Andrea) July 24, 2014
Waiting for the Ravens to issue a statement from Ray Rice's wife apologizing for the distraction.

— Molly Knight (@molly_knight) July 24, 2014
Meanwhile the NFL is trying to sell us crap like this - http://t.co/MFd1kl0iL8

— Melissa Jacobs (@thefootballgirl) July 24, 2014
I encourage you to click that link from our pal Melissa Jacobs, it's NFL licensing at its best.
Here's one former NFL player's thoughts on the matter.
The message to my wife & 3 daughters today? The business that's been such a big part of our life, really doesn't give a f**k about you.

— Scott Fujita (@sfujita55) July 24, 2014
And here's a former teammate of Ray Rice's:
Does the NFL value women? Is that better grammar police? If you look at every DV case the NFL has been very lenient when it come to suspen.

— Derrick Mason (@deemason85) July 24, 2014
What about the future of the NFL?
Greg Hardy's girlfriend never lost consciousness during her beating and strangling, so the NFL will only be suspending him 1 game.

— Bart Hubbuch (@HubbuchNYP) July 24, 2014
Since drug suspension lengths are part of the CBA how do we get domestic violence language written into the next contract?

— sarah sprague (@sarah_sprague) July 24, 2014
But what's really important here is what's going to happen on the field for the Ravens, I mean, Ray Rice was a big part of their 25th-ranked offense last year.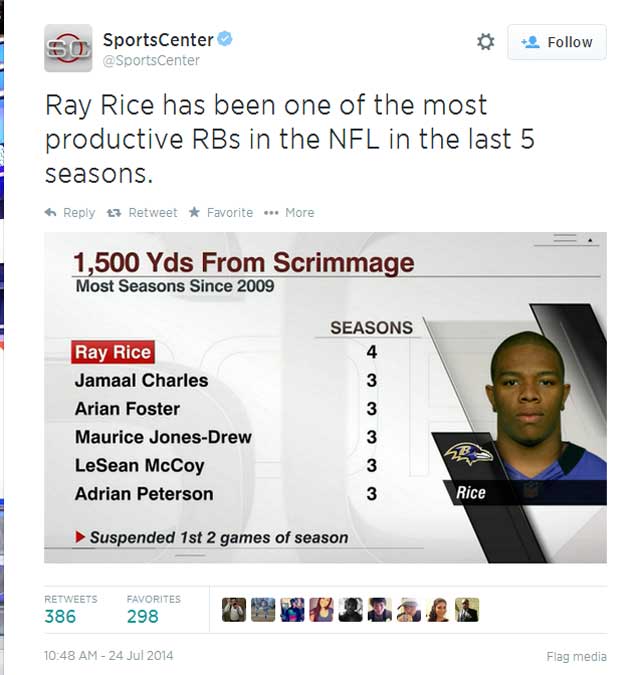 And finally, the real question we're all wondering is, was the commish too friggin' hard on Ray Rice?
NFL Network praises the league's 'iron fist' for Ray Rice's suspension http://t.co/UsVL1jmGiO

— ryan van bibber (@justRVB)
July 24, 2014
In conclusion, NFL Twitter was something like this Thursday morning
Anyone just now logging into twitter: http://t.co/uvuxKD82Ng

— Ladd Davies (@Ladd_FF) July 24, 2014
Let's call it the Blair Walsh revenge game

Jeremy Lane also stood near Bennett along with pass rushers Cliff Avril and Frank Clark

Bennett also dedicated it to 'all of the other athletes using their platform to promote ch...
The Patriots quarterback shows commitment from Day One

Cardinals' running back says he's feeling more energized

The Vikings' receiver is wearing his heart on his foot