NFL VP of Officiating: Lateral in Steelers-Dolphins would have stood
If Antonio Brown wouldn't have stepped out of bounds on the final play of Sunday's game against the Dolphins, Pittsburgh's miraculous five-lateral, 79-yard touchdown would have counted.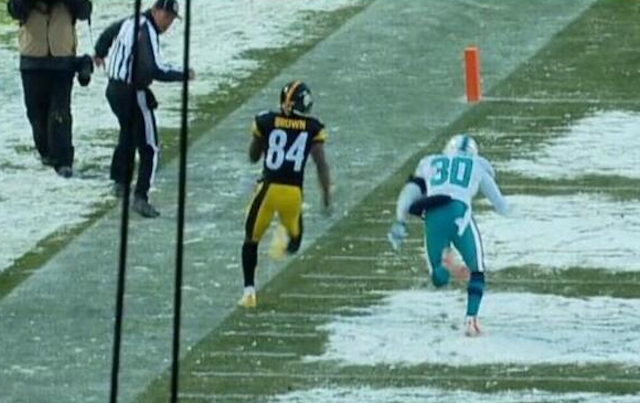 This probably isn't going to make Pittsburgh Steelers fans feel any better -- actually, it might might them feel worse -- but if Antonio Brown had been able to stay inbounds on the final play of the game against the Dolphins, the Steelers would have won. The five-lateral, 79-yard touchdown would have counted, the NFL's VP of officiating Dean Blandino told NFL.com on Tuesday.
Most notably, Blandino said that the final lateral, a backwards throw from Ben Roethlisberger to Brown, would have counted because it's not clear whether or not Roethlisberger threw the ball forward or backward. Since no flag was thrown on the play, the call on the field would have stood and the call on the field was that Roehtlisberger's lateral was legal. Here's a picture of Roethlisberger's lateral from CBSSports.com colleague Ryan Wilson. 
If you haven't seen the play, here's what happened: Trailing 34-28 with one second left in the game, the Steelers snapped the ball from their own 21-yard line knowing they needed 79-yards and a touchdown to win. 
The play started with a Ben Roethlisberger pass to Emmanuel Sanders. Sanders then flipped the ball to Jerricho Cotchery who pitched it to running back La'Veon Bell. Bell then made a gutsy move and tossed the ball to offensive tackle Marcus Gilbert. That's right, an  offensive tackle got involved. 
Gilbert wasn't going to let the game end with the ball in his hands, so he pitched it to Roethlisberger who lateraled it to Brown. Brown then sprinted down the sideline for an apparent touchdown, but he didn't score because he stepped out of bounds at the 12-yard-line. You can see the play below. 
There is suddenly a wide open NFC playoff race and the MVP battle could get interesting to...

Pittsburgh is headed to its fourth consecutive postseason appearance

The NFC is going to be a blast to watch down the stretch
Here are the Week 14 grades for every team that played Sunday

Someone apparently threw a drink at Jefferson as he left the field and he was not happy about...

All of the best highlights from Week 14 are right here