NFL VP Troy Vincent meets with players at risk of facing suspension
This offseason, new NFL executive VP of football operations Troy Vincent and the league identified 21 players deemed 'at-risk' offenders, and the plan is to meet with all of them in the coming weeks.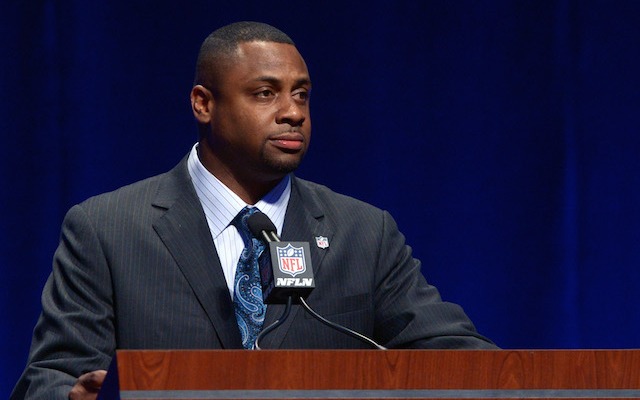 More NFL: Photos |  Videos & GIFs |  Training Camp updates | Manziel watch
New rules are introduced every season to make the game safer. Additionally, the NFL has cracked down on frequent offenders, either fining or suspending those who find themselves incapable of changing the way they play.
This offseason, new NFL executive VP of football operations Troy Vincent and the league identified 21 players deemed "at-risk" offenders. According to NFL.com's Albert Breer, this includes six players who have been suspended for dangerous hits in the last two years (Buccaneers safety Dashon Goldson, Titans safety Michael Griffin, Redskins safety Brandon Meriweather, Raiders defensive lineman Antonio Smith, Chiefs linebacker Joe Mays and Colts linebacker Erik Walden), as well as 15 others who were close to facing suspensions for their on-field play.
Of those identified, Vincent has set up face-to-face meetings in an effort to make sure everyone is on the same page and keep the game safer in the progress.
"The objective was to sit down, review the tape, watch the games, and let's see what's taking place -- from a coverage standpoint, up front, every scenario," Vincent said. "How do we assist in making sure the player, the coach, the agent, everyone is on the same page in regards to what we expect and what they expect? A lot of it was casual conversation, put on the tape and say, 'Take me through this play progression.'"
Vincent, who had a 15-year NFL career as a defensive back, has met with 16 players and plans to meet with the others prior to the start of the regular season. He admits that some of the players have expressed anger during the meetings but noted that Lions defensive tackle Ndamukong Suh sincerely seemed interested in playing within the rules when the two met during OTAs.
"He was very receptive, he understood, he cared about the perception, his reputation, and I told him we're not trying to take the edge he plays with away," Vincent said. "I said, 'We've seen you adjust, we've seen an adjustment in your play, let's keep that going.' ... We met for hours, talking about the example he sets, the role model he's become, and emphasizing his adjustment. What he did was set the bar with his approach, since he was first."
Vincent watches tape with players to try to determine what they were thinking as a play unfolded, and how to keep it from happening in the future.
"For Suh and some others," he said, "it was the extracurricular after the play. Literally, kicking, that was after the play. Some of the others, it was mostly that the player was out of position, it's taking poor angles or being out of position. We would say you give up your body to make the play, but sometimes, you give up your body because you're out of position. And sometimes, you see, that it was deliberate. And you say, 'OK, that's deliberate, and we can fix it.'"
Back in December, Suh said he wanted to change his reputation as a dirty player.
"I think I've definitely grown up quite a bit just understanding that if you're not growing up, you're just moving backward," he said at the time.
Breaking down why the underdogs are very dangerous against the Patriots

All of the information you need to know about the 2018 Super Bowl

Here's all the details you need to know on watching Super Bowl LII between the Patriots and...
No one wants to give the Eagles any respect

Here's a look at the NFL's entire postseason schedule for 2018

Here's everything you need to know about Super Bowl LII