NFL Week 1 picks: Bengals over Ravens, Cowboys upset 49ers
If you want to know who's going to win every NFL game in Week 1, you came to the right place.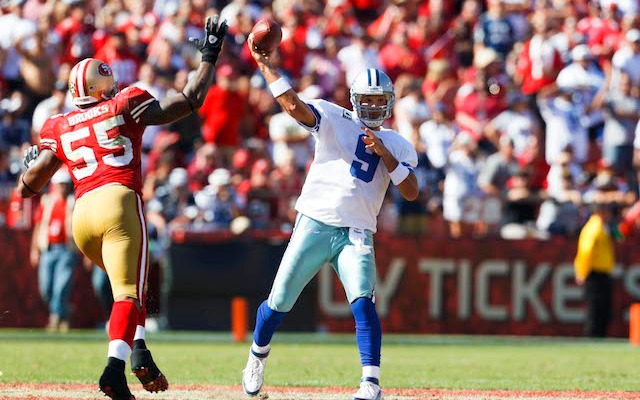 As much as I like to read about inflatable swans, Jerry Jones extortion plots and how Drew Brees looks like 19th president Rutherford B. Hayes, I like something more than those things and that something is watching non-preseason football.  
Starting on Thursday, we get to do that because starting on Thursday, the NFL offseason is officially over, which is good news for everyone. It's good news for me because I get to make picks and it's good news for you because you get to make fun of my picks and wonder why I have a job.
By the way, it's OK to wonder that, I wondered it about Blaine Gabbert every time he was on the field this preseason.
Lets stop talking about Blaine Gabbert though and get to the picks.
If you want to make fun of me for all of the wrong picks I make this week or if you just disagree with my Week 1 picks below, be sure to let me know in the comment section or on Twitter or you can take a picture of a dumpster fire and tag me in it on Instagram. That's what I generally do to anyone when I don't like their picks. 
Oh, and one more thing, you can check out the weekly picks from every CBSSports.com NFL expert here. Now lets get to the picks.
Week 1 Picks 
Green Bay at Seattle (Thurs.), 8:30 p.m. ET: If you look at the top of this page, you can see that this story was published at 4:44 a.m. ET. I'm telling you that because five minutes ago, at 4:39 a.m. ET, I still had no idea who I was going to pick to win this game. My head said pick the Seahawks. My left hand and the pinkie toe on my right foot said pick the Packers. But then I asked myself one question: Who would Lance Easley pick?
Why is important who Lance Easley would pick?
Because if it wasn't for Easley, there'd be no 'Fail Mary,' no 'Touchdown Seahawks' and this book wouldn't exist. 
Hey NFL fans! Join us tonight for a book signing with NFL referee Lance Easley, author of "Making the Call" pic.twitter.com/mST35ffL6W

— TheHarvestBookstore (@HarvestBookstr) December 18, 2013
Lance's book is called 'Making the Call: Living with your Decisions,' well, I'm ready to make the call and live with my decision. I think I have to pick the team that hasn't lost a non-divisional game at home in almost three years. Seahawks 20-17 over Packers. 
Cincinnati at Baltimore, 1 p.m. ET: If you thought Andy Dalton was bad in playoff games, well, he's almost as bad in regular season openers. In three seasons, Dalton is 1-2 and in those three games, he's thrown three interceptions to go along with three touchdown passes. Those aren't numbers that anyone should be impressed with. On paper though, the Bengals are so talented, it shouldn't matter what Dalton does. Take Week 17 last year when Dalton threw four interceptions against Baltimore and the Bengals still won 34-17. What I'm trying to say is, I'll take Cincinnati in this game even if 'Bad Dalton' shows up. Bengals 27-17 over Ravens. 
Fan on Twitter who disagrees with me: 
@TheKostos #Bengals haven't won in BMore since 2009. And #Ravens own the ginger at QB.

— Pauly S. (@thenflanalyst) September 1, 2014
New Orleans at Atlanta, 1 p.m. ET: The last time New Orleans played in Atlanta, Jimmy Graham broke the field goal posts and ruined everything for everyone by getting the post-touchdown slam dunk banned. On the other hand, it's also possible the Falcons are to blame for the ban because if anyone in Atlanta actually knew how to install field goal posts, this doesn't happen. Anyway, Graham scored a touchdown in both games against the Falcons last year and I say he adds at least one more to that total. Saints 27-20 over Falcons.
Fan on Twitter who disagrees with me: 
Falcons gone be givin da saints a Atl type asswhippin. #TeamFalcons

— R.I.P Long Live L'A (@lilskrappa365) September 2, 2014
Tennessee at Kansas City, 1 p.m. ET: I love irony in my football games and I think this game has the most potential for it on Sunday. Former Chiefs kicker Ryan Succop signed with Tennessee this week, which means this game is going to end one of two ways: Either Succop's going to hit a game-winner or new Chiefs kicker Cairo Santos is going to miss a makeable field goal. Titans 20-17 over Chiefs. 
Fan on Twitter who disagrees with me:
Chiefs will beat the titans by 40+ points week one.

— Cade Wilson. (@13jwilson2) September 2, 2014
San Francisco at Dallas, 4:25 p.m. ET: I know what you're thinking, 'The Cowboys defense has more holes in it than the story Josh Shaw told USC about saving his drowning nephew -- so you have to pick the 49ers.' And I agree with most of that statement except the part about picking the 49ers. The Cowboys defense was bad last year and it most likely won't be good this year. But the 49ers defense also has holes to fill with Glenn Dorsey, Aldon Smith and NaVorro Bowman all getting set to miss substantial time this season. If there was something important on the line in this game -- like a playoff berth -- I'd pick against Tony Romo 107 times out of 107 times, but there's not a playoff berth on the line and the game's in Dallas. Also, Jerry Jones said the Cowboys might be bad this year and he's knows nothing about football, which means they're going to be good. Cowboys 24-20 over 49ers.
Fan on Twitter who disagrees with me: 
The 49ers 63 the cowboys 0 that's my prediction for the game on Sunday 

— Michael Hernandez (@MichaelH0240) September 2, 2014
Indianapolis at Denver, 8:30 p.m. ET: I'm not sure if Peyton Manning has a bucket list, but if he does, I bet 'beat the Colts by 86 points' is on it. I also bet that Manning is still mad that he lost in Indianapolis last season and I also bet that he's still kind of peeved about everything that happened in Super Bowl XLVIII. He's going to need to take all his anger out on someone and my guess is that someone is everyone on the Colts defense. Broncos 37-27 over Colts. 
Fan on Twitter who disagrees with me: 
In exactly one week my Colts will beat the AFC champion Broncos by 10 points @Bigtrap65

— Sean Garrison (@sean_garrison15) September 1, 2014
Week 1 picks: All the rest
Buccaneers 17-13 over Panthers
Final 2013 record
Straight up: 165-90-1
Against the spread: 124-132
R.J. White, who nearly won the Las Vegas SuperContest, locks in his pick for the NFC Championship...

Mike Tierney has owned NFL totals and has a strong pick for the AFC Championship Game

The Saints coach wasn't in the mood to answer questions about Drew Brees on Tuesday
This is footage that you'll definitely want to see

It wasn't the matchup that we expected, but the Jaguars would argue that's everyone else's...

The Eagles quarterback and the Vikings quarterback have paths that have crossed many times