NFL Week 1 takeaways: Seahawks look unstoppable vs. Packers
The Seahawks offense has caught up to the Seahawks defense and that's bad news for the rest of the NFL.
The Seahawks offense has caught up to the Seahawks defense and that should scare everyone in the NFL. Actually, it should scare everyone whether they're in the NFL or not. 
Pete Carroll has built a team that can win in any condition. Outscore the Broncos? Seattle did that in the Super Bowl. Make Aaron Rodgers look like Blaine Gabbert? That's what the Seahawks did on Thursday in their 36-16 win over Green Bay.
In two of their three losses last season, the Seahawks went down because their offense fell apart. We might not see their offense fall apart this season. A final record of 14-2 or 15-1 isn't out of the question for the 2014 Seahawks and if you told me you thought this team was going to go 16-0, I wouldn't laugh or give you a funny look. I would probably nod and eat Skittles.
Here's who impressed me on Thursday
Russell Wilson: The scariest thing about what Wilson did against the Packers is that you could argue he was slightly off. Wilson finished 19 of 28 for 191 yards and two touchdowns, but he also threw at least three passes that arguably should have been intercepted. This is scary because Wilson didn't play his best game and the Seahawks still won by 20.
The Seahawks also added a new wrinkle to their offense in the second quarter: A zone-read option pass. The one below ended with a 33-yard touchdown pass from Wilson to Ricardo Lockette. Defensive coordinators are going to start having sleepless nights before playing the Seahawks. It used to be offensive coordinators who would have sleepless nights before playing the Seahawks, now they're going to be sleepless together. 
Percy Harvin: In the Seahawks' first three plays of the game Thursday, Harvin caught more passes (2) than all of last season (1). Harvin adds a dynamic to the Seahawks offense that makes them almost impossible to prepare for. Not only does he catch passes, but he also takes handoffs and returns kicks. Half the reason I even watched the game Thursday is to see what would happen once the ball was in Harvin's hands. Here's what happened: 131 total yards (59 receiving yards, 41 rushing, 31 return).
Those numbers led Wilson to actually make this quote after the game. 
"'Lord have mercy, we have Percy,' that's what I always say," Wilson said. "He is a great player, plays so hard, pushes the other receivers and players and they have a great relationship."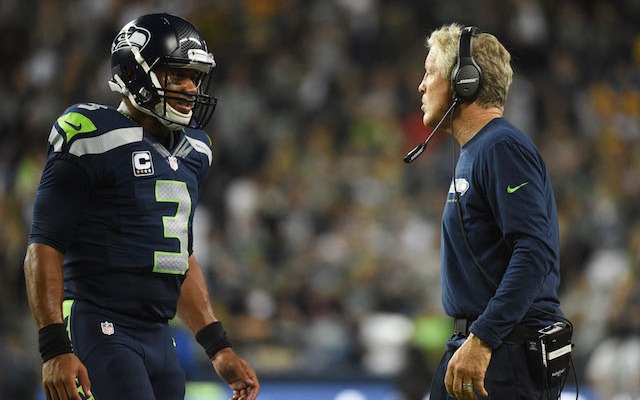 Marshawn Lynch: Missing a week of training camp didn't appear to affect Lynch. He went double-beast mode against the Packers, carrying the ball 20 times for 110 yards and two touchdowns. The scariest part here is that the Seahawks were able to give Lynch regular breathers thanks to the play of Robert Turbin, who averaged 4.5 yards on six carries. Including Wilson, the Seahawks had four players rush for over 25 yards. It looks like Lynch has everyone in Seattle doing the Skittles workout. 
Strong argument for the Skittles workout. Marshawn Lynch with a 9-yard TD run, Seahawks lead Green Bay 17-10. pic.twitter.com/CvGd4zhBiE

— Eye on Football (@EyeOnNFL) September 5, 2014
Richard Sherman: This is all you need to know about Sherman's night. 
@mikefreemanNFL "You've had a good night when nobody throws your way" -Al Michaels #Boykin pic.twitter.com/UyXod9fuZw

— Melissa Kara (@SportsVix) September 5, 2014
Things that didn't impress me
The Packers' offensive line: When you're playing the Seahawks, there's one position you don't want to see injured, actually, there's five and they're all on the offensive line. The Packers lost right tackle Bryan Bulaga in the second quarter and the Seahawks took advantage of it. 
On consecutive plays in the second half, Bulaga's backup Derek Sherrod was beaten badly. First, this happened on a fourth-and-5. That was Sherrod's fault. 
Then this happened, which cost the Packers two points. It was also Sherrod's fault.
If Bulaga's out an extended period of time, Aaron Rodgers could be spending the next few weeks running for his life. Bulaga appeared to injure his leg after colliding with a teammate, but the injury didn't keep him from walking out of the locker room on his own power after the game. 
Bulaga walking on his own out of locker room. pic.twitter.com/bxCvnQUw7m

— Jason Wilde (@jasonjwilde) September 5, 2014
Aaron Rodgers: No one ever looks good against the Seahawks defense and that includes Rodgers. The Packers quarterback looked flustered almost all night. And when he wasn't flustered, he was dinking-and-dunking on a D that you can't really dink-and-dunk on. Thursday's game marked the first time since December 2012 that Rodgers didn't hit the 200-yard mark in a game he played from start to finish. The Seahawks defense held the veteran quarterback to 189 yards passing. 
Fast facts
John Kuhn won some people some serious money with his first quarter touchdown. 
#JohnKuhn opened 70/1 to score 1st TD & we took a pretty big loss on that future as result

— Sportsbook.com ® (@Sportsbook_com) September 5, 2014
Randall Cobb scores in every opener he plays in. 
.@Packers Randall Cobb has now scored in every opener he's played in. Has 5 TDs in 4 openers (3 rec, 1 KR, 1 PR)

— Randall Liu (@RLiuNFL) September 5, 2014
It is not easy to throw touchdown passes in Seattle. 
Aaron Rodgers TD pass means you get weird facts like this: Seahawks didn't give up a TD pass at home until Week 9 last season.

— John Breech (@johnbreech) September 5, 2014
The Green Bay Packers quarterback seems to be a go for the Carolina Panthers game

Shazier's season might be over, but he still wants to help his team

The young head coach took the blame after a heartbreaking loss to the Eagles
Our computer model simulated every Week 15 NFL game 10,000 times with very surprising resu...

Britt is going from the worst team in football to a Super Bowl contender

With three weeks to go in the regular season, the MVP race is wide open