NFL Week 10 as told by Twitter: Bengals' Hail Mary blows up Twitter
Andy Dalton spent the first 59 minutes of his Week 10 game toiling in mediocrity, but one Hail Mary temporarily bailed out the Bengals against the Ravens.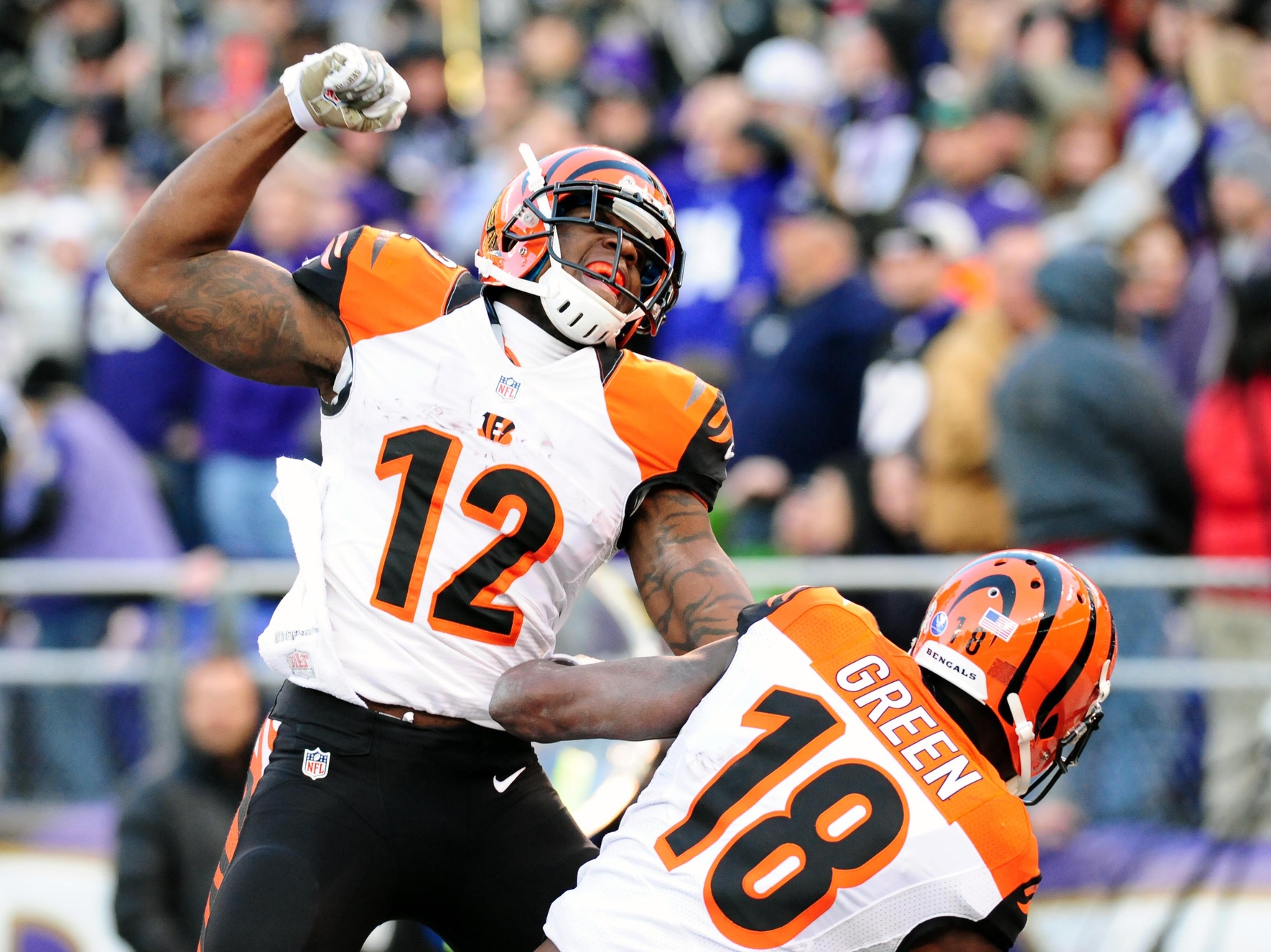 Until NFL teams come up with a better way to score from midfield with two seconds on the clock, quarterbacks will continue to throw Hail Marys, and Twitter will erupt when they miraculously connect with their wide receivers.
Oh hey Twitter. #bengals #ravens #bananas pic.twitter.com/aikQPhbWkx

— Amanda Rykoff (@amandarykoff) November 10, 2013
Too perfect.
Ravens fans right now pic.twitter.com/ZrydGVAP4c

— Shooter McGavin (@ShooterMcGavin_) November 10, 2013
WHAT A CATCH #WhoDey

— Geno Atkins (@GenoSacks) November 10, 2013
NEVER DOUBT A GINGER ON A CLOUDY DAY

— Timb Affoe (@TimBaffoe) November 10, 2013
You Can't Spell "Elite" With "Ginger": My Andy Dalton Column

— Caitlin Kelly (@atotalmonet) November 10, 2013
However, the Bengals losing in OT after the Hail Mary is the MOST Bengals thing ever...
THAT'S THE LEAST BENGALS THING THAT'S EVER HAPPENED IN MY ENTIRE LIFE

— Rick Broering (@RickBroering) November 10, 2013
In franchise history, the Bengals have never scored an offensive touchdown in overtime.

— John Breech (@johnbreech) November 10, 2013
Prior to the Bengals touchdown, the Lions came up with a huge stop on a two-point conversion against the Bears.
Nick Fairley just engulfed the NFC North. #Lions

— Mike Greenberg (@Espngreeny) November 10, 2013
Nick Fairley hasn't made a play like that since he was at Auburn.

— Jeff Nusser (@NussCoug) November 10, 2013
I could watch Nick Fairley celebrate all day long.

— Will Brinson (@WillBrinson) November 10, 2013
It happened. It actually happened. The Jaguars won a football game.
Break up the Jaguars. Relegate the Titans.

— Amanda Rykoff (@amandarykoff) November 10, 2013
And there goes everyone's survivor pool....

— Jimmy Traina (@JimmyTraina) November 10, 2013
The secret to the Jaguars win? Charlie Daniels' National Anthem, obviously. pic.twitter.com/1xyffotLYe

— Eric Kay (@ekaycbs) November 10, 2013
Green Bay is down to playing something called a "Scott Tolzien" at quarterback.
Scott Tolzien is the Packers QB. Someone get Aaron Rodgers some antler spray or something pronto.

— Melissa Jacobs (@thefootballgirl) November 10, 2013
Worth mentioning again, Jordy Nelson is the Packers' 3rd QB

— Acme Packing Company (@acmepackingco) November 10, 2013
Richie Incognito tried to tell his story today on national television. Twitter users didn't react too kindly.
If I'd slept last night at a Holiday Inn Express, I'd analyze Incognito as a textbook megalomaniac narcissist. He believes what he says.

— Gregg Doyel (@GreggDoyelCBS) November 10, 2013
Biggest story of the week in NFL is Tony Dorsett diagnosis. Not story in Miami. NFL pr might be secretly happy so little today about Tony

— Chuck Todd (@chucktodd) November 10, 2013
Don't forget to hug your family, threaten to poop in their mouths and joke about murdering them today. #love

— Will Brinson (@WillBrinson) November 10, 2013
you know about that giant floating island of garbage in the Pacific Ocean? let's send Richie Incognito to that

— Bill Baer (@CrashburnAlley) November 10, 2013
Incognito and Martin text more than me and my wife.

— Mark Ennis (@Mengus22) November 10, 2013
Andre Johnson has suddenly become a beast again with Case Keenum as his quarterback.
Almost 10% of Andre Johnson's 61 career TDs have come in the past 8 days. WTF?

— Chris Solis (@ChrisSolis) November 11, 2013
For more from Jameson Fleming, follow him on Twitter.
Plus baby names, kicker issues and other things of interest from NFL on Thanksgiving

It was foretold, and King delivered

Kareem Hunt has fallen off after a hot start, but he can get back on track against Buffalo
A Dallas Cowboys Salute to Service thermal pullover makes for the best early Black Friday...

It's time to hook up that jersey shirt of your favorite NFL player with some Black Friday...

It's time to hook up that jersey of your favorite NBA player with some Black Friday deals