NFL Week 10: Blaming Twitter's IPO for 49ers high ticket prices
The two most expensive tickets in the NFL this week are in San Francisco and Chicago.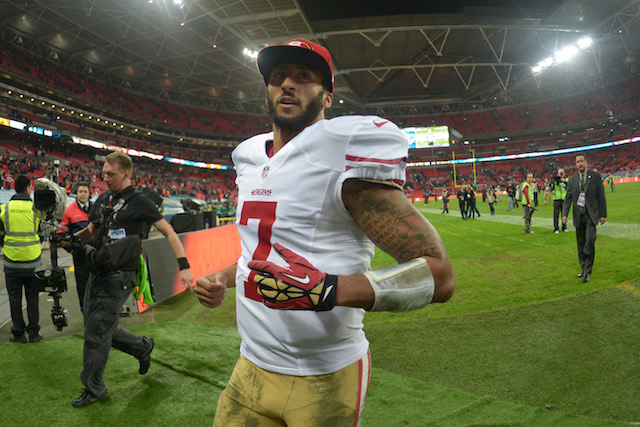 Welcome to CBSSports.com's weekly look at NFL ticket prices on the secondary market.
One of the most expensive games of Week 10 is Carolina at San Francisco and we can probably blame Twitter for that. I blame Twitter for a lot of things -- like spoiling the final episode of Breaking Bad -- but this is the first time I've blamed it for high ticket prices. 
Twitter's IPO is on Thursday, which means there's going to be a lot of new millionaires in San Francisco, where Twitter is based. Those new millionaires are all probably going to decide to go to the 49ers game and they're all going to pay a lot of money for their tickets and they're going to drive up the overall price for tickets to the game because that's what millionaires do.
My advice to 49ers fans, instead of paying $158 to go to the game, you should just stay home and tweet about it. Or you could use the $158 to buy six shares of Twitter. If you do go to the 49ers-Panthers game though, be nice to whoever you sit next too because there's a 97 percent chance that person's a millionaire.
View outside the New York Stock Exchange! #TwitterIPO $TWTR pic.twitter.com/SvU6SbHCnE

— Jonathan Di Maggio (@JFDiMaggio) November 7, 2013
Anyway, $158 for a ticket is expensive, but it's not the most expensive get-in price for Week 10. That honor belongs to the Bears-Lions game. You would think the threat of Josh McCown starting a football game would drive prices down, but that's not happening.
The cheapest ticket to see the first-place NFC North showdown at Soldier Field is $173. That price is actually a steal when you consider that the Bears and Lions haven't played each other this late in the season with first place in the division on the line since 1991. How long ago was that? Twitter didn't even exist yet and Al Gore hadn't even invented an internet that Twitter could exist on. 
If you're broke, but want to attend an NFL game this week, you have two options: Arizona or Minnesota. The Vikings-Redskins game is enticing for two reasons: the get-in price is only $10 and it's Thursday night football. 
However, if I'm on a budget, I'm going to the Cardinals-Texans game and here's why: Free food. When you're on a budget, nothing beats free food. Even when you're not on a budget, nothing beats free food. Anyway, you're $11 ticket not only gets you into the Cardinals-Texans game, but it might get you a free hamburger, all the Cardinals have to do is score 14 points. 
I know, the Cardinals scoring 14 points sounds impossible, but they've actually done it in six out of eight games this season. If Arizona does score 14 points against Houston, you get a free Red Robin burger. Nothing beats free burgers except free shares in Twitter, but no one's giving that away, so a free burger will have to do.  
Here's the lowest ticket price on Ticket City for each Week 10 game as of 4 a.m. ET on Thursday. The second price is the lowest price on the NFL ticket exchange run by Ticketmaster. Keep in mind, ticket prices change often.
1. Detroit at Chicago: $173 -- $162
2. Carolina at San Francisco: $158 -- $130
3. Dallas at New Orleans: $149 -- $146
4. Denver at San Diego: $140 -- $148
5. Philadelphia at Green Bay: $91 -- $100
6. Oakland at NY Giants: $80 -- $90
7. Cincinnati at Baltimore: $71 -- $68
8. Buffalo at Pittsburgh: $64 -- $70
9. Miami at Tampa Bay: $58 -- $66
10. St. Louis at Indianapolis: $52 -- $58
11. Seattle at Atlanta: $37 -- $35
12. Jacksonville at Tennessee: $18 -- $26
13. Houston at Arizona: $11 -- $31
14. Washington at Minnesota: $10 -- $11
From our friends at TicketCity, you can see the average ticket prices for some of the hottest Week 10 games.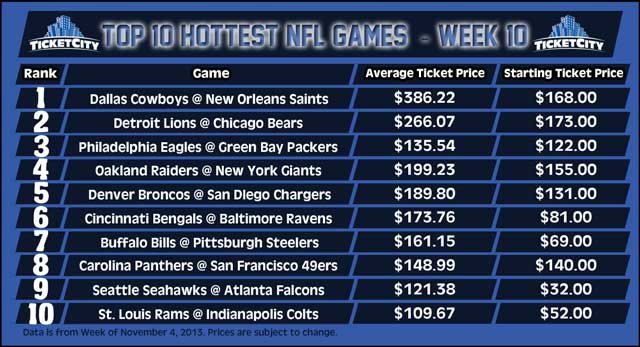 Are you going to buy stock in Twitter? Do you eat at Red Robin regularly? Are you going to a game this week? Let me know in the comment section or on Twitter or make a giant sign that says 'HI JOHN BREECH' and I'll look for you on TV.
Everything you need to know about the Packers-Panthers game on Sunday afternoon

The Lions will be wearing their Color Rush uniforms for the first time on Thursday

The Lions look to maintain playoff positioning while the Bears attempt to play spoiler
The Panthers have hired an outside law firm to conduct the investigation

Here's every official injury designation for each NFL team for Week 15

Bennett was one of the few players who escaped punishment after Sunday's melee in Jacksonv...