NFL Week 11 Picks: Broncos beat Chiefs, Panthers over Patriots
The Broncos will hand the Chiefs their first loss and the Panthers will top the Patriots in the first Monday night game played in Charlotte since 2008.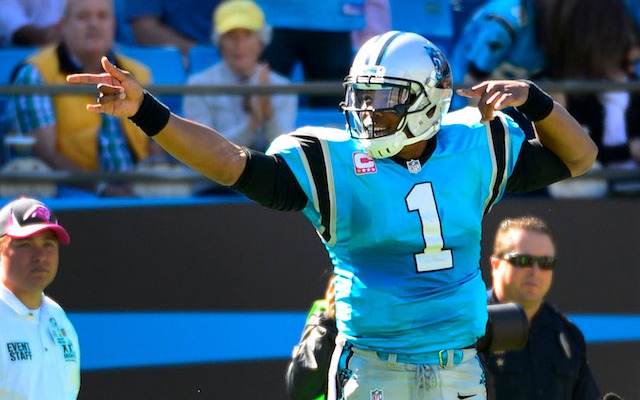 Before I get to my Week 11 picks, I need to talk about what I learned in Week 10 and here's what I learned in Week 10: Never stop watching a Bengals game. Unless your wife is pregnant and needs a ride to the hospital, there's really no good reason to turn off the Bengals this season and even then, you should probably let her drive so you can watch on your phone. 
Since Oct. 1, the Bengals have played in six games and three of those have gone to overtime. We've seen a walk-off safety, a game-winning 54-yard field goal and a Hail Mary that actually worked. We also saw Tom Brady held without a touchdown pass for the first time since the Patriots 2009 regular season finale. 
The Bengals play the Browns on Sunday and the game will probably end with a blocked field goal that gets returned for a touchdown by the Bengals, only before the Bengals defender gets to the end zone, he fumbles the ball at the one-yard line where it's picked up by the Browns, who lateral it seven times -- including one lateral to a fan who runs on the field. The play will result in a Cleveland touchdown and a Browns win. 
The other thing I learned in Week 10 was to appreciate the 2008 Lions. What they did that season was truly magical and if the 2013 Jaguars couldn't match the Lions 0-16 record, I'm not sure any team ever will. 
Anyway, lets get to the picks. 
If you want to make fun of me for all of the wrong picks I made last week or if you just disagree with my Week 11 picks below, be sure to let me know in the comment section or on Twitter. You can also reach me on AOL instant messenger, but I only check my IM once a year. So if you complain about my Week 11 picks on IM, I probably won't see your complaint until next season and then your complaint won't make much sense because it will be a year old. Maybe we should scrap this instant messenger thing and you can complain with a MySpace message instead. Everyone's on MySpace.
Alright, lets get to the picks for real now. And don't forget, you can check out the weekly picks from every CBSSports.com NFL expert here.
Week 11 Picks
Cleveland (4-5) at Cincinnati (6-4), 1 p.m. ET: If you saw Andy Dalton's Hail Mary against the Ravens, it was impressive, but not that impressive when you consider that all of Dalton's passes are basically Hail Mary's. That's because Bengals fans are praying that the pass doesn't go 10 feet over the receiver's head every time Dalton puts the ball in the air. Dalton's a streaky quarterback and his two-week string of being terrible has to end some time and I say it's this week. Also, the Browns haven't swept the Bengals since 2002. Bengals 24-20 over the Browns. 
Baltimore (4-5) at Chicago (5-4), 1 p.m. ET: With Jay Cutler nursing an ankle injury, Josh McCown will be the Bears starting quarterback on Sunday. Here's the list of quarterbacks McCown has beaten since 2005: Mike McMahon, Tim Rattay, Billy Volek, Derek Anderson, Christian Ponder and Seneca Wallace -- oh, and Jay Cutler. That's right, McCown beat Cutler. I don't think Joe Flacco wants to be on that list and I don't think he will be. Ravens 20-17 over the Bears.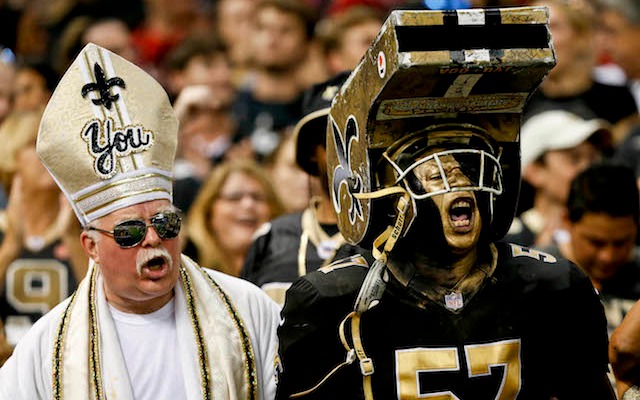 San Francisco (6-3) at New Orleans (7-2), 4:25 p.m. ET: The 49ers have been a weird team this year: when they're good, they're good. San Francisco has scored 30 or more points in each of its six wins. However, when the offense is bad, the offense is bad. The 49ers have scored nine or fewer points in each of their three losses. I think the 49ers will score more than nine points, but I don't think they'll be able keep up with Drew Brees and a Saints offense that's averaging the second most points in the league. Saints 34-24 over the 49ers.
Kansas City (9-0) at Denver (8-1), 8:30 p.m. ET: Here's what I know about the Chiefs: they're not going to win a shootout. Here's what I know about the Broncos: they're not going to win without Peyton Manning. Here's what I don't know: Will Peyton Manning and his high-ankle sprain make it through the entire game? I like the Chiefs defense a lot, but I like Manning at home in a primetime game more. Broncos 27-24 over the Chiefs.
New England (7-2) at Carolina (6-3), 8:30 p.m. ET (Mon.): I'm not sure who came up with 'Riverboat Ron' as the nickname for Panthers coach Ron Rivera, but it's my new favorite nickname in the NFL and maybe ever. One day, I'd like to hangout with Riverboat Ron and gamble on 'Dancing with the Stars' elimination episodes, but until then, I'll have to settle on one gamble: the gamble of picking the Panthers to beat the Patriots. Also, if you feel like Carolina never hosts Monday Night Football, you're right: this is the first Monday night game in Charlotte since 2008. Panthers 27-23 over the Patriots. 
I'm convinced: Riverboat Ron and 1st Capt. Cam are legit. pic.twitter.com/GoLYZ9VPRl

— ryan wilson (@ryanwilson_07) November 11, 2013
NFL Week 11 Picks: All the rest
Lions 27-24 over Steelers
Cardinals 27-17 over Jaguars
Buccaneers 23-20 over Falcons
Last Week
Best Pick: Last week I picked the Buccaneers to beat the Dolphins by three and the Buccaneers beat the Dolphins by three -- but I don't want to talk about the number three, I want to talk about the number two. And no, not that number two because that's gross and why would I write about that. I'm talking about the two rushing yards on 14 carries the Dolphins had against Tampa Bay on Monday. That's 5.14 INCHES per carry. You can literally get a ruler out right now and measure with your fingers the amount of distance the Dolphins got with each carry. Seriously, do it. Speaking of Number Two, did you know he was bullied by Dr. Evil? Since we're talking about the Dolphins and bullying I felt like the clip below was timely. Number Two starts crying at the 33-second mark and tells Dr. Evil, "I've had enough of you pushing me around." Even evil henchmen don't like to be bullied in the workplace.
Worst Pick: The Texans didn't have their head coach in Week 10, they started an undrafted quarterback on the road and they have a kicker who I wouldn't trust to make a 19-yard field goal right now, so naturally, I picked them to beat the Cardinals. And they didn't. Usually picking against Carson Palmer doesn't come back and bite me, but it did on Sunday and I'm a better person for it. I think. Also, Ed Reed says the Texans were 'outcoached.' THEY HAD AN INTERIM COACH, STARTED AN UNDRAFTED QUARTERBACK AND LOST BY THREE, GIVE THEM A BREAK ED. 
Update: Ed Reed is no longer a Texan. 
Straight up: 8-6
SU overall: 94-53
Against the spread: 8-6
ATS Overall: 68-79
---
Follow John Breech on Google+
The Eagles lose their franchise quarterback with the playoffs just weeks away

The Packers cornerback held Gordon to one catch on Sunday

Colin Kaepernick, Josh Johnson and Matt McGloin are among the bigger names available
The Rams and Titans look good nearly two full seasons after the Jared Goff trade. But who 'won'...

Also featuring Josh Gordon's 'hater blockas,' some FIFA-inspired celebrations and a hilarious...

The Steelers have struggled against the Patriots during the Belichick-Brady era