NFL Week 12 injuries: Haloti Ngata, Adrian Peterson are active
Here is some of the most important injury news heading into Week 12.
• 3 min read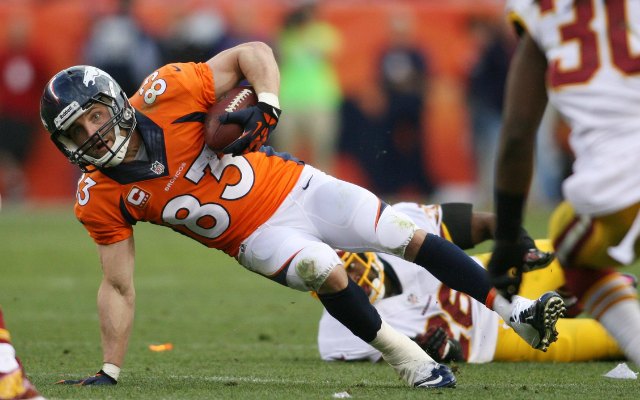 For more injury news and notes from around the league, be sure to check out CBSSports.com's NFL Rumors blog. And on Sunday follow our comprehensive list of Week 9 game-day inactives.
Haloti Ngata (knee) is active
After missing last week because of a knee injury, Ravens defensive tackle Haloti Ngata is active for Week 12.
Ngata was questionable heading into the weekend, and it was thought that he'd be a gametime decision.
Adrian Peterson, Greg Jennings are active
Adrian Peterson -- who was questionable with a groin injury -- and Vikings receiver Greg Jennings, who had been battling an Achilles injury and also was questionable, are active for Week 12.
Peterson said all along that he expected to start vs. the Packers
Jennings's Achilles limited him in practice Thursday and Friday. Despite being listed as probable last week, Jennings was inactive due to the injury.
Broncos wide receiver Wes Welker has passed concussion protocol and has been deemed probable for the Sunday night clash against New England. Welker sustained both a concussion and neck injury against the Chiefs last week. -- Marty Gitlin
Woodley, Keisel out for Steelers
Linebacker Lamarr Woodley and defensive end Brett Keisel are inactive for Pittsburgh heading into the Browns game.
This is the second-straight game Woodley will miss with his calf injury. Keisel, meanwhile, has been battling a bum foot.
Fisher won't play
Chiefs tackle Eric Fisher, the 2013 No. 1 overall draft pick, suffered a shoulder injury last week, and he's not expected to play in Week 12, reports ESPN. It's believed that Fisher's injury, though, isn't a long-term concern.
Knee injury has Julius Thomas designated as questionable
Broncos tight end Julius Thomas (knee) is questionable for the Patriots game. He was limited in practice the last two days, and it sounds like he's going to be a gametime decision.
But according to NFL.com, his chances of playing are not looking good. 
Champ Bailey is questionable
Broncos cornerback Champ Bailey, questionable with a foot injury, will likely be a gametime decision.
Bailey, though, remains optimistic.
"I got a good week of practice in, feel pretty confident about going forward," Bailey said, via the team's website. "I just need to make sure I'm all the way there, mentally and physically."
Bears linebacker Lance Briggs has been ruled out Week 12 against the Rams.
Briggs is out with a shoulder injury. He has yet to return to practices. Briggs has missed the past three games due to the injury. -- Chris Cwik
Jordan Reed out for Week 12
Redskins tight end Jordan Reed won't play Monday as he continues to recover from a concussion, according to ESPN. Reed was unable to practice yet again Friday, and he will have to be cleared by the league's concussion protocol before he can return.
Lions wide receiver Nate Burleson is probable for Week 12 against the Buccaneers.
Burleson has missed seven weeks due to a broken forearm, but it appears he's ready to return. He was able to participate in full practice Thursday and Friday. -- CC
Rams cornerback Cortland Finnegan, who originally was doubtful for Week 12 against the Bears, was placed on the IR list Saturday.
His season is over.
Lions running back Joique Bell is questionable for Week 12 against the Buccaneers.
Bell is dealing with an Achilles injury. He was able to make progress each day of practice, eventually being listed as a full participant Friday. He'll be a game-time decision against Tampa Bay. -- CC
WR Kyle Williams tears ACL
Chiefs receiver Kyle Williams, who was awarded to Kansas City on waivers after he was let go by the 49ers, will miss the rest of the season with a torn ACL.
Williams had this to say on his Twitter account on Friday.
This, just like everything else I've been thru will serve as a minor hurdle and obstacle that I will push thru and will be backRomans 8:28

— Kyle Williams (@KyleWilliams_10) November 22, 2013
Jets rule out two for Week 12
The Jets downgraded two players on the injury report for Week 12, as wide receiver Jeremy Kerley (elbow) and linebacker Garrett McIntyre (knee) were both ruled out Saturday. Both players were initially considered doubtful for Sunday's game against the Ravens. -- CT
The president will not be taking a break from Twitter during the Thanksgiving holiday

A Dallas Cowboys Salute to Service thermal pullover makes for the best early Black Friday...

It's time to hook up that jersey of your favorite NBA player with some Black Friday deals
The Cowboys owner says this has nothing to do with Goodell's six-game suspension of Ezekiel...

John Elway addresses the Broncos' major need at quarterback by drafting the Oklahoma State...

The QB carousel could spin more than usual in 2018 with some big names likely on the move