NFL Week 12: Manning-Romo tickets almost as much as Manning-Brady
The two most expensive games of Week 12 are games that involve the Manning brothers.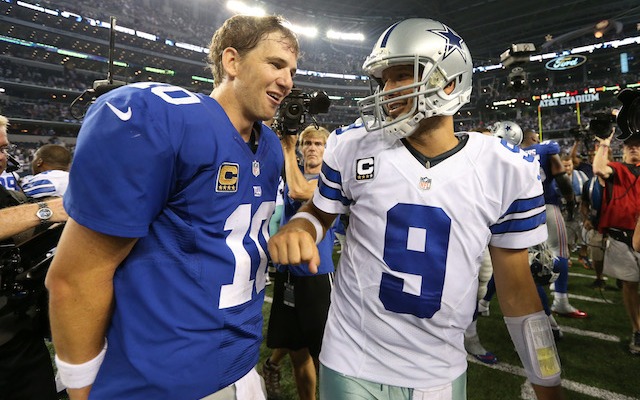 If you think NFL tickets are expensive and you're looking for someone to blame, blame the Manning family. The two most expensive games of Week 12 involve Peyton and Eli Manning. It's probably a good thing for our pocketbooks that Cooper Manning never made it to the NFL.
If you're looking for a cheap ticket to see Peyton's game in New England against Tom Brady and the Patriots, you're probably going to want to stop looking because they don't exist. According to our best friends at Ticketcity.com the average ticket price for Sunday night's game is $385. That's the most expensive average of the 2013 season and only $7 cheaper than the $392 average for last season's AFC Championship game between the Patriots and Ravens. 
You can get into the Broncos-Patriots game for less than $385 though. The cheapest ticket to see Manning vs. Brady on Sunday is going for $175 on the secondary market. Of course, you could always spend that $175 on a new cell phone and then you could watch the game on your phone because who doesn't like watching football on their phone.
If you want to see a Manning brother play on Sunday, but you don't have $175, you have another option: ELI! The cheapest ticket to see Eli and the Giants against Tony Romo and the Cowboys is going for $167. After starting 0-6, the Giants are actually relevant and that $167 ticket price proves it. It also proves that there's no price to high to pay to watch Tony Romo play football. 
The big loser here is that strip club in New York that said it was going to stop showing Giants games after the team started 0-5. Joke's on you strip club. 
There's no $6 ticket this week like there was last week in Jacksonville, but you can see a good game for a low price in Arizona. A ticket to see 2012 coach of the year Bruce Arians against coach of the year runner-up Chuck Pagano should cost at least $912, but it doesn't, you can get into the Colts-Cardinals game for as low as $46. That's $46 to see two teams that could end up making the playoffs. Cardinals fans are so used to giving away tickets at this point season, they probably don't know they could sell their ticket for more than $46. 
The cheapest game of the week is in Miami where you can see the Dolphins play the Panthers for $22. If you don't have $22, you can try and do what Mike Pouncey did and watch the game at Richie Incognito's house. 
Mike Pouncey also said he watched Sunday's game at his house with Richie Incognito.

— Armando Salguero (@ArmandoSalguero) November 20, 2013
Here's the lowest ticket price on Ticket City for each Week 12 game as of 4 a.m. ET on Thursday. The second price is the lowest price on the NFL ticket exchange run by Ticketmaster. Keep in mind, ticket prices change often.
1. Denver at New England: $175 -- None available
2. Dallas at NY Giants: $167 -- $148
3. Chicago at St. Louis: $116 -- None available
4. Minnesota at Green Bay: $84 -- $74
5. NY Jets at Baltimore: $65 -- $67
6. San Francisco at Washington: $62 -- $76
7. Tampa Bay at Detroit: $53 -- $57
8. Tennessee at Oakland: $51 -- $45
9. Indianapolis at Arizona: $46 -- $49
10. New Orleans at Atlanta: $43 -- $40
11. Pittsburgh at Cleveland: $42 -- $44
12. Jacksonville at Houston: $30 -- $45
13. San Diego at Kansas City: $28 -- $30
14. Carolina at Miami: $22 -- None available
From our friends at TicketCity, you can see the average ticket prices for some of the hottest Week 12 games.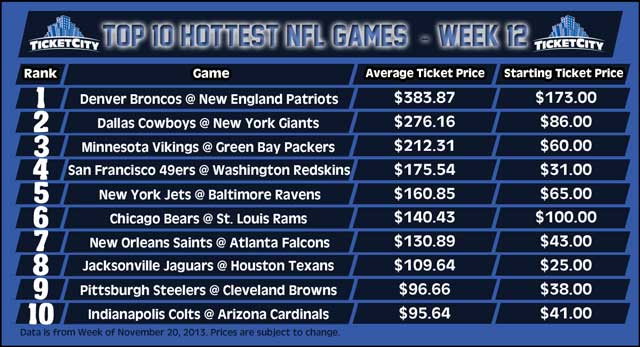 Have you ever watched a game at Richie Incognito's house? Do you watch football on your phone? Are you going to a game this week? Let me know in the comment section or on Twitter or make a giant sign that says 'HI JOHN BREECH' and I'll look for you on TV.
---
Follow John Breech on Google+
Breaking down why the underdogs are very dangerous against the Patriots

All of the information you need to know about the 2018 Super Bowl

Here's all the details you need to know on watching Super Bowl LII between the Patriots and...
No one wants to give the Eagles any respect

Here's a look at the NFL's entire postseason schedule for 2018

Here's everything you need to know about Super Bowl LII