NFL Week 12 Picks: Giants over Cowboys, Broncos beat Patriots
Week 12 will be a big one for the Manning family if both Peyton and Eli can come away with wins in games against the Patriots and Cowboys.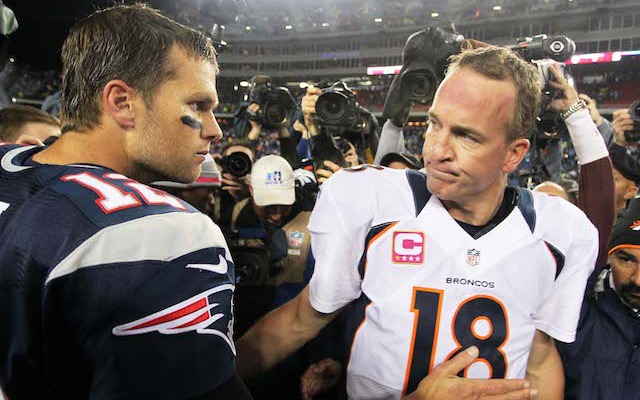 Before I get to my Week 12 picks, I need to talk about what I learned in Week 11 and here's what I learned in Week 11: I learned that giving someone a bear hug in the end zone on the final play of a game is legal. I like bears and I like hugs, so I'm not going to sit here and say I have a problem with this, but I don't think Bill Belichick and Tom Brady were too happy after Monday's 24-20 loss to the Panthers. 
That being said, the NFL probably needs to decide if end zone bear hugs are illegal because they're either penalties or they're not, but it can't be both. I vote for them being penalties because I'm not sure legalizing end zone bear hugs would make the NFL more entertaining.  
In Week 11, I also learned why wearing dreads on a football field is a horrible idea. Here's Exhibit A: Jaguars defensive end Jason Babin holding a lock of hair belonging to Cardinals running back Andre Ellington. That was probably painful. 
Jason Babin, the Barber of Jacksonville. pic.twitter.com/61BGaQDLoF

— Vince Marotta (@Vincemarotta) November 17, 2013
Alright, now that I've grossed you out, lets get to the picks. 
If you want to make fun of me for all of the wrong picks I made last week or if you just disagree with my Week 11 picks below, be sure to let me know in the comment section or on Twitter. Also, it's Peyton Manning vs. Tom Brady week, so if you feel like telling me about that one time you bought Uggs for men because you saw Tom Brady wearing them in a commercial, you can do that too. Or if you once bought a large pizza from a Papa John's Store owned by Peyton Manning, be sure to let me know. 
Also, if you understand what Tom Brady's saying in this video, please let me know because his Boston accent is way too thick and I'm just not sure what he's saying. 
Anyway, lets get to the picks. And don't forget, you can check out the weekly picks from every CBSSports.com NFL expert here.
Week 12 Picks
NY Jets (5-5) at Baltimore (4-6), 1 p.m. ET: The Jets have been one of the hardest teams to figure out in the NFL this season, but by being one of the hardest teams to figure out, they've actually been the easiest team to figure out. You see, they've alternated wins and losses since Week 1. Meaning they won in Week 1, lost in Week 2, won in Week 3, lost in Week 4 and so on. The Jets have done this through 10 games, becoming the first team in NFL history to alternate wins and losses through 10 games. The Jets have zero winning streaks this season and zero losing streaks. I'm not sure all of that made sense, but my pick will: Ravens 27-24 over the Jets. 
Chicago (6-4) at St. Louis (4-6), 1 p.m. ET: Josh McCown vs. Kellen Clemens isn't exactly Peyton Manning vs. Tom Brady, but it's close. Actually, I can't even type that with a straight face, it's not close at all. I'll be honest, I never know who to pick when two backup quarterbacks are facing each other, so I'm going to take the team with the better defense. Right now, that's St. Louis. Rams 20-17 over the Bears. 
Indianapolis (7-3) at Arizona (6-4), 4:05 p.m. ET: This is my favorite game of Week 12 that doesn't involve Peyton Manning and Tom Brady. Last year, Bruce Arians won the NFL coach of the year award as the coach of the Colts and he was only coach of the Colts because he was filling in for Chuck Pagano who was recovering from cancer. Pagano knows what Arians likes to do and Arians knows what Pagano likes to do. The only real difference here is that Pagano has Andrew Luck and Arians doesn't. Instead, Arians has a guy who's thrown the third most interceptions in the NFL this season (15). Colts 30-24 over the Cardinals. 
Dallas (5-5) at NY Giants (4-6), 4:25 p.m. ET: Last week, Redskins linebacker London Fletcher decided to rank the teams in the NFC East. Despite the Cowboys being tied with Philadelphia atop the division at the time, Fletcher ranked the Eagles first, the Giants second, the Cowboys third and the Redskins last. London Fletcher has played in 250 consecutive NFL games, so I feel like he knows more about football than I do. I think my point here is that I'm going to roll with his rankings. Also, the Cowboys pass defense somehow manages to get worse every week and I think Eli will take advantage of that -- like every other quarterback has this season. Giants 30-27 over the Cowboys. 
Denver (9-1) at New England (7-3), 8:30 p.m. ET: Peyton Manning and Tom Brady basically cancel each other out in this game, so I've decided I'm going to pick the team with better receivers and that's mainly because I expect a lot of passes thrown on Sunday night. So lets break this down: The Patriots have zero receivers with over 510 yards this season, the Broncos have four. The Patriots have zero receivers with over five touchdown catches this season, the Broncos have three. The Patriots have one receiver with over 36 receptions this season, the Broncos have five. Generally, I try to avoid picking a Jack Del Rio-coached team to beat a Bill Belichick-coached team, but in this case, I'm going to make an exception. Broncos 34-31 over the Patriots. 
Lets hope Peyton Manning celebrates the win by hosting Saturday Night Live again. 
NFL Week 12 Picks: All the rest
Lions 24-17 over Buccaneers 
Panthers 20-13 over Dolphins
Texans 27-17 over Jaguars
49ers 23-17 over Redskins
Byes: Buffalo, Cincinnati, Philadelphia, Seattle
Last Week
Best Pick: Last week I picked the Panthers to beat the Patriots by four and the Panthers beat the Patriots by four. Did I know that Luke Kuechly was going to get to second base with Rob Gronkowski on the final play of the game? Of course not, that's not something you can predict. Did I know the refs were going make up rules as they went? No, but lets all agree that the refs making up rules and not calling blatant pass interferences is part of what makes the NFL so fun. Also, the Patriots probably got free Gronk-tinis on the plane ride back to Boston, so if you think about it, there really were no losers on Monday night. 
So this is how the Patriots-Panthers game ended. pic.twitter.com/37e5G5WhbE

— Eye on Football (@EyeOnNFL) November 19, 2013
Worst Pick: The Texans have lost eight in a row, but I continue to pick them to win. I picked Houston to beat the Raiders last week and of course, Houston didn't beat the Raiders. Not only did the Texans lose at home to Oakland, but fans started booing so loud in the third quarter that Houston's offense had to use a silent count. Think about that for a second. Houston had to use a silent count at a home game because the fans were booing so loud. Are the fans bad for booing or are the fans smart for knowing bad football when they see it? Anyway, after their Week 10 loss to Arizona, the Texans cut Ed Reed. This week I hope they cut everyone else on the defense. Except J.J. Watt, he's good.
Straight up: 10-5
SU overall: 104-58
Against the spread: 6-9
ATS Overall: 74-88
---
Follow John Breech on Google+
Pick Six Newsletter
Get the day's big stories + fun stuff you love like mock drafts, picks and power rankings.
Please check the opt-in box to acknowledge that you would like to subscribe.
Thanks for signing up!
Keep an eye on your inbox for the latest sports news.
Sorry!
There was an error processing your subscription.
Bell will play under the franchise tag for the second consecutive season

The NFL reportedly won't take any further action against Keim

The future Hall of Famer doesn't sound like he wants to chase a ring elsewhere
The Packers QB likes the idea of tying his value to a percentage of the cap, but good luck...

The move puts Cooks among the top wide receivers in the NFL in terms of salary

After a lengthy period of time away from football, the former second-round pick is back