NFL Week 13 Injury Roundup: Brandon Weeden suffers concussion
Cleveland Browns quarterback Brandon Weeden was diagnosed with a concussion after the Browns lost to Jacksonville on Sunday.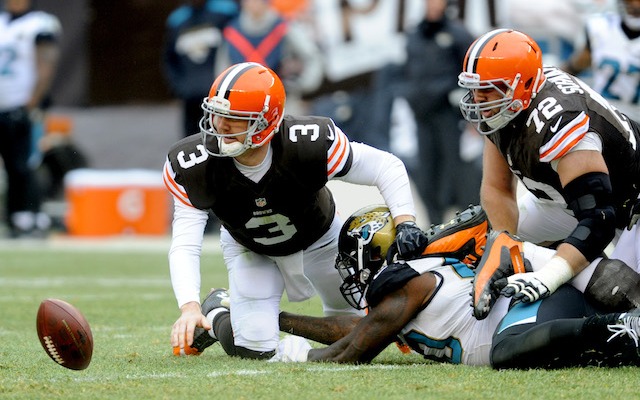 For more injury news and notes from around the league, be sure to check out CBSSports.com's NFL Rumors blog.
Browns QB Brandon Weeden diagnosed with concussion after game
Cleveland Browns quarterback Brandon Weeden threw for 370 yards and three touchdowns on Sunday and he did that despite playing at least part of the game with a concussion. It's not clear when Weeden suffered the concussion, but he told the team after the game that he was suffering from concussion like symptoms, according to Cleveland.com. Weeden was only starting against Jacksonville because last week's starter, Jason Campbell, suffered a concussion of his own against Pittsburgh. If Weeden and Campbell don't get better quickly, the Browns could be forced to start Alex Tanney next week against New England. Tanney was signed from the Cowboys practice squad on Nov. 26 and is the only other quarterback on the roster. 
Vikings QB Christian Ponder leaves game after suffering concussion 
Brandon Weeden wasn't the only quarterback to suffer a concussion on Sunday, Christian Ponder suffered one too. Ponder left the game after being sandwiched by Chicago's Shea McClellin and James Anderson in the second quarter. After Ponder's injury, Matt Cassel entered the game and led the Vikings to a 23-20 overtime win over the Bears. Coach Leslie Frazier was non-committal about who the starter would be next week in Baltimore. "It's great that Matt came in and did the things he did," Frazier said. "We'll sit down on Monday and talk about where we are and figure out where Christian is, health-wise, over the course of the week."
Titans TE Delanie Walker suffers concussion
In Tennessee's Week 11 loss to Indianapolis, Titans tight end Delanie Walker was one of the team's biggest weapons, catching 10 passes for 91 yards and a touchdown. During the rematch on Sunday, Walker didn't close to those numbers thanks to a concussion he suffered early in the game. Walker hit his head on the ground in the first quarter and didn't return to the game. Walker finished the game with one catch for five yards in his very limited action. 
Rams Jake Long OL Jake Long leaves with concussion
Concussions were everywhere in the NFL on Sunday, including in San Francisco. Rams left tackle Jake Long suffered a concussion in the third quarter against the 49ers and had to leave the game for good. Coach Jeff Fisher said after the game that Long would undergo the standard concussion protocol and then the team would go from there. 
Chiefs OL Brandon Albert carted off field with knee injury
Kansas City lost left tackle Brandon Albert during the fourth quarter against the Broncos. Albert was carted to the locker room after injuring his knee on a pass play where he was blocking Denver linebacker Von Miller. The Chiefs also lost tight end Anthony Fasano to a concussion. 
49ers OL Joe Staley injures knee on first offensive possession
It was a rough day for left tackles, besides Albert and Long, 49ers left tackle Joe Staley also sustained an injury. Staley was injured on San Francisco's first offensive possession against St. Louis. The 49ers tackle hurt his right knee while blocking for Frank Gore on a running play. Staley was able to walk to the locker room under his own power, however, he was ruled out by the 49ers almost immediately. 
Buccaneers CB Darrelle Revis injures chest after near-interception
It wasn't a great day for Tampa Bay cornerback Darrelle Revis. In the third quarter of the Buccaneers 27-6 loss to Carolina, Revis was burned for by Panthers wide receiver Tedd Ginn for a 36-yard touchdown. On Carolina's next offensive series, Revis dropped an interception and suffered a chest injury on the play. Revis didn't return to the game. Coach Greg Schiano didn't have much of an update on Revis' condition after the game, "I don't know much more. He didn't return, as you saw," Schiano said, via TampaBay.com. 
Josh Cribbs injures shoulder vs. Dolphins
Jets kick returner Josh Cribbs injured his shoulder against the Dolphins in the first half and didn't return to the game. Cribbs serves as the Jets primary kick returner, however, he didn't get to return any kicks in New York's 23-3 loss to Miami. 
Plus the Eagles' formula for winning late, the AFC playoff mish mash and a budding young Vikings...

Here are the Week 11 grades for every team that played Sunday

The Eagles move to 9-1 after beating the Cowboys by four touchdowns
Peterman threw five interceptions in the first half before getting yanked

The Vikings' coach addresses the team's cloudy quarterback situation after their eighth win...

Green Bay could have brought in a veteran quarterback but decided to stick with Hundley