NFL Week 13: Seahawks tickets almost $225; Browns tix almost $7
The most expensive ticket of Week 13 is in Seattle where tickets to the Saints-Seahawks game on Monday night are going for $220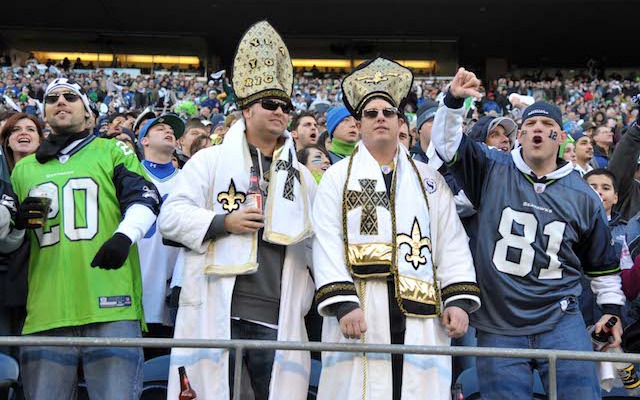 The two top teams in the AFC are playing this week and so are the two top teams in the NFC, marking only the second time since 1970 that the top two teams from each conference are playing each other on the same weekend this late in the season. 
In case what I just wrote was confusing, here's a tweet that sums up what I just said. 
Week 13 will be 2nd time since merger top 2 teams in each conference meet (DEN-KC, NO-SEA) in same week 10+ games into season (Wk 16, 2008)

— Randall Liu (@RLiuNFL) November 25, 2013
Chiefs fans might hold the world-record for loudest stadium, but they definitely don't hold the world record for fans 'willing to spend the most money to watch their team play.' That honor belongs to the Seahawks and it only takes one look at this week's ticket prices to realize that. 
If you want to see the 9-2 Broncos play the 9-2 Chiefs in Kansas City on Sunday, you can get into the game for as low as $68. That's only the fifth most expensive game of Week 13. Let me put it this way: People in Canada are willing to pay more than that to watch the Bills and Falcons play!
On the other hand, if you want to see the 9-2 Saints play the 10-1 Seahawks in Seattle on Monday, you're probably going to have sell your car, your cell phone, your dog and your refrigerator because the CHEAPEST ticket to the game is going for $220 right now. 
That makes Monday night's clash the most expensive game to get into this season. The most expensive game before Week 13 was also in Seattle. That came in Week 2 when the cheapest ticket to see the 49ers and Seahawks on Sunday Night Football was $204. Apparently all they spend their money on in Seattle is coffee and Seahawks tickets. 
Speaking of coffee, you can see the Jaguars and Browns play this week for the price of a cup of coffee -- or two cups of coffee. Two tall mocha's at Starbucks will set you back about $6.50, a ticket to see the Jaguars play the Browns in Cleveland on Sunday will cost you $6. 
Can't believe Browns vs Jaguars wasn't flexed to Sunday night.

— Fake Jimmy Haslam (@FakeHaslam) November 28, 2013
Here's the lowest ticket price on Ticket City for each Week 13 game as of 2 a.m. ET on Thursday. The second price is the lowest price on the NFL ticket exchange run by Ticketmaster. Keep in mind, ticket prices change often.
1. New Orleans at Seattle: $257 -- $220
2. St. Louis at San Francisco: $153 -- $145
3. Oakland at Dallas: None available -- $80
4. Atlanta vs. Buffalo in Toronto: $71 -- None available
5. Denver at Kansas City: $68 -- $72
6. Pittsburgh at Buffalo: None available -- $67
7. Miami at NY Jets: $66 -- $69
8. Arizona at Philadelphia: $60 -- $75
9. New England at Houston: $56 -- $59
10. Chicago at Minnesota: $48 -- $49
11. Tampa Bay at Carolina: $42 -- $45
12. Cincinnati at San Diego: $37 -- $52
13. Tennessee at Indianapolis: $29 -- $50
14. NY Giants at Washington: $22 -- $44
15. Jacksonville at Cleveland: $6 -- $19
Tickets no longer on sale for Green Bay at Detroit, you'll have to go to Ford Field and barter for them. 
---
Follow John Breech on Google+ or if you prefer Twitter, he sometimes does that too.
He'll reportedly appeal the suspension

Rodgers is eligible to return after eight weeks and the Packers reportedly aren't giving up...

The Packers think the hit is dirty, but the NFL apparently disagrees
Here's every official injury designation for each NFL team for Week 7

If it wasn't already clear, the Packers are not happy with the hit that injured Rodgers on...

Passengers were treated to some explicit chants from the Oakland running back, too