NFL Week 14 as told by Twitter: Snow football dominates Twitter
Snow affected what may have been the best slate of games in years. Twitter users reacted appropriately.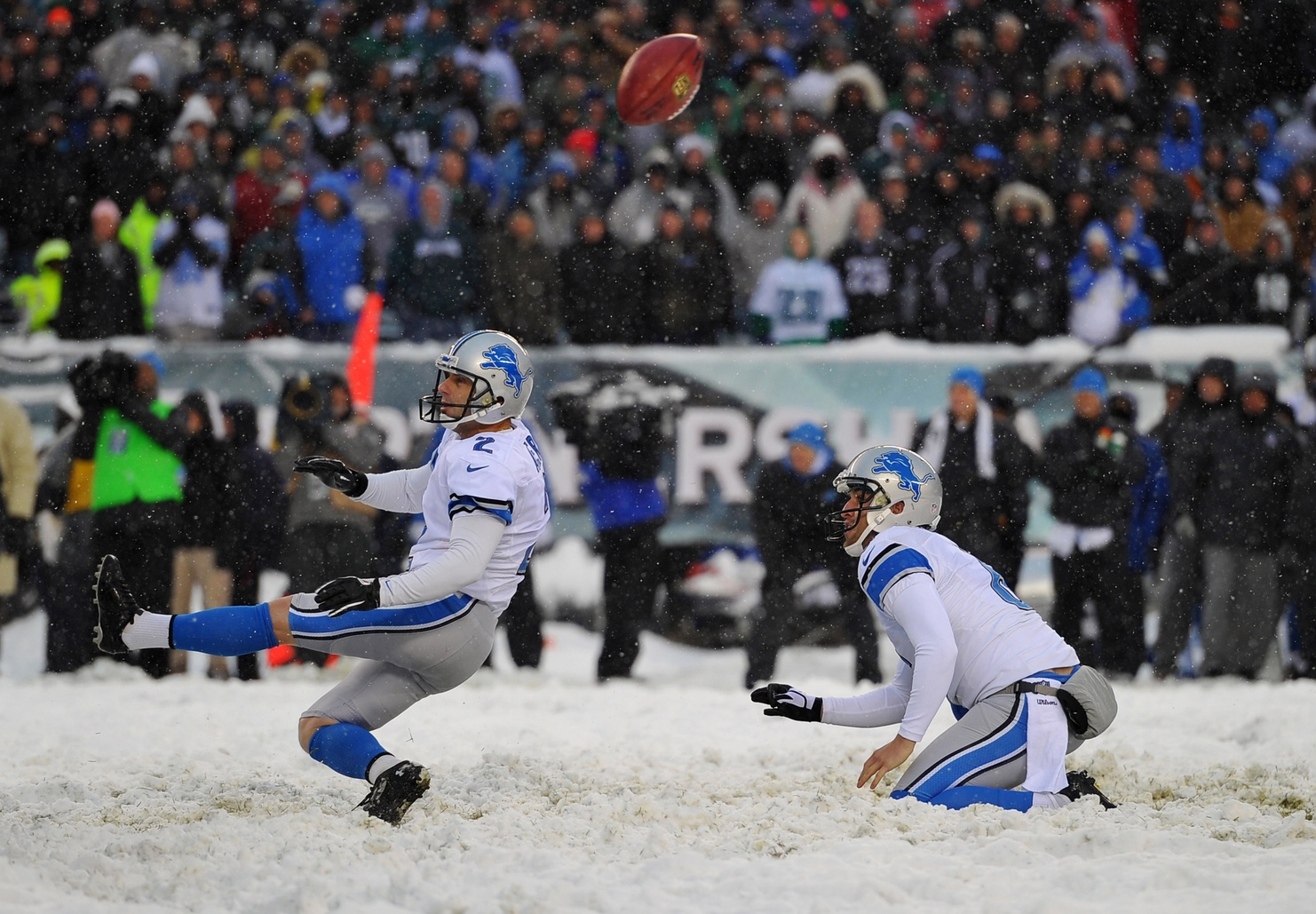 Between the snow and the close finishes, the NFL had one of its best weeks in years. The Eagles won in eight inches of snow, Minnesota and Baltimore scored five touchdowns in two minutes, and the Steelers nearly won on a series of improbable laterals.
Lions/Eagles: For first time in 56 years, no points were scored on kicks. PHI was involved in last one http://t.co/WIUGbuLNOQ

— Chase Stuart (@fbgchase) December 8, 2013
Nick Foles does look a bit like Hermie. RT @BleedingGreen: Little known fact: Yukon Cornelius is LeSean McCoy's paternal grandfather

— Varad Mehta (@GWhistorian) December 8, 2013
That shot of the FOX cameraman in Philly is amazing. pic.twitter.com/TTQCkUtl0p

— Matt Young (@mjoven1975) December 8, 2013
With Reggie Bush out the Lions should just play Calvin Johnson at running back today.

— Tom Fornelli (@TomFornelli) December 8, 2013
Hoth > Philadelphia

— Jason Romano (@JasonRomano) December 8, 2013
Eagles had 227 yards rushing… in the fourth quarter. Yikes

— Smart Football (@smartfootball) December 8, 2013
Google Glass + Philadelphia Eagles + Snow = pic.twitter.com/wZrcf29aqD

— Joshua Davidson (@dasjoshua) December 8, 2013
Marlon Brown (from Memphis, played at Georgia) says this was 1st real snow he's ever seen. Caught game wining TD.

— Mark Viviano (@MarkWJZ) December 8, 2013
The FIVE touchdowns in the last 2:05 of the 4th quarter between the @Vikings & @Ravens is the most in an NFL game dating back to 1983. Wow.

— FOX Sports Live (@FOXSportsLive) December 8, 2013
Thank you Mike Tomlin for being in Pittsburgh #MPtakeover #purplesnowday

— Baltimore Ravens (@Ravens) December 8, 2013
The inevitable Mike Tomlin-Antonio Brown photoshop (via @NFL_Memes) pic.twitter.com/9bXQnBsLbL

— Will Brinson (@WillBrinson) December 8, 2013
Shot the Day. Antonio Brown watching his left foot go OB by ... Much! Wow #Lateral pic.twitter.com/KiiseAG6y9

— Tommy Tran (@TommyTranTV) December 8, 2013
The guy who runs the Redskins' Twitter account deserves a raise.
Postgame, tune in for #Redskins pressers w/ HC Mike Shanahan, QB @RGIII. Should be interesting: http://t.co/sLUAFLPy7g #HTTR

— Washington Redskins (@Redskins) December 8, 2013
This fan is a hero.
bro-est way to die RT @BuzzFeedSports: He's definitely cold. pic.twitter.com/VarCrAbxNo

— Lana Berry (@Lana) December 8, 2013
#PoorBrowns is something that needs to happen...every week.
That kick was dead on ... & came up just short #PoorBrowns

— Thomas Neal (@TdaddyNeal) December 8, 2013
Bell reportedly showed up for only the last five minutes of the team's walkthrough

Two super-sized runners and a pair of tall wideouts have the skills to shine during a week...

The Vikings become the first team to play in a Super Bowl held in their home stadium
Belichick was predictably mum in regards to Brady's status

R.J. White, who nearly won the Las Vegas SuperContest, locks in his pick for the NFC Championship...

Everything you need to know about the AFC and NFC title games