NFL Week 14: Seahawks-49ers tickets pushing $250; priciest yet
The cheapest ticket to Sunday's game between the Seahawks and 49ers is going for almost $250. Through 14 weeks, that's the most expensive get-in price of 2013.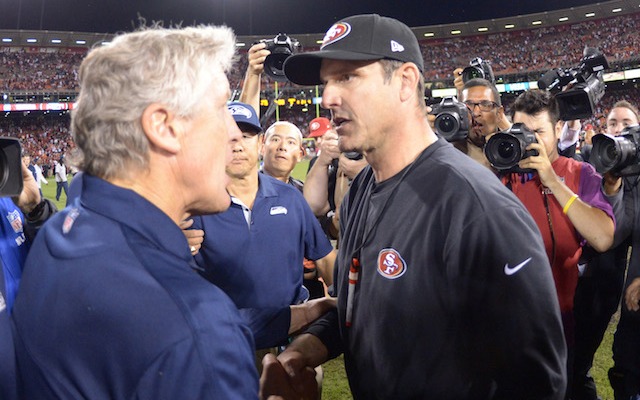 Apparently NFL fans are a little more excited about NFC games this week than they are about AFC games. Four of the five most expensive games of Week 14 are games involving NFC teams. 
Leading the way in the price department is the most expensive game to get into so far this season: Seattle at San Francisco. The cheapest ticket you can buy to Sunday's game between the Seahawks and 49ers is going for $249.
The Seahawks aren't a cheap team to watch, Sunday's game marks the third time this season the cheapest ticket to a Seahawks game is going for over $200. Seahawks and 49ers fans are obviously willing to pay to see this game because they know there's a 40 percent chance it will end with a fistfight between Pete Carroll and Jim Harbaugh.
The NFC West isn't the only division with its first and second place teams playing each other this week, that's happening in the NFC South too and it's a lot cheaper to watch the NFC South game. If you want to see the Panthers play in New Orleans on Sunday, you can get a ticket for as low as $80. It's worth paying that price just to see what Riverboat Ron's next coaching gamble will be. Will he go for it on fourth-and-19 from his own four-yard line? Will he punt on second down so he can catch the other team off-guard? Will the Panthers do an onside kick on every kickoff? No knows the answers to any of these questions because you can't predict what a gambler's going to do and Riverboat Ron is a gambler. Trust me. Spend the $80, you won't regret it. 
I'm convinced: Riverboat Ron and 1st Capt. Cam are legit. pic.twitter.com/GoLYZ9VPRl

— ryan wilson (@ryanwilson_07) November 11, 2013
On the other hand, if you don't have $80, but you have $30 and you want to see two 8-4 teams play on Sunday, all you have to do is go to Cincinnati. Tickets to see the Colts play the Bengals are going for as low as $30. However, that's not as cheap as tickets are to see the Chiefs play in Washington. With the Redskins season falling apart fast, and fans giving up, you can get a ticket to Sunday's game for as low as $14. 
Here's the lowest ticket price on Ticket City for each Week 14 game as of 5 a.m. ET on Thursday. The second price is the lowest price on the NFL ticket exchange run by Ticketmaster. Keep in mind, ticket prices change often.
1. Seattle at San Francisco: $268 -- $249
2. Dallas at Chicago: $100 -- $104
3. Cleveland at New England: $90 -- $65
4. Carolina at New Orleans: $81 -- $80
5. Detroit at Philadelphia: $70 -- $75
6. Tennessee at Denver: $70 -- $49
7. NY Giants at San Diego: $59 -- $65
8. Minnesota at Baltimore: $44 -- $62
9. Atlanta at Green Bay: $41 -- $74
10. Miami at Pittsburgh: $40 -- $67
11. Buffalo at Tampa Bay: $40 -- $40 
12. Oakland at NY Jets: $33 -- $50
13. Indianapolis at Cincinnati: $30 -- $40
14. Houston at Jacksonville: $28 -- $35
15. St. Louis at Arizona: $24 -- $31
16. Kansas City at Washington: $14 -- $38
From our friends at TicketCity, you can see the average ticket prices for some of the hottest Week 14 games.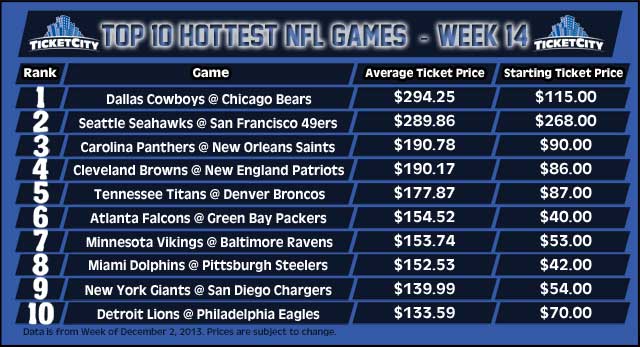 ---
Follow John Breech on Google+ or you can even sometimes find him on Twitter
Griffin was originally drafted by the Redskins in 2012 but has yet to find a team in 2017.

John Dorsey is not playing around when it comes to the Browns

Stephen Oh has his finger on the pulse of Bill Belichick's team and just locked in a pick for...
R.J. White has his finger on the pulse of Indy and made a strong play for 'Thursday Night...

Bell says he felt he 'missed an opportunity to get to a Super Bowl' last season

The former Heisman Trophy winner made a good first impression on the CFL commissioner