NFL Week 15 NFL picks: Jaguars will continue win streak vs. Bills
Here are three reasons why the Jaguars will cover the +2.5 spread against the Bills.
• 2 min read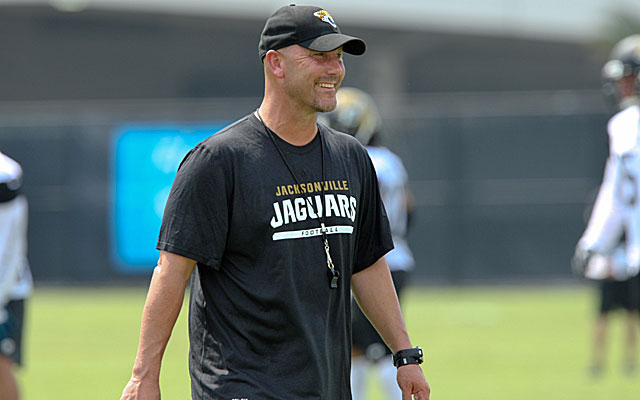 The Jaguars -- yes, the gosh-darn Jaguars -- have won four of their past five games. In fact, they still have a slight shot at the playoffs, something that would have been laughable a month ago. So yes, Jacksonville is one of the hottest teams in the entire league. Swirl that around in your mouth for a second. Tastes strange, eh?
The Bills, meanwhile, are in a freefall. They started off the season well, splitting their first four games, but they lost their rookie quarterback E.J. Manuel for four weeks, and that got them off track. Even when Manuel returned, though, the No. 16 overall pick has gone from playing surprisingly well to playing slightly better than fellow rookie quarterback Geno Smith.
With all that information, it makes sense that Jacksonville would be a slight favorite vs. the Bills this Sunday, especially since the game will be played in north Florida. Right? Well, not exactly. The Bills are actually 2.5-point road favorites, and that's why I'm about to tell you three reasons why you should take the Jaguars without any question about it.
1) The Jaguars offense is figuring out what makes it effective. Running back Maurice Jones-Drew has gained 84, 77 and 104 yards in the last three games -- before Week 12, he hadn't once gained more than 75 yards in a game this season. A potential problem presented itself at the end of last week when he strained a hamstring, but Jones-Drew says he'll play vs. Buffalo. If he does and is relatively healthy, he'll have a chance to put up more yards, because the Bills rank 26th in the league in rush defense. Combine that with Chad Henne's recent competence at quarterback -- especially when you compare him to the debacle that was Blaine Gabbert -- and the Jaguars have scored at least 28 points in three of the past five games. Considering they averaged 10.9 points per game through Week 9, that's an outstanding turnaround.
2) The Bills have regressed. After narrowly losing to the Bengals in overtime in Week 6, they traveled to Miami and ended up pulling out a win against the Dolphins (with Thad Lewis starting at quarterback for Buffalo, no less). But without Manuel in the lineup, the Bills had a hard time creating offense. And even since he's returned, he's played like a rookie quarterback -- in other words, inconsistent. He put up a 31.2 quarterback rating on Sunday vs. the Buccaneers, and if he can't play any better than that, Buffalo has very little chance to win.
3) Jacksonville isn't so terrible at home after all. Remember that awful stretch where Jacksonville lost seven straight games in Jacksonville? Of course you do. The Jaguars just broke that streak by beating the Texans in Week 14. But it doesn't really matter. The Jaguars are playing too well right now to worry about why they've been disturbingly bad at home the past couple years. Besides, Buffalo has lost nine of its past 10 games on the road. All of that equals a two-game home winning streak for Jacksonville and the fourth-straight win overall.
Follow Josh Katzowitz on Google+
Lawrence says the NFL should protect pass-rushers like it protects quarterbacks

With their 2017 season basically over, it's time for Redskins fans to turn their attention...

The Eagles quarterback reaffirmed his faith and said he plans on coming back stronger than...
The Buccaneers are 4-9 and firmly out of the playoff mix, and now their best player is hur...

It might be time for Johnny Football to head to the Great White North

Rodgers has been out with a broken collarbone since Week 6