NFL Week 16 as told by Twitter: Dallas avoids another meltdown
The Cowboys almost choked away another game - and a playoff spot - until Tony Romo and DeMarco Murray bailed out Dallas. Twitter users reacted with a bevy hilarious tweets.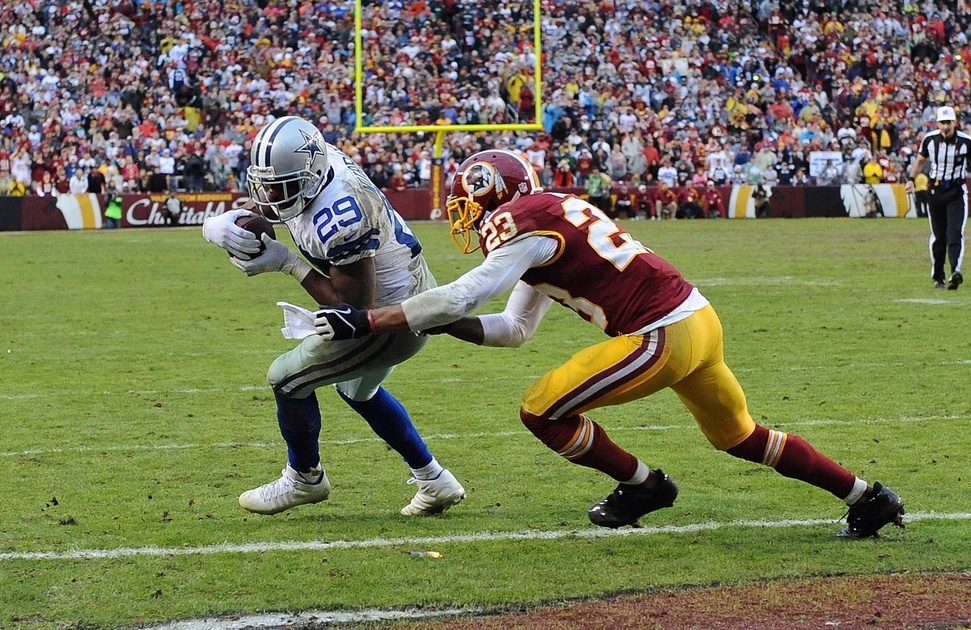 The Cowboys narrowly avoided another embarrassing meltdown thanks to Tony Romo finding DeMarco Murray for a late touchdown to take the lead. Prior to Murray's touchdown, the Cowboys and Redskins engaged in nearly 60 minutes of football comedy. Even LeBron James chimed in on Dallas' bid to stay alive in the NFC East race.
Man the Cowboys better not lose this game! Demarco Murray got 76 yards on 11 carries with a TD. Give him the ball man! Not now but right now

— LeBron James (@KingJames) December 22, 2013
Set up perfectly for Tony Romo. The gods are ruthless.

— Don Van Natta Jr. (@DVNJr) December 22, 2013
Tony Romo is like, "See, that's what happens when I hand it off to Murray!!!"

— Josh Katzowitz (@joshkatzowitz) December 22, 2013
In lieu of giving Romo credit, I'll just attribute that to Shanahan wanting to get fired.

— Mike Tunison (@xmasape) December 22, 2013
I think we'll all remember where we were when Tony Romo engineered a comeback win against a 3-12 team that allows 31 points a game.

— Mike Gianella (@MikeGianella) December 22, 2013
Narrative narrative narrative narrative

— Dan Steinberg (@dcsportsbog) December 22, 2013
Like the NFC East, the NFC North is a complete mess.
So the Bears are playing for their division tonight. The Eagles would be, but the Redskins are coached by Mike Shanahan.

— Les Bowen (@LesBowen) December 23, 2013
Jay Cutler missed half the season. Rodgers missed half the season. Lions were remarkably healthy, won't finish better than .500. Pathetic

— Peter Bukowski (@BukoTime) December 23, 2013
/checks to see if the Vikings can win the NFC North

— JJ Stankevitz (@JJStankevitz) December 23, 2013
Watching the bears game. I CAN HELP!!!!!!!!! UGHHHHHHHH lol

— Tommie Harris (@Tommieharris90) December 23, 2013
Matthew Stafford's GF weighed in on fans booing---then some dude dropped the greatest tweet ever. pic.twitter.com/57drmfRsXD

— World of Isaac (@WorldofIsaac) December 23, 2013
Related: The Lions are fantasy football kryptonite.
WHO? WHAT? I hope the Lions lose every game ever RT @mikerothstein: Theo Riddick -- seriously, Theo Riddick -- with a touchdown run.

— Rob Dauster (@RobDauster) December 22, 2013
Folks, that's respect. Calvin, double covered at the top of the screen. pic.twitter.com/E3Tbbl7DrT

— World of Isaac (@WorldofIsaac) December 22, 2013
Peyton Manning and the Broncos cannot be stopped.
3 TIME DIVISION CHAMPS THANKS TEBOW

— Spillver Bells (@IAmSpilly) December 22, 2013
Peyton Manning needs 266 yards to break the single-season yardage and touchdown records this year. http://t.co/MEPNph4ArA

— CBSSports.com (@CBSSports) December 22, 2013
Meanwhile, the referees in Green Bay are probably still confused about this play.
Refs say you can't challenge possession? What? OK, so how about being DOWN BY CONTACT? Was that up for a challenge?

— Dejan Kovacevic (@Dejan_Kovacevic) December 22, 2013
Mike Tomlin should've jumped on Ryan Clark's lateral. Problem solved.

— ryan wilson (@ryanwilson_07) December 22, 2013
"Possession in the field of play is not a challengeable aspect of a replay" Then why review turnovers at all?

— Mike Tunison (@xmasape) December 22, 2013
Wow. Steelers definitely had possession with a knee down. Tomlin should have been able to review that.

— Adam Hoge (@AdamHoge) December 22, 2013
This looks miserable.
Having fun yet Pam Oliver? pic.twitter.com/kjfkFGoFRm

— Will Brinson (@WillBrinson) December 22, 2013
Troll so hard, Arizona.
The Cardinals are eating skittles on the Seahawks sideline right now. pic.twitter.com/gwXquDD3ar

— Elise Woodward (@EliseKJR) December 23, 2013
Here's an up-to-date look at the 2018 Pro Bowl roster

New England is 3-0 wearing white in Super Bowls under Bill Belichick

Bettors are favoring the Eagles to keep Super Bowl LII close, but the Patriots remain clear...
No one wants to give the Eagles any respect

The three-time Grammy winner will sing before Super Bowl LII on Feb. 4

Here's a look at the NFL's entire postseason schedule for 2018