NFL Week 16: Cheapest tickets over $255 for final game at Candlestick
Candlestick Park will be hosting its final regular season game ever on Monday and it's not a cheap game to get into.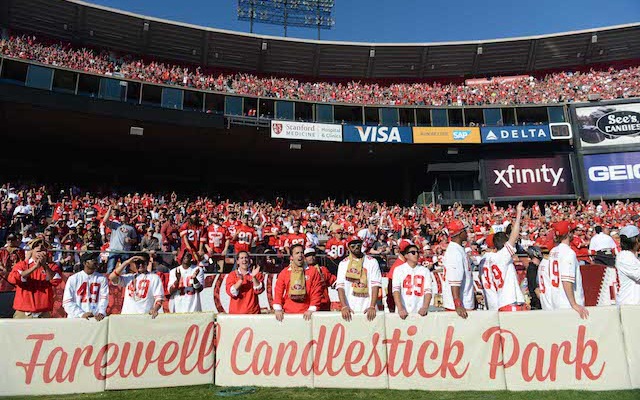 If you've never been to Candlestick Park, that's probably a good thing because it's a lot like being in a dungeon, only in this dungeon, you can watch football and sometimes smell marijuana. Seriously, you can smell it, ask anyone who's ever been there. 
Nobody will say it, so I will. Candlestick Park is a dump.

— Pete Prisco (@PriscoCBS) December 17, 2013
The reason I'm talking about Candlestick Park right now is because the stadium will be holding its final game ever this week and it's not going to be cheap to watch. As a matter of fact, this Monday's game between the Falcons and 49ers has the highest get-in price of any game this season. The cheapest ticket to Monday night's game is $257. 
The odd thing is that it might not even be the final game at Candlestick. If the 49ers earn the No. 5 seed in the NFC playoffs, there's an outside chance they could host the NFC Championship game. The cheapest tickets to that game would probably go for over $1000. The 49ers can officially clinch a playoff berth with a win over the Falcons.
What are the #49ers thinking before final game at Candlestick Park? "Not to screw it up." http://t.co/fc0ppFwJ6D pic.twitter.com/4AA1zyuHum

— San Francisco 49ers (@49ers) December 17, 2013
If you don't want to pay $257 to see the 4-10 Falcons play, you have other options, especially if you live in Kansas City. The cheapest ticket to see the 11-3 Chiefs play the 9-5 Colts is going for only $14. I think maybe Chiefs fans forgot their team is 11-3 or maybe they've just given up all hope on winning the AFC West. Whatever the reason is, it's the fourth cheapest game of the week. 
The cheapest game of Week 16 is in St. Louis, where you can get Rams-Buccaneers tickets for $10. 
Here's the lowest ticket price on Ticket City for each Week 16 game as of 2 a.m. ET on Thursday. The second price is the lowest price on the NFL ticket exchange run by Ticketmaster. Keep in mind, ticket prices change often.
1. Atlanta at San Francisco: $257 -- $278
2. Arizona at Seattle: $150 -- $145
3. Chicago at Philadelphia: $108 -- $90
4. New England at Baltimore: $105 -- $115
5. Denver at Houston: $102 -- $99
6. New Orleans at Carolina: $101 -- $115
7. Pittsburgh at Green Bay: $95 -- $90
8. Oakland at San Diego: $81 -- $83
9. Dallas at Washington: $66 -- $70
10. Miami at Buffalo: $46 -- $45
11. NY Giants at Detroit: $41 -- $42
12. Cleveland at NY Jets: $14 -- $50
13. Indianapolis at Kansas City: $14 -- $25
14. Minnesota at Cincinnati: $12 -- $40
15. Tennessee at Jacksonville: $12 -- $35 
16. Tampa Bay at St. Louis: $10 -- $40
Warren Sapp was one of several players named in a lawsuit against NFL Network

Check out the uniforms that Denver and Indianapolis will be wearing on Thursday

The Cowboys are going to need a few things to go their way to get into the postseason
Rudolph will be put under the microscope in Mobile by clubs looking for a quarterback early...

This fan is taking the Saints to court for using 'football games as a platform for protest...

Can Aaron Rodgers get the Packers to the postseason? Even if they win out, they'll need he...