NFL Week 2 picks: The Chiefs will surprise Cowboys in KC
Here are three reasons why the Chiefs will beat the -0.5 point spread when they face the Cowboys.
• 2 min read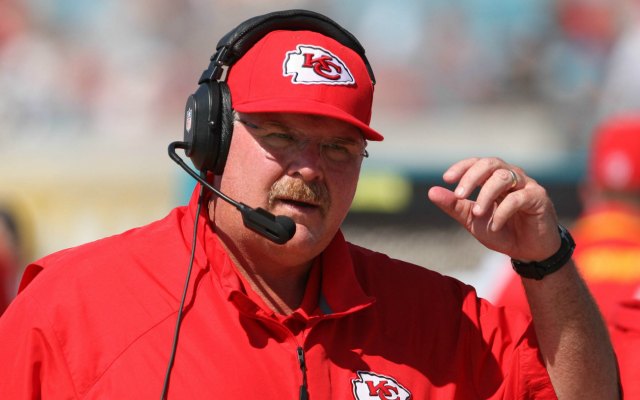 Let's forget all about last week, shall we? When a certain ill-informed scribe suggested you bet your mortgage on the Patriots covering the 10.5 vs. the Bills. That chap obviously didn't know of what he spoke. But this week … this week will be different because I know for sure -- for sure!!! -- that the Chiefs will play host to the Cowboys and cover the -0.5 spread.
That, of course, means, the Chiefs will win by 1 point or more, and that also means they're slight underdogs at home to the Cowboys who are coming off an exciting Sunday night victory vs. the Giants.
I've got three reasons why you should go with the Chiefs on Sunday (but for gosh sakes, do NOT bet your house on the result. Unless you won somebody else's house last week betting on the Bills).
1. I'm an Andy Reid believer. Every time a radio host asks me about who I think will be the biggest surprise team of the year, I always mention Kansas City. And I mention Kansas City because I haven't forgotten the kind of coach Reid was when he was with the Eagles. Yes, the last two years weren't good, but people forget that he took an organization that had won nine total games in the previous two seasons before he got there and turned the team into a perennial playoff squad who went to the NFC championship game seemingly every year. Yeah, Reid only made one Super Bowl. But that kind of consistency in his coaching will be evident in Kansas City this season, and people will remember: Oh yes, Andy Reid CAN coach.
2. No matter what you think about Chiefs quarterback Alex Smith -- he's not an elite player, but he's certainly better than last year's quarterbacks (Matt Cassel and Brady Quinn) -- the Chiefs defense is young, sturdy and scary. With a tough linebacker trio of Justin Houston (three sacks last Sunday) Tambi Hali, and Derrick Johnson; a more-than-solid secondary; and with 2012 first-round pick Dontari Poe showing improvement, Kansas City's defense is going to be tough for any offense to traverse. This might not mean much to you, because it's the Jaguars. But, Kansas City allowed only 228 yards last week in Jacksonville, and that includes holding Maurice Jones-Drew to 3.0 yards per carry. Oh, the Chiefs defense also allowed zero points.  
3. Tony Romo is a tough guy, no doubt about it. But even though the X-rays on his ribs were negative, that doesn't mean they'll feel good when he takes the field Sunday. Romo will play, but it's unclear whether he'll be effective. And if Houston and Hali can get their hands on Romo, his ribs should beware. Now, Romo has won games with a punctured lung (!) and then played the next freakin' week (and proceeded to the win that game as well). Like I said, a tough guy. But he's not necessarily an effective tough guy, and he very well could struggle against a talented Chiefs defense if his ribs are still sore. They probably will be.
Follow Josh Katzowitz on Google+
The Vikings and Chargers beat the Lions and Cowboys and cover plus more winners

SportsLine's Mike McClure, a DFS pro with more than $1M in winnings, gives optimal lineup...

R.J. White has his finger on the pulse of the Cowboys and made a play on the Thanksgiving Day...
And this is why Tyrod Taylor is now the Bills' starting quarterback again

Here are the picks and props you need to be a winner while watching all the football you can...

Freeney, 37, was impressive in Seattle before getting surprisingly released