NFL Week 3 best bets: Tough calls, but bank on Bills beating Jets
Lack of confidence? A tough week and questionable slate will do that, but we'll still take the Bills, Niners and Saints on Sunday.
• 2 min read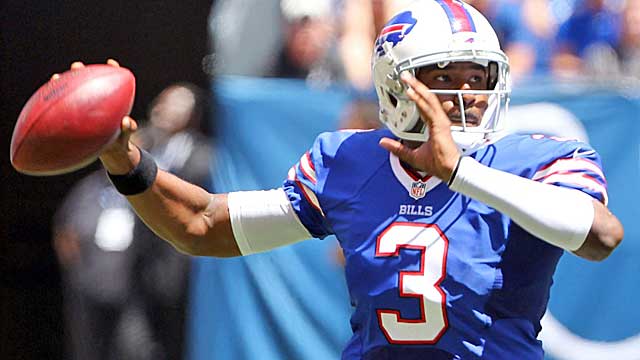 I feel wrong even writing this. As someone who is struugglliinng to get a single game picked correctly and is horribly below .500 on the season, the self-doubt is creeping in.
I am writing this post against by better judgment. I was lucky to win a single best bet in Week 1 and I was unable to write about my picks last week due to some family stuff. As I look at this week's slate of games and point spreads I am nearly getting a panic attack. I don't have a great feel for this right now (although I did really like the Chiefs getting 3½ on Thursday night) ... but here goes anyway:
Bills (+2½): I'm buying EJ Manuel and his knack for making big plays in big situations. I am buying the Bills' rush defense has to be better than last year. I am expecting the Jets to continue turning the ball over and I don't think they're good enough offensively to overcome that kind of thing right now. I love the Jets' defensive front but I suspect C.J. Spiller gets the ball in space enough to challenge their lack of edge speed in the second and third tier. So, yeah, I'm not writing this with huge conviction but in this slate of games, I'll go best bet here.
49ers (-10½): Jim Harbaugh suffered a rare humiliating loss and this offense should find its happy place against the Colts. This looks more to me like what they faced in Week 1, when Colin Kaepernick tore up Green Bay. The Colts won't be able to run the ball here -- even with Trent Richardson making his debut -- and the lack of protection for Andrew Luck makes me worry. Indy lost three key starters this week and the 49ers are plenty physical enough to make this a mismatch at the line of scrimmage on both sides of the ball.
Saints (-7½): New Orleans can explode at home. The Cardinals have caught their fair share of breaks. As long as Drew Brees doesn't put the ball in Patrick Peterson's hands a few times, I see the Saints pulling away comfortably. Rob Ryan will attack a porous Cards line and with Rashard Mendenhall banged up again, I'm not sure Arizona will be able to control the clock enough to keep Brees off the field.
So, yeah, in a week where I wouldn't touch most of these games if you paid me, here's what I'm thinking.
After a report emerged quoting Irving saying, 'I have made a call,' the Cowboy took to Twi...

Washington is banged-up heading into a divisional showdown with Philadelphia

Kenny Britt might be on the chopping block after his latest blunder
Sending money to help with hometown education isn't anything new for the NFL veteran

Here's every official injury designation for each NFL team for Week 7

Last year's Jets were a disaster, but this year's version has been extremely competitive