NFL Week 3: Most expensive game to get into isn't the Andy Reid reunion
Andy Reid's return to Philadelphia is only the second most expensive get-in price of Week 3. The most expensive get-in price is in Denver. It's not cheap to watch Peyton Manning.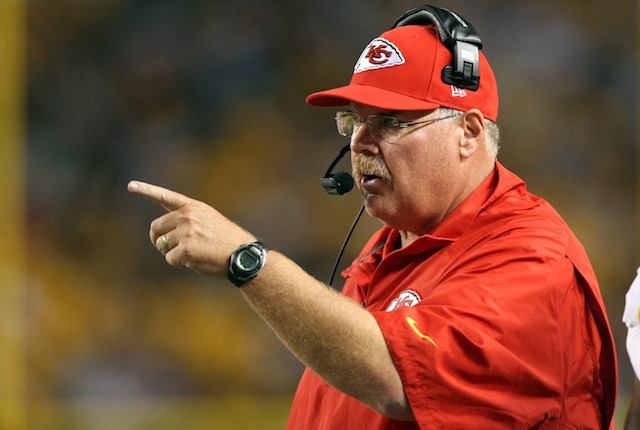 If you're an Eagles fan dying to relive the Andy Reid era -- first of all, I'm not sure why you would because he's only been gone for eight months and why did you want him fired if you already want to relive the era -- but if you do, you can kind of do that on Thursday. However, it will cost you some serious money. The get-in price for the Andy Reid Reunion Bowl in Philadelphia is $112. 
Reid's return to Philly is a hot ticket this week, but it's not the hottest.
The most expensive get-in price in Week 3 is somehow a game involving the Raiders. The expensive price probably has a lot more to do with people wanting to see Peyton Manning play on Monday night, but the Raiders are still involved and the cheapest price to watch them play Denver is currently $115 on Stubhub.
Our friends at Stubhub apparently read this column and so they've started to send us interesting statistics and I'm going to share two of them with you. First, the 49ers-Colts game is the Week 3 game selling the most tickets. All that means, is that it's the most popular game on Stubhub. That shouldn't come as a big surprise though, since it's Andrew Luck's return to the Bay Area and he's facing his former college coach in Jim Harbaugh. 
It's worth noting that tickets to the Harbaugh-Luck college reunion are going for 19 percent more than tickets to the Mark Sanchez-Pete Carroll college reunion went for last season in Seattle. Seahawks fans, that stat should make you mad and you should probably write a letter of complaint to your local newspaper right now to let everyone know how mad you are.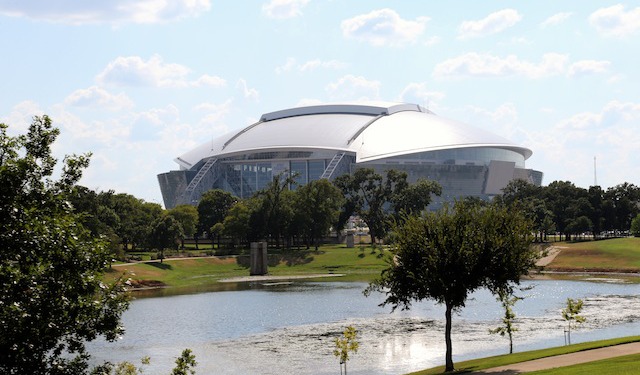 Finally, the cheapest get-in price this week is in Dallas, which could be a problem for Cowboys owner Jerry Jones because someone has to pay the ridiculous electric bill at Jerry-world. By the way, if you missed it this week, Cowboys Stadium uses more electricity than the entire country of Liberia. On the bright side though, the stadium uses 200 times less power than the 1.21 gigawatts the DeLorean uses to time travel in Back to the Future. Hopefully Jerry Jones never figures out how to time travel. 
Here's the lowest ticket price on Stubhub for each Week 3 game as of 3 a.m. ET on Thursday. The second price is the lowest price on the NFL ticket exchange run by Ticketmaster. Keep in mind, ticket prices change often.
1. Oakland at Denver: $115 -- $90
2. Kansas City at Philadelphia: $112 -- $95
3. Houston at Baltimore: $110 -- $99
4. Tampa Bay at New England: $95 -- $65
5. Jacksonville at Seattle: $86 -- $75
6. Arizona at New Orleans: $68 -- $56
7. Indianapolis at San Francisco: $63 -- $52
8. Buffalo at NY Jets: $60 -- $50
9. Green Bay at Cincinnati: $57 -- $53
10. Detroit at Washington: $52 -- $50
11. NY Giants at Carolina: $42 -- $35
12. Chicago at Pittsburgh: $41 -- $66
13. Atlanta at Miami: $38 -- $45
14. Cleveland at Minnesota: $19 -- $20
15. San Diego at Tennessee: $17 -- $26
16. St. Louis at Dallas: $16 -- $20
---
Follow John Breech on Google+
Check out the uniforms that Kansas City and Oakland will be wearing on Thursday

Cliff Avril's NFL career might be over

Oct. 18 is a very special day in NFL lore
The Falcons should not be making any plans for Minnesota in February

The Colts star quarterback could end up missing the entire 2017 season

Not even two Super Bowl wins is enough to get Eli Manning any respect