NFL Week 3 picks: Steelers will avoid 0-3, Buccaneers will upset Patriots
The two biggest upsets in Week 3 will involve the 0-2 Steelers and the 0-2 Buccaneers knocking off the 2-0 Bears and the 2-0 Patriots.
Before I get to my Week 3 picks, I need to talk about what I learned in Week 2 and here's what I learned in Week 2: Peyton Manning is going to throw 97 touchdown passes this season, Carson Palmer might throw 97 touchdown passes too, but 54 of them will be to the other team because he's arguably the best quarterback ever at throwing pick-6's. 
Also, the Seahawks should only get four home games in future seasons because their home-field advantage is ridiculously unfair. Or ridiculously fair, depending on your point of view. When you're setting Guinness records for noise at your home games, that's when you know lawsuits are coming. Lawsuits from opposing fans who are going deaf. Less Seattle home games equals less lawsuits, right? 
Now, lets get to the picks. And remember, if I pick against your team, it's because they deserve to lose -- or it's because you're a Jacksonville fan and maybe you don't deserve to lose, but you probably will anyway, so I'm picking that.
I'll be picking against the Jaguars for the rest of the season. Unless I start to feel guilty because I do have feelings, but I probably won't feel guilty, because I don't have that many feelings and the ones I do have are spent on important things like fantasy football and deciding what to have for breakfast in the morning. 
Oh and If you want to make fun of me for all of the wrong picks I made last week or if you just disagree with my Week 3 picks below, be sure to let me know in the comment section or on Twitter. Also, if you feel like you'd like to mail me a Dan Marino signed-copy of Ace Ventura, I wouldn't have anything against that. Because who would.  
Anyway, lets get to the picks. And don't forget, you can check out the weekly picks from every CBSSports.com NFL expert here.
Week 3 picks
Kansas City (2-0) at Philadelphia (1-1), 8:25 p.m. ET (Thurs.): My favorite story of the entire NFL offseason was Andy Reid's yard sale. Of course the only reason Andy Reid had a yard sale is because he was fired by the Eagles and banned from the city of Philadelphia for the rest of time. Apparently, he's allowed back on Thursday though. This feels like a revenge game for Reid, plus I really like Kansas City, plus I really like the Eagle boots below that Reid sold at his yard sale. Chiefs 30-27 over the Eagles.
Andy's cowboy (boooooooo!) boots. #AndyReidyardsale pic.twitter.com/9yjpp69IVE

— Chris Johnson (@chrisjohnsonjr) May 11, 2013
Green Bay (1-1) at Cincinnati (1-1), 1 p.m. ET: The Bengals haven't lost to an NFC North team at home since 2001 and I really hate picking against history. On the other hand, I really hate picking against Aaron Rodgers. Whatever though, I never liked those discount double-check commercials. Bengals 24-20 over the Packers. 
Tampa Bay (0-2) at New England (2-0), 1 p.m. ET: Practice in Tampa Bay this week will go one of two ways: either coach Greg Schiano will convince everyone on the team to buy into his system using the logic that the Bucs are literally three points away from 2-0. Or things could go the second way where everyone on the team ignores everything Schiano says and Tampa loses to New England by 40. I'm going to go out on a dangerously unsafe limb here and say the first thing happens. Buccaneers 23-20 over the Patriots.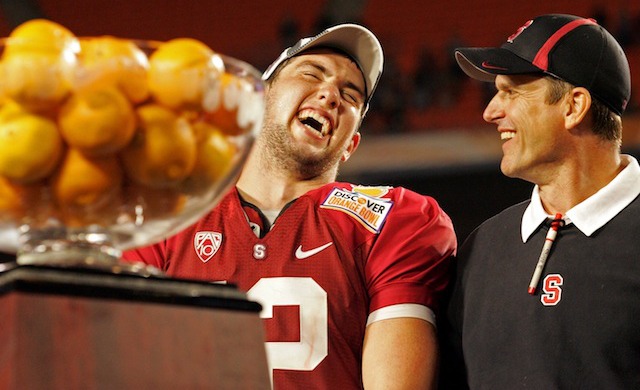 Indianapolis (1-1) at San Francisco (1-1), 4:25 p.m. ET: Colts quarterback Andrew Luck will be returning to the West Coast, where he spent four years of his life in college (Stanford). Unfortunately for Luck, the 49ers don't care where he went to college. San Francisco coach Jim Harbaugh coached Luck for three seasons at Stanford, which could turn out to be an advantage for the 49ers. Oh and did I mention the 49ers are coming off a big loss and will most likely be looking to take their anger out on someone or something or anything. 49ers 34-24 over the Colts. 
Chicago (2-0) at Pittsburgh (0-2), 8:30 p.m. ET: The Steelers haven't looked great in the season's first two weeks, actually, to be honest, they've looked pretty horrible. The Steelers offense can't score and scoring is kind of important. However, 0-3 would be a death sentence for the Steelers season, so I fully expect Pittsburgh to be playing desperate football on Sunday night and that's enough for me to pick them. Steelers 20-17 over the Bears. 
Week 3 Picks: All the rest
Saints 31-24 over Cardinals
Seahawks 38-10 over Jaguars
Last Week
Best Pick: If you're wondering if I had the Dolphins and Colts game fixed last week, I didn't, but I understand if you thought that. I picked Miami to beat Indianapolis 23-20, which ended up being just one point away from the game's 24-20 final score. The moral of the story here? Never bet against Ryan Tannehill. Unless he's playing the Falcons and it's this week.  
Worst Pick: While making my picks last week, I conveniently forgot how bad Philadelphia's defense was and I was also unaware of the fact that Chip Kelly had no clue how to manage a clock at the end of an NFL football game. Combine both those things and here's what happened: I picked the Eagles to beat the Chargers by 13. The Eagles definitely didn't beat the Chargers by 13.  
Straight up: 14-2
SU overall: 24-8
Against the spread: 10-6 
ATS Overall: 16-16
---
The Vikings and Chargers beat the Lions and Cowboys and cover plus more winners

SportsLine's Mike McClure, a DFS pro with more than $1M in winnings, gives optimal lineup...

R.J. White has his finger on the pulse of the Cowboys and made a play on the Thanksgiving Day...
And this is why Tyrod Taylor is now the Bills' starting quarterback again

Here are the picks and props you need to be a winner while watching all the football you can...

Freeney, 37, was impressive in Seattle before getting surprisingly released