NFL Week 4 injury news: Reggie Bush, Ray Rice probably playing
Reggie Bush and Ray Rice are expected to play in Week 4. However, New England could be without offensive weapons Danny Amendola and Rob Gronkowski. Both are questionable for Sunday.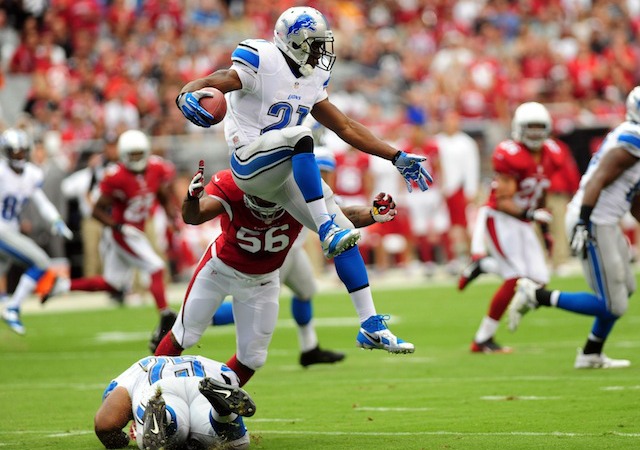 Injuries happen all the time in the NFL and sometimes they're hard to keep track of, so we're going to do it for you. Here's a comprehensive list of all important player injuries you need to know about heading into Week 4.
As you read, keep in mind that if a player is listed as questionable, that means a team feels the player has a 50 percent chance of playing. If a player is listed as doubtful, that means the teams feels there's about a 25 percent chance the injured player will be on the field. A player listed as probable will almost always play, so probable players aren't mentioned below. 
Here are the most notable injuries heading into Week 4 and remember, not all players are listed, only the most prominent player injuries are.
New England at Atlanta
New England Patriots : If the Patriots had played on Friday, New England tight end Rob Gronkowski would've played, according to the Boston Globe. However, the Patriots didn't play on Friday, they're playing on Sunday, and the Patriots since have decided he would not play. Gronkowski and Danny Amendola (groin) are out Sunday night's game against the Atlanta Falcons . 
Falcons: The Patriots might not be the most banged up team in the game on Sunday. Atlanta's pretty banged up too. Wide receivers Roddy White (ankle) and Julio Jones (knee) are both listed as questionable. The Falcons are already going to be without starting running back Steven Jackson , who's still dealing with a hamstring injury he suffered in Week 2. Left tackle Sam Baker (knee)  and starting cornerback Asante Samuel (thigh) are also listed as questionable. 
Baltimore at Buffalo
Baltimore Ravens : Ray Rice 's status is the big question in this game. Rice (hip) is listed as questionable, but it sounds like he plans to play. Rice said on Friday that barring any setbacks, he'll be on the field in Buffalo. 
Buffalo Bills : Rice isn't the only slightly injured running back going into this game, C.J. Spiller 's also hurting too. Spiller (quad) and defensive end Mario Williams (ankle) are both listed as questionable. 
Cincinnati at Cleveland
Cincinnati Bengals : The Bengals could have a thin secondary on Sunday with three defensive backs listed as doubtful. Cornerbacks Leon Hall and Dre Kirkpatrick , along with safety Reggie Nelson are all doubtful for the same reason: hurting hamstrings.  
Cleveland Browns : The Browns are taking a big risk at kicker this week. Billy Cundiff (thigh) didn't kick in practice until Friday and is listed as questionable. If Cundiff can't go, it looks like punter Spencer Lanning will handle placekicking duties. Quarterback Brandon Weeden (thumb) has already been ruled out, so he won't even be the No. 2 quarterback against the Bengals.
Seattle at Houston
Houston Texans : Wide receiver Andre Johnson (shin) is officially listed as questionable, but it sounds like coach Gary Kubiak expects him to play. After practice on Friday, Kubiak said Johnson 'looks pretty good.' Cornerback Johnathan Joseph (toe) is also listed as questionable. 
Seattle Seahawks : The Seahawks could have some depth problems on the offensive line on Sunday. Center Max Unger (arm) and tackle Breno Giacomini (knee) are both listed as doubtful. 
Indianapolis at Jacksonville
Indianapolis Colts : This might be the week to start Trent Richardson in your fantasy league. Colts running back Ahmad Bradshaw (neck) has already been ruled out for Sunday. 
Jacksonville Jaguars : After a game absence, quarterback Blaine Gabbert (hand) will be making his return in Jacksonville. Gabbert is expected to start on Sunday against the Colts. 
Chicago at Detroit
Chicago Bears : Coach Marc Trestman said that cornerback Charles Tillman (groin) 'looked good' on Friday, which means there's probably a good chance he'll play. However, Tillman is officially listed as questionable. 
Lions: After missing Detroit's win over Washington in Week 3, look for Reggin Bush (knee) to return against the Bears. Bush is listed as probable.
New York at Kansas City
Giants: Eli Manning hasn't had the best protection this season and that probably won't improve on Sunday with the Giants missing two starters on the offensive line. Guard Chris Snee (hip) and center David Baas (neck) have already been ruled out. 
Chiefs: Eli Manning might have a patchwork offensive line, but he might throwing at a patchwork Chiefs secondary. Safety Kendrick Lewis (ankle) and cornerback Brandon Flowers (knee) are both listed as questionable. Tight end Anthony Fasano (ankle) is also questionable for Sunday's game against New York.  
Pittsburgh vs. Minnesota in London
Pittsburgh Steelers : Rookie running back Le'Veon Bell (foot) is on track to make his debut with the Steelers, even if he doesn't have the complete faith of quarterback Ben Roethlisberger . 
Minnesota Vikings : Christian Ponder (ribs) is out and Matt Cassel is. Cassel will be making the for the Vikings on Sunday and we know it's true because Tom Brady confirmed it. 
Arizona at Tampa Bay
Tampa Bay Buccaneers : Mike Glennon will be making his first start, but it's not quite clear yet who he's going to throw too. Wide receivers Vincent Jackson (ribs) and Mike Williams (hamstring) are both listed as questionable. 
Arizona Cardinals : Despite losing the tip of his finger in Week 3, safety Rashad Johnson will probably be on the field on Sunday. Johnson (finger) is listed as questionable. 
New York at Tennessee
New York Jets : New York will be without cornerback Dee Milliner and running back Chris Ivory , who have both been ruled out thanks to injured hamstrings. 
Tennessee Titans : Tennessee could be missing a few offensive weapons when they take the field on Sunday. Running back Shonn Green (knee), wide receiver Kenny Britt (neck) and tight end Delanie Walker (toe) are all listed as questionable.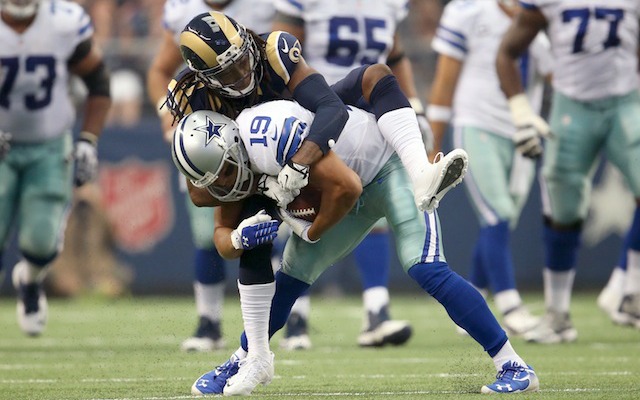 Dallas at San Diego
Dallas Cowboys : Wide receiver Miles Austin (hamstring) has already been ruled out for Dallas. 
San Diego Chargers : Imagined this: Manti Te'o playing in a regular season football game. That might actually happen on Sunday with Te'o (foot) expected to make his Charger debut. Wide receiver Malcom Floyd (neck) is out, Floyd hasn't played since being taken off the field on a stretcher in Week 2.
Oakland at Washington
Oakland Raiders : Quarterback Terrelle Pryor (concussion) is listed as questionable. Coach Dennis Allen didn't tip his hand on Friday about who might play. If Pryor can't go, Matt Flynn will get his first start in Oakland. 
Washington Redskins : Tight end Fred Davis (ankle) and kicker Kai Forbath (groin) could return to the lineup on Sunday. Both players are listed as questionable. 
Philadelphia at Denver
Philadelphia Eagles : The Philadelphia secondary might not be at full strength when it goes up against Peyton Manning on Sunday. Safety Patrick Chung (shoulder) is listed as doubtful. 
Denver Broncos : Champ Bailey could finally make his 2013 regular season debut on Sunday. Bailey, who hasn't played since injuring his foot in mid-August, is listed as questionable. 
For more injury news and notes from around the league, be sure to check out CBSSports.com's NFL Rumors blog. 
PEN America says the NFL's talks on social activism are a 'constructive' step forward for owners,...

The Steelers quarterback weighs in on the hit that might've ended Rodgers' season

Smith was not pleased with the Steelers safety's hit on him
SportsLine's Mike McClure, a DFS pro with more than $1M in winnings, gives optimal lineup...

Many players and owners met on Tuesday to discuss the national anthem and social issues

Meeting productive, both sides optimistic, but no changes were enacted