NFL Week 5: Bears-Saints tickets pushing $200, Jags-Rams pushing $10
Soldier Field isn't a cheap place to be in Week 5. The most expensive get-in price of the week belongs to the Bears-Saints game, where it will cost you $205 to see Jay Cutler vs. Drew Brees.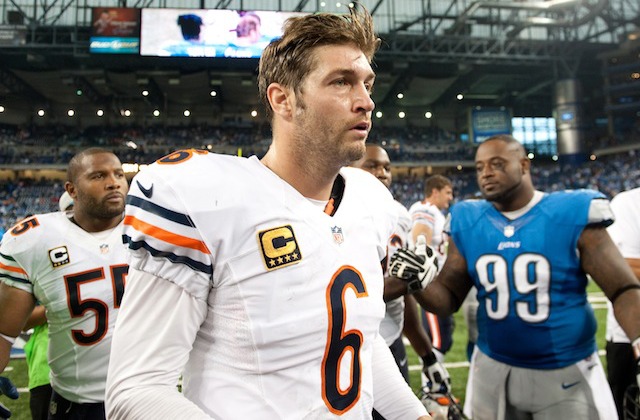 If you want to see Peyton Manning this season and you don't want to pay a lot of money, then this is the week to do it. You can get in to the Cowboys-Broncos game on Sunday for only $40. 
However, there's a catch. Actually there's two catches: You'll have to stand the whole game and you're probably going to have a horrible view.
In an effort to milk every last penny out of the people of Dallas who attend Cowboys games, Jerry Jones decided to offer standing room only tickets at Cowboys Stadium. However, unless you get to the stadium 41 hours early, you're going to end up in the back of the standing room only section and your view's going to look like this. 
If you'd rather sit down to watch Peyton Manning play, a ticket with a seat will cost you $133, but you won't have to stand and you'll actually be able to see the field.  
Watching Peyton Manning play can be expensive, but not as expensive as watching Jay Cutler play. For the second time in five weeks, the Bears have the most expensive get-in price of any game. The cheapest ticket to the Chicago-New Orleans game on Sunday is $205 on Stubhub.  
If that's too pricey for any Chicagoans, you could just move to Oakland instead and buy Raiders season tickets for $45 more. The Raiders practically give away their season tickets and you can get them for as low as $250. 
Speaking of cheap tickets, the two lowest ticket prices from last week were in Jacksonville ($12.71) and St. Louis ($15). So what happens when those two teams play each other like they do this week? The law of supply and demand takes effect. In this case, there's a lot of supply and no demand, which means cheap tickets. 
How cheap? $9.50.
That's right, if you have $205 on you, you can buy one ticket to the Bears-Saints game or 21 tickets to the Jaguars-Rams game. Or you could buy 10 tickets to the Jaguars-Rams game and spend the leftover money on a Matt Schaub jersey in case you accidentally set yours on fire last week. Or you could just not go to a game and go to Cheesecake Factory instead, $205 goes a long way there. Kind of. 
Here's the lowest ticket price on Stubhub for each Week 5 game as of 5 a.m. ET on Thursday. The second price is the lowest price on the NFL ticket exchange run by Ticketmaster. Keep in mind, ticket prices change often.
1. New Orleans at Chicago: $205 -- $180
2. Detroit at Green Bay: $199 -- $175
3. Philadelphia at NY Giants: $125 -- $95
4. Houston at San Francisco: $78 -- $65
5. Seattle at Indianapolis: $61 -- $59
6. Buffalo at Cleveland: $59 -- $45
7. New England at Cincinnati: $55 -- $50
8. Denver at Dallas: $40 -- $42 (Standing Room Only, $133 for tickets with seats)
9. Kansas City at Tennessee: $37 -- $37
10. San Diego at Oakland: $35 -- $35
11. Baltimore at Miami: $28 -- $45
12. NY Jets at Atlanta: $20 -- $35
13. Carolina at Arizona: $12 -- $31
14. Jacksonville at St. Louis: $9.50 -- $40
Did you get into a game free? Let me know in the comment section or on Twitter or make a giant sign that says 'HI JOHN BREECH' and I'll look for you on TV.
The quarterback expects to be completely healthy for Super Bowl LII

The three-time Grammy winner will sing before Super Bowl LII on Feb. 4

There's no bigger stage in the world than the 50-yard line on Super Bowl Sunday
Who'd have thought paying tribute to the New York teams' biggest rivals would backfire?

Danny Amendola got to celebrate the Patriots' big win with a former Miss Universe

The former Tom Brady backup earns a ton of money because he was on the Patriots' Week 1 ro...