NFL Week 6: Most expensive game to get into isn't Brady vs. Brees
If you want to see Tom Brady against Drew Brees in Week 6, it will cost you at least $145. It will cost even more if you want to see Joe Flacco.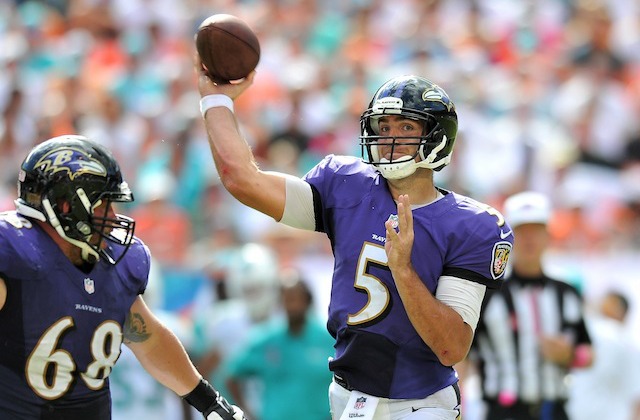 If you want to see an NFL game this week, it's not going to be cheap. There's no $9.50 ticket like there was last week in Jacksonville. And there's no free beer. As a matter of fact, there's not even a $20 ticket in Week 6. The cheapest game to get into this week is Philadelphia at Tampa Bay and it will cost you $40 if you want to see the Buccaneers quit on Greg Schiano. 
The most exciting game of the week is in New England where the Patriots host 5-0 New Orleans. Drew Brees and Tom Brady might combine to throw for 1,000 yards on Sunday, which is kind of funny, because that's almost what it's going to cost you and five friends to see the game. The get-in price to Gillette Stadium for the Saints-Patriots game is $145 on Stubhub. That might also be how many points the teams combine to score. 
Watching and Brady and Brees is expensive, but watching Joe Flacco this week will be more expensive, which makes sense because someone has to pay for Flacco's contract. The get-in price to the Packers-Ravens game in Baltimore is $159 on Stubhub, the highest get-in price of Week 6. 
If your goal this week for some reason is to make your dad cry, then buy him Bengals tickets, that's what this guy did and his dad teared up right away. 
Bills fans might want to start buying tickets too or fans might start tearing up because they can't watch the game on TV. The Bills are dangerously close to the NFL's first television blackout of the 2013 season. 
Here's the lowest ticket price on Stubhub for each Week 6 game as of 3 a.m. ET on Thursday. The second price is the lowest price on the NFL ticket exchange run by Ticketmaster. Keep in mind, ticket prices change often.
1. Green Bay at Baltimore: $159 -- $130
2. NY Giants at Chicago: $149 -- $135
3. New Orleans at New England: $145 -- zero tickets available
4. Oakland at Kansas City: $145 -- $125
5. Tennessee at Seattle: $140 -- $115
6. Jacksonville at Denver: $95 -- $85
7. Arizona at San Francisco: $95 -- $70
8. Pittsburgh at NY Jets: $84 -- $77
9. Detroit at Cleveland: $83 -- $60
10. Washington at Dallas: $78 -- $70
11. Cincinnati at Buffalo: $60 -- $48
12. St. Louis at Houston: $59 -- $52
13. Carolina at Minnesota: $46 -- $35
15. Indianapolis at San Diego: $40 -- $52
14: Philadelphia at Tampa Bay: $40 -- $40
Did you get into a game free? Let me know in the comment section or on Twitter or make a giant sign that says 'HI JOHN BREECH' and I'll look for you on TV.
Check out the uniforms that Kansas City and Oakland will be wearing on Thursday

Cliff Avril's NFL career might be over

Oct. 18 is a very special day in NFL lore
The Falcons should not be making any plans for Minnesota in February

The Colts star quarterback could end up missing the entire 2017 season

Not even two Super Bowl wins is enough to get Eli Manning any respect