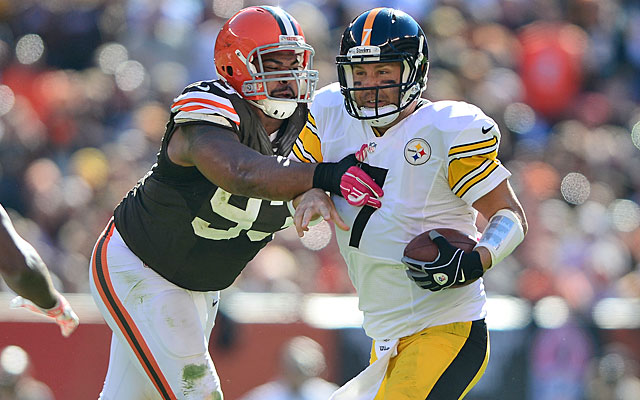 The Pittsburgh Steelers are at a crossroads.
At 3-3, their season isn't over -- far from it -- but they have taken on the distinct look of a team in regression and will need major resettling on both sides of the ball. Not yet halfway through the season, it doesn't seem at all unreasonable to ask whether either coordinator will be back in 2015 (Dick LeBeau's Hall of Fame career will have to end at some point) and whether the Steelers can pull out of their doldrums.
They seem more like the staggering group that opened last season in a funk, and not the carefree group that finished on a 6-2 tear. Their inability to make a big play on offense, or stop the run of defense, seems so counter to what we have expected out of this bunch during the Mike Tomlin/Ben Roethlisberger years.
But with each passing week their collective performance seems less like an anomaly. I'm not sure there is another late run, or a wild gallop to the playoffs, in this bunch. Twice this season they have dominated the Browns early, only to wilt late, and Sunday's epic slide seemed to only pick up where their first encounter left off.
The Steelers led 27-3 at the half in Week 1 (they won 30-27 on a last-second field goal). After one quarter Sunday they were thoroughly controlling the game again, moving the ball at will and shutting down Cleveland's potent run game. Then it all fell apart. That 3-0 lead disappeared and the Steelers, who have dominated the Browns for so long, and against whom Roethlisberger was 18-1 before this weekend, have now been outscored 55-13 in the past six quarters against their rivals.
Perhaps most shocking in this game was that the Steelers had to know what was coming and they couldn't stop it. Brian Hoyer attempted just 17 passes and needed only eight completions -- punctuated by two big throws to tight end Jordan Cameron -- and he took to the air a mere seven times in the entire second half. The Browns almost never ran consecutive passing plays and instead relied on their powerful offensive line to bully the game. Cleveland had two backs go over 75 yards and they just kept pounding away en route to 158 yards on the ground.
On offense the Steelers appear to be a team still just searching for an identity. Coordinator Todd Haley is taking plenty of heat and perhaps he's relenting to Roethlisberger's wishes a bit too much. Pretty much the entire passing game continues to run through Antonio Brown; youngster Markus Wheaton had a critical drop in the red zone; perhaps most damning of all, they just don't look like a team opponents are fearful of playing anymore. They can't get after the quarterback, they aren't beating people up front and they appear to be caught between injuries, players who are aging too rapidly and youngsters who aren't developing as quickly as expected.
The Steelers are very lucky not to be 0-3 within the difficult AFC North, and, having yet to face division-leading Cincy and with another game against the Ravens still looming, this hole might get bigger. The good news is few teams look as if they are going to totally run away from the pack in this conference; the bad news is that an 8-8 record still wasn't good enough to reach the playoffs either of the past two seasons, and I can't imagine it is this season, either.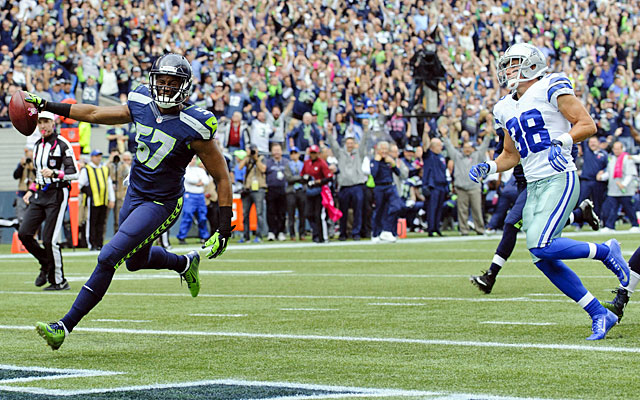 Special teams blunders persist: Each week the number of special teams miscues across this league never ceases to amaze me. It's a constant this season and while some teams are talented enough to overcome them (or fortunate to be facing such dreadful competition it doesn't impact the final result), most are not.
The most glaring gaffe of the day was in Cincinnati, where Bengals kicker Mike Nugent missed a 36-yard field goal at the end of overtime that would have won the game. Matt Prater, no longer gifted with kicking in the altitude in Denver, missed two attempts in his first game with the Lions and we'll see how long his stint lasts there. The Steelers missed a chance to add to their lead early when a bad snap/exchange led to Shaun Suisham missing an easy field goal. The same thing happened to always-reliable Stephen Gostkowski with the Patriots. The Bears blew an extra point.
The Packers, at a time early when it appeared they might pull away from Miami, put themselves in a hole via a blocked punt. The Chargers, who had to scrap to get past the winless Raiders and were trailing several times in the game, erased a 54-yard field goal from Nick Novak with a penalty.
The little things tend to matter in this league -- especially at a time when parity (read: mediocrity) is the rule, and as much as we take for granted the minutia of special teams the more I find myself documenting it while watching games that inevitably come down to a play or two here or there.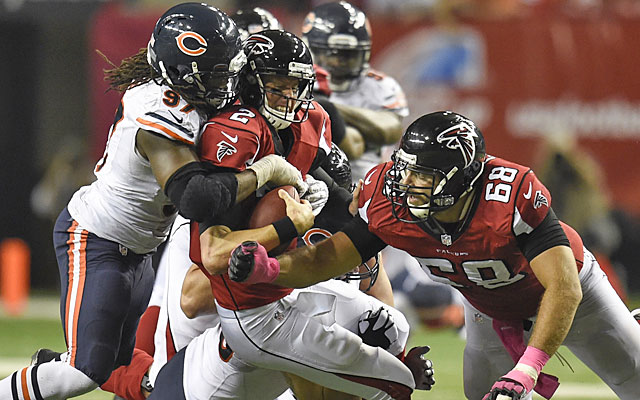 Falcons failures stunning: The Falcons aren't even good at home anymore. Their offense wasn't even a factor at home Sunday, on the fast track against a suspect defense. It has been a shocking descent, and for a team that we all know can't stop anyone, it's threatening to render the Georgia Dome half-empty soon enough.
Atlanta has lost three in a row and four of its past five and faces a difficult task traveling to Baltimore next week. Matt Ryan's first half against Chicago was about as bad as anything we've seen from him. The Falcons followed that by starting the second half with a false start penalty. They seem perpetually out of kilter and I can't remember a time when this club seemed as predictable and easy to defend. The pass protection remains a weekly issue. And there aren't any injuries to Julio Jones and Roddy White to blame everything on this season.
Barring a miracle turnaround I would expect this to be it for head coach Mike Smith. With a new stadium to fill and PSLs to sell, it will be very interesting to see what owner Arthur Blank does should he part with his coach.
More observations
• The deeper the Jaguars and Raiders go without a win the tougher it becomes to predict their first victory. I found myself doing that as Oakland blew a late lead to the Chargers. I'm looking past Thanksgiving for both at this point (Jacksonville's best chance in quite some time may have been Sunday, when it lost by two to the Titans). I'm circling Nov. 30 at the Rams for the Raiders and for Jacksonville I wonder if ends up coming in December, when they get the Titans again and also the Texans twice. I don't see a very easy path for either, regardless.
• If the Bills' season goes south, Sunday will loom large. With a frenzied crowd in their first game under new ownership, they gave away 13 first-half points off turnovers, had C.J. Spiller fumble late in the half to lead to a field goal and the Patriots ended up with a comfortable victory. The move to Kyle Orton at quarterback will hasten the microscope this team is under, and another sub-.500 season will result in changes. Also, order was restored in the AFC East, as every team in the division except for New England lost, which was the exact opposite of Week 1.
• The Bengals scored a lot of points Sunday but the scope of that offense was noticeably different without A.J. Green. Andy Dalton wasn't as comfortable and got into an old habit of forcing things. If not for a huge day by Giovani Bernard, they lose to the Panthers at home. With Green iffy and week-to-week, a sustained absence could change the tenor of this season.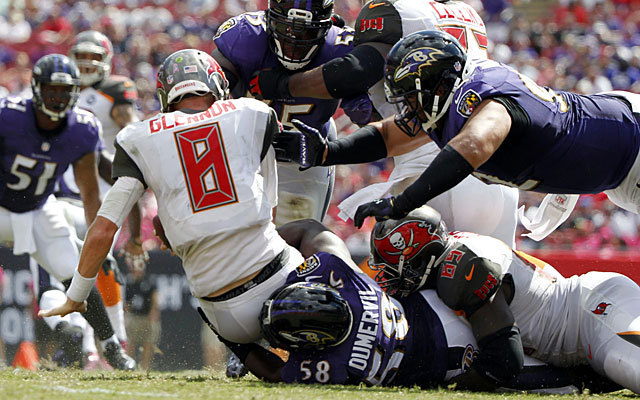 • I have no idea where the Ravens' pass rush came from -- and maybe it had more to do with the Bucs' ineptitude than anything else -- but that was the most sustained pressure they have mustered in a long, long time. Up against another softer NFC South team next week -- Atlanta -- perhaps they can keep it up. If Torrey Smith can come close to last week's production, Baltimore's passing offense is going to hit another level, and kudos to Owen Daniels for continuing to fill the void from the loss of Dennis Pitta on a weekly basis.
• As for the Buccaneers, Lovie Smith is having the worst season of any coach with a new team in 2014. It's shocking how his team, which on paper at least seems to have a fair amount of talent, has been dramatically outplayed. It's kind of becoming their thing. In the past four weeks they have endured a 56-14 defeat, during which Atlanta really stopped playing midway through the third quarter, and they trailed 35-0 a mere 16 minutes into Sunday's game at home. They've also lost games to Derek Anderson and Austin Davis and if they don't make something happen after their Week 7 bye, in games against the likes of Vikings, Falcons and Redskins, there may not be too many wins ahead for them.
• This is the weekly segment of this column where I remind you the Browns better pick up the phone and call Brian Hoyer's agent, quickly, before he further drives up his price and perhaps eventually just opts to see what the market will offer him.
• This was one of those Sundays when Aaron Rodgers looked like the best player in the NFL. His red-zone touchdown throws were otherworldly.
>> Want more Week 6 review? Team-by-team grades