NFL Week 6 Picks: Packers over Ravens, Chiefs fall to 5-1
Can Terrelle Pryor lead the Raiders to a win on the road over an undefeated team?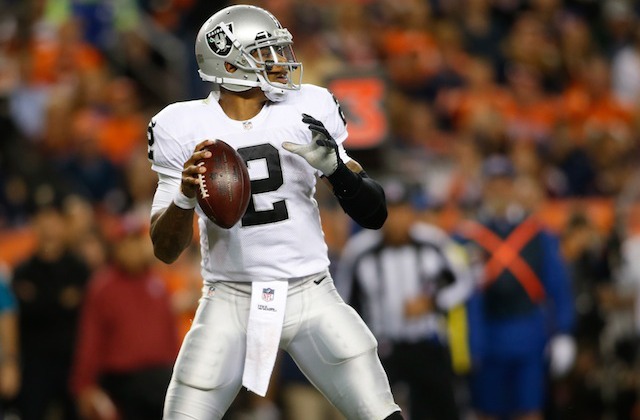 Before I get to my Week 6 picks, I need to talk about what I learned in Week 5 and here's what I learned in Week 5: It's not safe on the Falcons bandwagon. If you're on it, get off now. The bandwagon is on fire, running out of gas and will probably crash into a wall soon. 
The 1-4 Falcons still have to play Seattle, New Orleans, at Green Bay and at San Francisco. If they lose all of those games, that means the Falcons can only finish 8-8 at best. Atlanta's on a bye this week, which is probably best for all of us.
We also learned that Tom Brady can be slowed down, all you need is a defense that pressures him all game and plays tight coverage. A fourth quarter monsoon also helps, because not even Brady can throw a football through hurricane-like weather -- and that's basically what happened in Cincinnati in the fourth quarter.
Enough Tom Brady talk though, lets get to the picks. 
If you want to make fun of me for all of the wrong picks I made last week, be sure to do it in the comment section or on Twitter. Although I didn't miss a lot of picks last week, so there's not a lot to make fun of me about. So maybe you could just say hi in the comment section or maybe you could tweet me and we can talk about what Peyton Manning should name his MVP Trophy when he wins it in three months. I think he should name it Cooper. Or if you want to argue with my Week 6 picks, you can do that too.
Anyway, lets get to the picks. And don't forget, you can check out the weekly picks from every CBSSports.com NFL expert here.
Week 6 Picks
Oakland (2-3) at Kansas City (5-0), 1 p.m. ET: I'm not going to sit here and say this pick makes sense, because it doesn't. At all. On the other hand, I picked two undefeated teams to lose last week and they both lost. Also, the Raiders won on Sunday night against the Chargers despite 1. the latest kickoff time in NFL history and 2. AN EARTHQUAKE. Yes, there was an earthquake near Oakland during the game. If you're winning games during earthquakes, I'm picking you to win the next week and that's that. Raiders 24-20 over the Chiefs.
Green Bay (2-2) at Baltimore (3-2), 1 p.m. ET: Statistically, the Ravens and Packers have pretty similar defenses. The Packers defense is ranked fifth in the NFL against the rush, the Ravens defense is ranked sixth. The Ravens give up 245.6 pass yards per game, the Packers give up 288.8. My point here is that if the defenses are somewhat equal, that makes me feel like the winning team will be the one with better quarterback. Packers 31-24 over the Ravens. 
Tennessee (3-2) at Seattle (4-1), 4:05 p.m. ET: Titans fans, I have some good news and some bad news. The good news is -- OK, I actually lied, I have no good news, I only have bad news. The bad news is: I give Tennessee a zero percent chance of winning in Seattle on Sunday. If I was in an NFL pick'em survival pool, I'd pick this game. Ryan Fitzpatrick against a Seahawks defense coming off a loss feels like a bloodbath waiting to happen. And not the good kind of bloodbath. I'm sure that 3-1 start was fun, but don't worry, 3-3 is fun too! OH WAIT, WAIT, I remembered the good news: If the season had ended after Week 5, the Titans would've made the playoffs! That's definitely something to hang your hat on. Seahawks 34-17 over the Titans. 
Jacksonville (0-5) at Denver (5-0), 4:05 p.m. ET: You're probably wondering why I wouldn't pick this game in my imaginary NFL pick'em survival pool. And the answer to that is that I've already used the Broncos in my imaginary survival pool, so I need another team, that's why I picked the Seahawks over the Titans. Anyway, the big question here is 'Will the Broncos cover the largest point spread in NFL history?' I say yes, Denver covers 28-points. Broncos 41-10 over the Jaguars.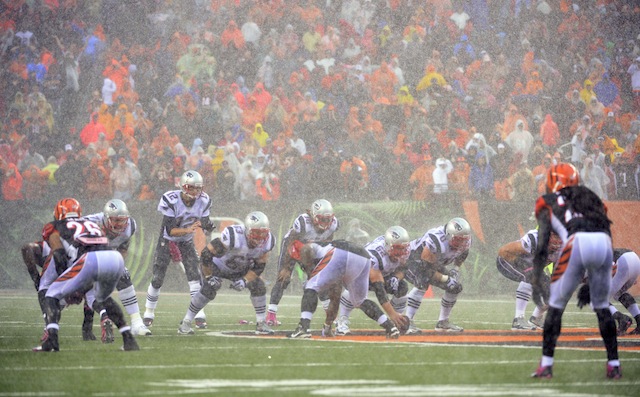 New Orleans (5-0) at New England (4-1), 4:25 p.m. ET: A reader asked me on Twitter this week why I always pick the Patriots to lose. And the truth is, I don't always pick the Patriots to lose, just most of the time. I picked New England to win in Weeks 1 and 2 and have picked them to lose every game since. I already admitted picking the Buccaneers to beat the Patriots in Week 3 was borderline the worst decision I'ver ever made in my life -- and I've made some bad decisions. I don't regret picking the Patriots to lose to the Falcons though and I definitely don't regret picking them to lose to the Bengals. Anyway, the point here is I don't feel like I'm going to regret this pick either. Saints 34-27 over the Patriots.  
Week 6 Picks: All the rest
Bengals 31-17 over Bills
Vikings 20-17 over Panthers
Eagles 24-17 over Buccaneers
Colts 24-17 over Chargers
Byes: Atlanta, Miami
Last Week
Best Pick: I could sit here and talk about how I picked the Colts to beat the undefeated Seahawks and say that was my best pick of the week, but I don't want to do that. I'd rather talk about picking the Bengals over the Patriots. That involved picking Andy Dalton to beat Tom Brady and you now why I did that? Because Andy Dalton is the Peyton Manning of red-headed quarterbacks. Does that make sense? I hope it does. It did in my head.
Worst Pick: For some reason I can't stop picking the Carolina Panthers to win and now I know exactly how Texans coach Gary Kubiak feels. Every week Kubiak convinces himself he can win a Super Bowl with Matt Schaub at quarterback and every week Schaub does everything in his power to prove he's not capable of winning a Super Bowl. Just as every week the Panthers do everything in their power to prove to me I shouldn't pick them, but I still pick them. I learned my lesson this week: No more picking the Panthers. Unless they somehow obtain Peyton Manning in a midseason trade, then I'm allowed to pick the Panthers. 
Straight up: 10-4
SU overall: 50-27
Against the spread: 7-7
ATS Overall: 39-38
---
Follow John Breech on Google+
The Vikings, led by Case Keenum, are one of the NFL's best teams

The Vikings' pass rusher revealed the latest addition to the family after sacking Matthew...

It's time to hook up that jersey of your favorite NBA player with some Black Friday deals
A Dallas Cowboys Salute to Service thermal pullover makes for the best early Black Friday...

It's time to hook up that jersey shirt of your favorite NFL player with some Black Friday...

Our computer model simulated every Week 12 NFL game 10,000 times with very surprising resu...