NFL Week 7 as told by Twitter: Colts punter Pat McAfee delivers huge hit
Colts punter Pat McAfee delivered the most social driven moment of Week 7 of the NFL season. McAfee drilled diminutive returner Trindon Holliday.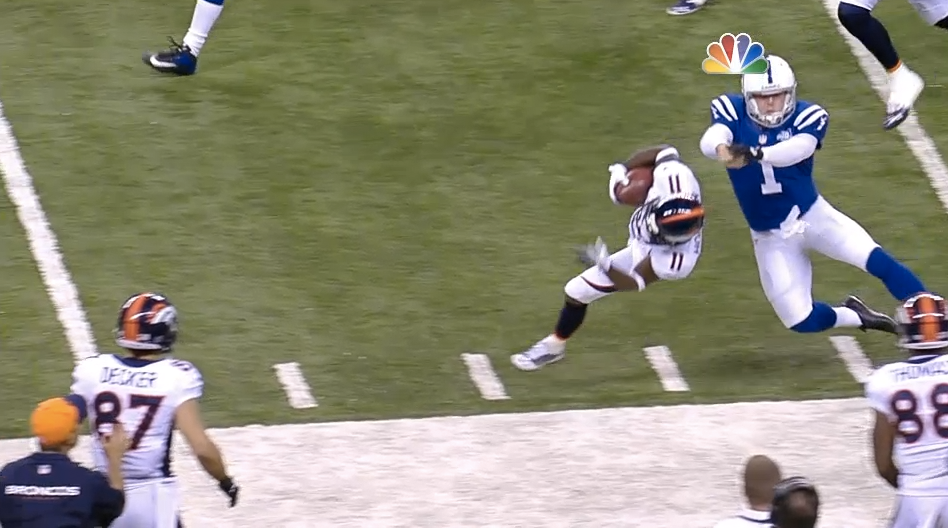 Other than Chris Kluwe, Pat McAfee is the most vocal punter on Twitter. On Sunday night, he delivered a hit that blew up Twitter.
Apparently McAfee blew someone up. He's done that before, he's a monster.

— Chris Kluwe (@ChrisWarcraft) October 21, 2013
Pat McAfee is planning to title his autobiography "They Call Me Assassin."

— Bart Hubbuch (@HubbuchNYP) October 21, 2013
God, I hope @PatMcAfeeShow gets fined. His street cred would SOAR.

— Eric Edholm (@Eric_Edholm) October 21, 2013
Pat McAfee just had my favorite hit ever by a kicker. Colts should let him play linebacker the rest of the game.

— John Breech (@johnbreech) October 21, 2013
Do NOT try to run a kick back to the house on Pat McAfee!

— Gregg Doyel (@GreggDoyelCBS) October 21, 2013
HARDCORE KICKER TACKLE

— Tim Burton's Nightma (@TimBaffoe) October 21, 2013
That Colts kicker is going to recreate that tackle for his wife, with detailed commentary, for years

— Bruce Arthur (@bruce_arthur) October 21, 2013
EJECT THE KICKER FOR TARGETING

— Andy Hutchins (@AndyHutchins) October 21, 2013
The Dolphins appear to be struggling with their attendance.
This fourth quarter picture is an accurate portrayal of the Dolphins attendance during the Bills game. pic.twitter.com/KXbDycRa9T

— Omar Kelly (@OmarKelly) October 20, 2013
But Miami does attract Macklemore look-alikes.
Bringing a chill to @SunLifeStadium. Buffalo Bills' fan in the stands in a mink coat? #Dolphins @ctjphoto pic.twitter.com/Tgb5qu6GSK

— Miami Herald (@MiamiHerald) October 20, 2013
Football in Florida really isn't going well at all for the Dolphins, Bucs, or Jags.
Mike Glennon has the pocket presence of a one-legged giraffe sometimes.

— Will Brinson (@WillBrinson) October 20, 2013
Sorry Jags fans, you're right. The game was well attended... #Chargers pic.twitter.com/nRFFNncGRL

— Eric Stangel (@EricStangel) October 20, 2013
Let a former Eagles offensive lineman explain how weird the 3-0 score against the Cowboys was at halftime.
Ok we have 2 of the top 5 offenses in the league and 2 of the worst ranked defenses and it's 0-0 with 16punts #GoFigure #Eagles #Cowboys

— Jamaal Jackson (@CenterStage67) October 20, 2013
Who wouldn't watch this?
"Interception" Christopher Nolan's edgy new time-bending thriller about Archie Manning on his deathbed, confessing he's disappointed in Eli

— GENERAL GANDHI (@Bro_Pair) October 20, 2013
Amazingly, Andy Reid is 7-0.
Andy Reid's clock skills are so bad you wonder how he graduated kindergarten.

— sir broosk (@celebrityhottub) October 20, 2013
Chris Long responds to fans chucking trash at him.
Thanks Carolina fans 4 the flipped birds+few bottles to the head. Sticks n stones may break my bones but aluminum zimas will never hurt me.

— Chris Long (@JOEL9ONE) October 20, 2013
Do you think Tom Brady missed Rob Gronkowski?
17 targets for Gronk. I guess he's feeling pretty healthy. Put up big numbers but Antonio Allen did a great job in 1-on-1 coverage. #NYJ

— Chris Lopresti (@CLoprestiWFAN) October 20, 2013
It sure looks like the former top pick will be benched heading into the regular season for...

Someone asked him to start the press conference of course

Derrick Johnson wants to discuss players' First Amendment rights amidst the protests
High praise from one of the most athletically gifted quarterbacks ever to step on a football...

Nobody will mistake Joe Looney for his star teammates

Osweiler is being benched in favor of DeShone Kizer