NFL Week 7: Most expensive game to get into isn't Broncos at Colts
Peyton Manning's return to Indianapolis is expensive, but it's not the most expensive get-in price of Week 7.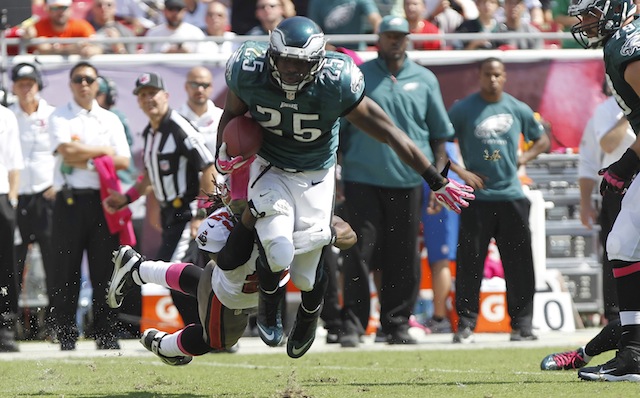 Jim Irsay's probably going to blame this on Peyton Manning, so I don't even want to say it, but Manning's return to Indianapolis isn't the most expensive game to get into in Week 7. That honor belongs to the NFC East showdown being held in Philadelphia. 
Besides booing Santa Claus and Vince Papale, not much excites Eagles fans, but one thing that does is a game against the Dallas Cowboys with first place in the NFC East on the line. If you want to see Tony Romo throw a fourth quarter interception, it's going to cost you. The cheapest ticket to the game on Stubhub will put you out $200. 
If you're a Colts fan who wants to give Peyton Manning a proper good bye because you didn't get to in 2010, you'll be able to do that, but it will cost you $164 because that's what the cheapest ticket's going for on the secondary market. That's definitely not a cheap way to say good bye. 
It's not as exciting as Manning's return to Indianapolis, but if you want to see another quarterback homecoming on Sunday, you can buy $37 tickets to the Dolphins game and see Bills quarterback Thad Lewis return to play in his hometown. Sure, that's only about one-tenth of one percent as exciting as seeing Manning playing in Indy, but it is a lot cheaper. 
Speaking of cheap tickets, there are an abundance of those in Jacksonville. The cheapest ticket on Stubhub to the Jaguars-Chargers game on Sunday is going for $10.22. The price is worth it, especially when you consider that you might see plane with a Tim Tebow banner fly over the stadium.
Here's the lowest ticket price on Stubhub for each Week 7 game as of 4 a.m. ET on Thursday. The second price is the lowest price on the NFL ticket exchange run by Ticketmaster. Keep in mind, ticket prices change often.
1. Dallas at Philadelphia: $200 -- $160 (Standing room only for $148)
2. Denver at Indianapolis: $164 -- $147
3. Cleveland at Green Bay: $128 -- $110
4. New England at NY Jets: $104 -- $99
5. Chicago at Washington: $95 -- $87
6. Baltimore at Pittsburgh: $74 -- $70
7. Cincinnati at Detroit: $70 -- $64
8. Minnesota at NY Giants: $69 -- $85
9. Seattle at Arizona: $64 -- $51
10. Houston at Kansas City: $59 -- $54
11. San Francisco at Tennessee: $46 -- $44
12. Buffalo at Miami: $37 -- $45
13. St. Louis at Carolina: $30 -- $25
14. Tampa Bay at Atlanta: $20 -- $35
15. San Diego at Jacksonville: $10.22 -- $35
Did you get into a game free? Let me know in the comment section or on Twitter or make a giant sign that says 'HI JOHN BREECH' and I'll look for you on TV.
It appears the Raiders didn't break any rules during their hiring of Jon Gruden

Jacksonville cornerback does not lack confidence heading into AFC Championship

Payton was seen mocking Vikings' fans at the end of the Saints-Vikings game on Sunday
Tom Brady didn't really feel like talking about his hand injury on Friday

Anderson was also arrested in May

Conspiracy theorists, your time has come