NFL Week 7 picks: Why the Steelers will beat the Ravens
Here are the three reasons the Steelers will beat and cover vs. the Ravens in Week 7.
• 3 min read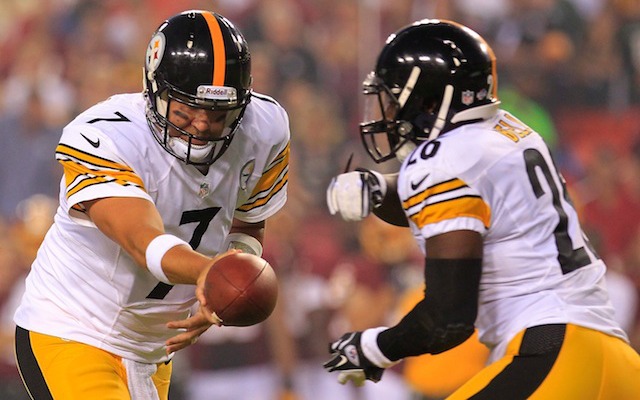 Coming into the season, I don't think many of us would have been surprised that the Steelers, at -2.5, were only slight favorites heading into their home game vs. the Ravens (unless you automatically give the home team three points -- in that case, the Steelers are slight underdogs).
In the past several years, these games have been vicious and close and important. In fact, the past 12 times these two teams have faced off, the average margin of victory is 5.8 points (and the 35-7 Ravens win in Week 1 of 2011 really increases that average. Take that game off the board, and it's 3.7 points).
This season's contest might be vicious and close, but at this point, this is not what you'd call a marquee matchup. Pittsburgh is coming off its first victory of the season, and the Ravens couldn't dig itself out of a two-touchdown hole at home against the Packers on Sunday and fell to 3-3 on the season.
It's tough to tell which squad has been more unimpressive this season (I mean, we're talking about a team in Pittsburgh that has accumulated three 12-win seasons in the past five years and we're talking about a team in Baltimore that won the freakin' Super Bowl last year). So, what gives, and more importantly, who do you take in this game?
Here are my three reasons why the Steelers will cover the -2.5
1) Ben Roethlisberger still can make plays. It seems like whenever somebody asks Roethlisberger about one of his young teammates, his response goes something like, "Yeah, I'm still waiting for him to impress me." He's also not afraid to call his team the worst squad in the league. Ryan Clark responded to that by saying that the team wasn't good enough for Roethlisberger to take sacks and record turnovers. Either way, Roethlisberger seemed sparked Sundasy against the Jets, one of the tougher defenses in the league. Roethlisberger hasn't always been good this year, but you have to think his performance vs. New York has given him and his team some confidence. Especially against a Baltimore defense that has been awfully average this year.
2) The Ravens offense and quarterback Joe Flacco have been delightfully mediocre. What's happened here? Well, the $100 million man hasn't played up to his contract so far and considering he had perhaps the best four-game stretch of his career in the postseason that led to the Super Bowl MVP and the nine-figure paycheck, he might never be that good again. The problem with that is that the running game with Ray Rice and Bernard Pierce hasn't been well-utilized, and when it is, the two backs average 2.8 yards per carry. For all of Pittsburgh's faults, its defense only allows 310.8 yards per game, sixth-best in the league. That will make it tough for Baltimore's offense to succeed.
3) The Steelers offensive line might be good enough after all. It was last week against the Jets, who feature one of the best defensive fronts in the league. And though the team is the NFL's seventh-worst in allowing sacks, the Steelers kept Roethlisberger relatively clean last week, even if the team already had demoted left tackle Mike Adams and kept him inactive last week before Levi Brown injured his triceps in warmup. As SB Nation points out, part of the reason for that was because Pittsburgh focused on getting the ball out of the pocket quickly vs. New York, and most likely, the Steelers would be well-suited to do the same this week, as they try to keep players like Haloti Ngata, Arthur Jones and Terrell Suggs away from Roethlisberger.
LSU's star defender returned from injury this weekend and highlights our 2018 Draft Top 20

McCarron could gain a lot from a Dalton benching, but he's sticking up for the Bengals' embattled...

'Top Dog' Tierney is 26-10 on NFL over-under picks since last season, has strong play on 4...
The injured Lions left tackle does not take kindly to being called a Wolverine

The Cowboys owner doesn't sound too worried by Elliott's lack of effort on an interception...

The Eagles DE is making the donations in response to the racial violence in his hometown