NFL Week 8 Injury Roundup: RG3, Michael Vick both banged up
Michael Vick and Robert Griffin III both suffered injuries on Sunday. Griffin said he's feeling 'OK,' but Vick's health is in question after saying he felt a 'pop' in his hamstring.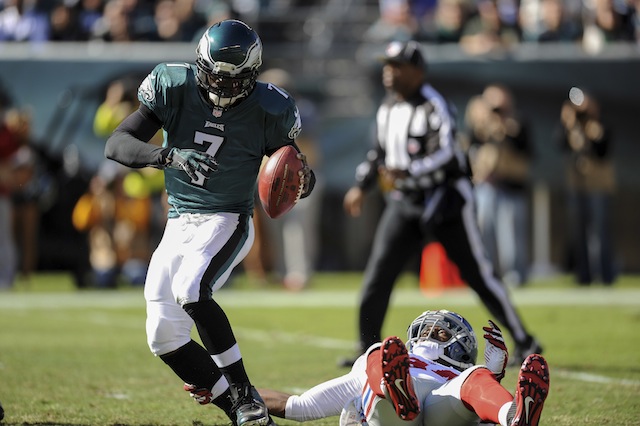 For more injury news and notes from around the league, be sure to check out CBSSports.com's NFL Rumors blog.  
RG3 (knee) injured late, Dr. Andrews says he's 'OK'
Redskins quarterback Robert Griffin III injured his left knee late in the fourth quarter against the Broncos after colliding with Denver defensive tackle Terrance Knighton. The collision came after RG3 had thrown an interception. Griffin was examined on the sideline and was told he couldn't return to the game. RG3 lobbied coach Mike Shananhan to let him go back in, but Shananhan didn't bite and Griffin spent the rest of the game on the bench. After the game Shanahan said he didn't let Griffin return to the game because of the score. The Redskins were trailing 38-21 when Griffin was injured. Dr. James Andrews later told NFL.com that Griffin is 'OK.'
Michael Vick (hamstring) leaves game early
Eagles quarterback Michael Vick was hobbled by a hamstring injury all week and that same injury kept him from finishing the first half in Philadelphia's 15-7 loss to the Giants on Sunday. "I felt good going in. I felt like I did everything that I was supposed to do to reassure myself that I could go out and play," Vick said after the game. "But there's just nothing like actually being in the moment and having to move and having to react. When I did that, that's when I pulled it again. I felt the pop."
Vick will have an MRI on Monday to determine how serious that 'pop' was. 
Giants WR Victor Cruz returns to game after X-rays 
Cruz briefly left Sunday's game against Philadelphia in the third quarter to get X-rays on his neck. Cruz was slammed to the ground and the injury looked serious. However, the Giants receiver was able to return to the game in the fourth quarter. Coach Tom Coughlin told the New York Daily News after the game that Cruz suffered a shoulder injury, not a neck injury.  
Dolphins fear WR Brandon Gibson is done for the season
Dolphins quarterback Ryan Tannehill could me missing one of his favorite weapons for the rest of the season. Miami wide receiver Brandon Gibson left the game in the first half after suffering an injury to his left knee. CBS Sports NFL Insider Jason La Canfora has reported that the Dolphins believe Gibson's injury is a season-ending one. 
"They said it doesn't look too good, so it doesn't look good," Gibson said, via the South Florida Sun Sentinel. "I'm going to keep my head up and try to have the best attitude."
Patriots RT Sebastian Vollmer (right leg) is carted off
New England knocked off Miami 27-17 on Sunday, despite losing right tackle Sebastian Vollmer in the first half. Vollmer was blocking on a running play when his right leg got caught under a pile of humanity that included two Dolphins defensive players and Patriots running back Stevan Ridley. Vollmer was carted off the field with what looked like a serious injury. 
"It's a tough loss, to see Sebastian get carted off like that," coach Bill Belichick said. "He's been such a great player for us and such a great teammate."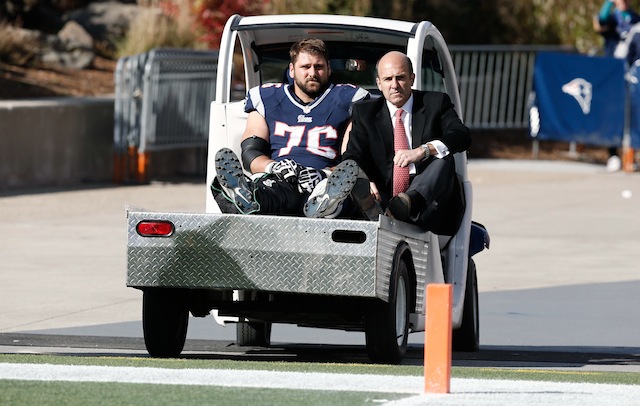 Bengals lose LB Rey Maualuga and OL Andrew Whitworth
Cincinnati lost Rey Maualuga in the second quarter after the linebacker suffered what was announced as a knee injury. However, the team later announced that it was a concussion -- I'm not sure how you mix those two up. Maualuga didn't return to the game, but he did tweet that 'Everything will be ok.' The Bengals also lost starting left tackle Andrew Whitworth to a knee injury. Whitworth was asked about the injury after the game and didn't and Fox 19 in Cincinnati that it's banged up and he'll have it evaulated on Monday. 
Broncos TE Julius Thomas injures ankle
Julius Thomas left the game on Sunday with an ankle injury. The third-year tight end has a history with ankle injuries, according to the Denver Post, so Bronco fans may want to hold their breath. Going into Sunday's game, Thomas was tied with Wes Welker for the team lead in touchdown catches with eight. 
Cowboys CB Morris Claiborne injures hamstring
The Detroit Lions pulled off a wild comeback against Dallas and they did it while one of the Cowboys starting cornerbacks was on the bench. Morris Claiborne injured his hamstring in the second half and didn't return. Cowboys owner Jerry Jones told the Dallas Morning News after the game that it could be a severe injury. 
For whatever reason Seattle decided to try a fake before the end of the first half

The Giants aren't the only NFC East that might've quit during a game this season

The Cowboys owner is not going to get his way, and he probably won't be happy about it
Gilbert will miss games against the Packers, Bengals, Ravens, and Patriots

Thompson fractured his fibula while Pryor has been dealing with an ankle injury for weeks

The Cowboys have dropped two straight in embarrassing fashion but are not ready to make a change...