NFL Week 8: Mike Shanahan's return to Denver is most expensive ticket
Tickets to a Broncos game are always expensive, but they're extra expensive this week as Mike Shanahan makes his return to Denver.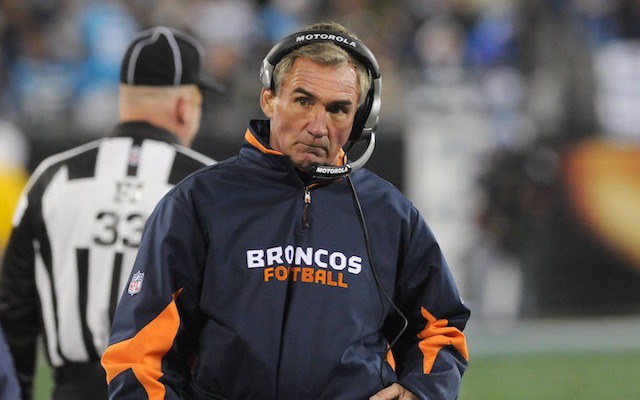 Apparently Denver loves Mike Shanahan almost as much as Indianapolis loves Peyton Manning. At least if we're going strictly by ticket prices, which I guess would be kind of a weird thing to go by, but lets go by it anyway. 
The cheapest ticket for Sunday's game between the Redskins and Broncos is $158. That's almost exactly the same price as it was for the cheapest ticket to get into the Colts-Broncos game last week ($164). If Chiefs coach Andy Reid is reading right now, he's probably not feeling much love. Tickets were going for as low as $95 in Week 3 when Reid made his return to Philadelphia.
If you want to see good football on Sunday, but don't have a lot of money, then I hope you live in Cincinnati. The Bengals-Jets game is one of only two games this week featuring two teams with winning records. You can see the rookie (Geno Smith) vs. the red head (Andy Dalton) for as low as $22. 
The cheapest NFL ticket this week is in St. Louis, where you can watch the Seahawks play the Rams for $5. That's $5 to watch Monday Night Football. Flying from Seattle to St. Louis and buying a $5 ticket to Monday's game might actually be cheaper than buying a ticket to a Seattle home game. Seahawks tickets are expensive, just ask anyone that went to the 49ers-Seahawks game in Week 2. The cheapest secondary market ticket to that game was $222. 
Speaking of the 49ers, flying to their game this week won't be cheap because flights to London are never cheap. Plus you'll have to exchange your dollars for pounds, plus you'll have to watch the Jaguars. This is a good week to stay home and not book that last minute flight to England. 
Here's the lowest ticket price on Ticket City for each Week 8 game as of 4 a.m. ET on Thursday. The second price is the lowest price on the NFL ticket exchange run by Ticketmaster. Keep in mind, ticket prices change often.
1. Washington at Denver: $158 -- $150 
2. Miami at New England: $130 -- $89 (only seven tickets left)
3. Buffalo at New Orleans: $100 -- $75
San Francisco vs. Jacksonville (LONDON): 56.77 pounds
4. NY Giants at Philadelphia: $86 -- $89
5. Pittsburgh at Oakland: $67 -- None available
6. Dallas at Detroit: $58 -- $60
7. Green Bay at Minnesota: $41 -- $40
8. Cleveland at Kansas City: $36 -- $39
9. NY Jets at Cincinnati: $22 -- $40
10. Carolina at Tampa Bay: $21 -- $30
11. Atlanta at Arizona: $10 -- $31
12. Seattle at St. Louis: $6 -- None available
From our friends at TicketCity, you can see the average ticket prices for some of the hottest Week 8 games. 
Did you go to London? Are you paying for things with British Pounds? Let me know in the comment section or on Twitter or make a giant sign that says 'HI JOHN BREECH' and I'll look for you on TV.
---
Follow John Breech on Google+
The future Hall of Fame kicker will be back in the saddle for another year with Indianapol...

As it turns out, finding an immediate impact first-round wide receiver is a lot harder than...

March 14 is coming up pretty quickly and the Saints have to hurry up and sign Drew Brees
Buffalo moves up to the No. 5 pick to land their franchise quarterback

With big performances at the combine, these prospects will shoot up draft boards

Trubisky's rookie-year film is impressive, showcasing a quarterback who holds all the qualities...