NFL Week 9 as told by Twitter: Adrian Peterson can't be stopped
Adrian Peterson continues to make astounding plays of strength and determination. His touchdown in Week 9 blew up Twitter.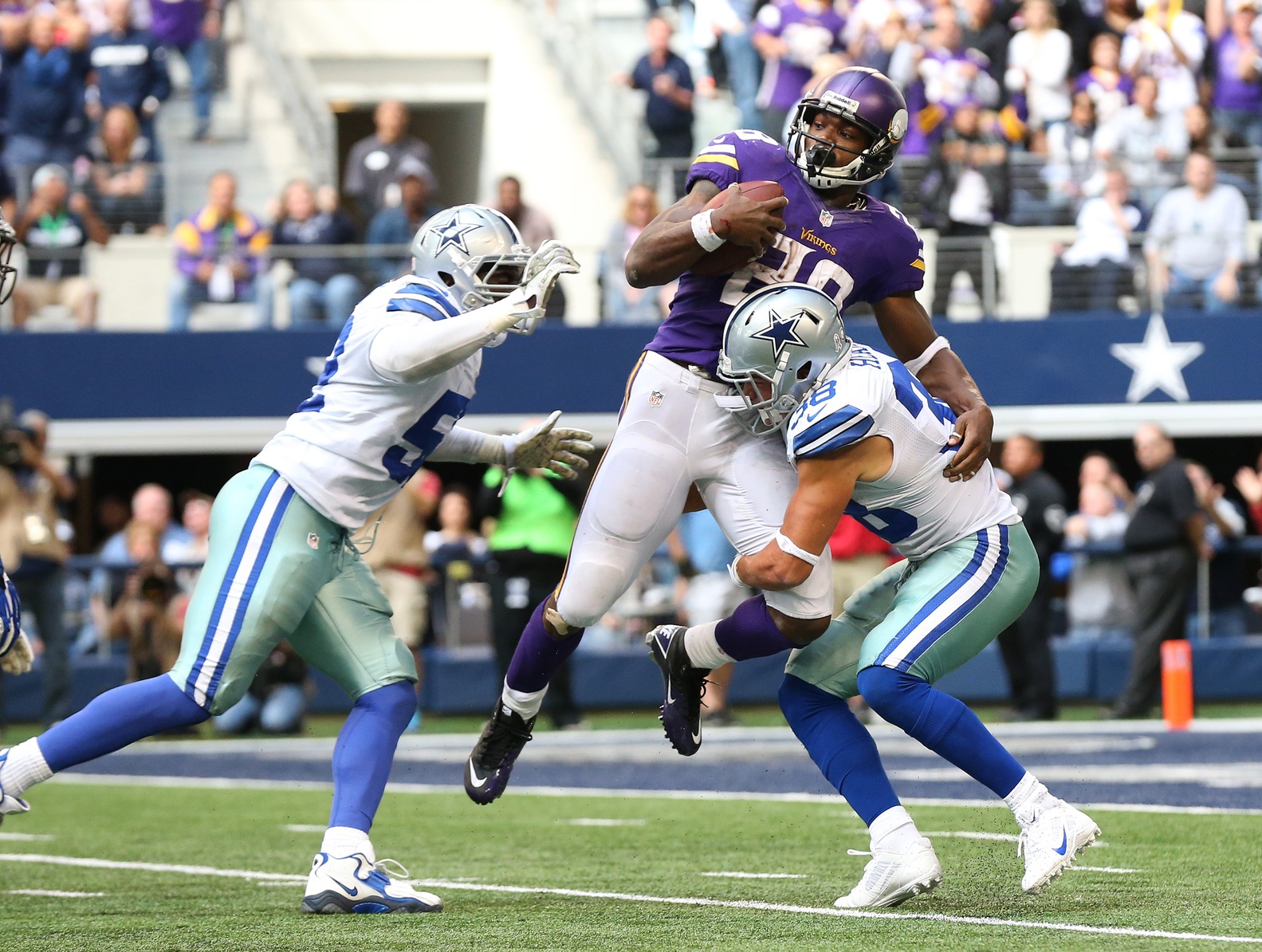 On a weekly basis, Adrian Peterson reminds NFL fans why he's the undisputed best running back in football. In Week 9, Peterson rumbled for 140 yards with the single most impressive being this 11-yard touchdown. Twitter users reacted appropriately.
A lot of kids dressed up as Superman for Halloween this weekend. Superman dressed up as Adrian Peterson.

— Vikings Territory (@vikingterritory) November 3, 2013
When an unstoppable force meets an immovable object, the wall apologizes to Adrian Peterson and steps aside.

— Kami Mattioli (@kmattio) November 3, 2013
Forward progress is stopped when Adrian Peterson says it's stopped.

— Ryan Boser (@Ryan_Boser) November 3, 2013
Adrian Peterson might be a Highlander

— Bobby Big Wheel (@BobbyBigWheel) November 3, 2013
A Christian Ponder Hail Mary is a dump off to Adrian Peterson then praying really hard

— Bobby Big Wheel (@BobbyBigWheel) November 3, 2013
Adrian Peterson is a bigger man than you.

— Will Brinson (@WillBrinson) November 3, 2013
No way. Adrian Peterson is not human. Oh my word. That was unreal.

— Ben Weixlmann (@BWeixScout) November 3, 2013
Amazingly, winless Tampa Bay almost knocked off Seattle in what would have been one of the most shocking results of the season. The Bucs used an unexpected play from running back Mike James.
Ok, now I've seen it all. Mike James with the Tim Tebow jump-pass to Crabtree for TD. Will we also see dancing bears at halftime?

— Brad Evans (@YahooNoise) November 3, 2013
Mike James just had the first touchdown pass by a Hurricane in the NFL since who ... Ken Dorsey?

— Brian Stubits (@StubitsCBS) November 3, 2013
out of desperation, I started Mike James today because I needed to boost my touchdown passes.

— Jason Lisk (@JasonLisk) November 3, 2013
Washington continues to face opposition to its nickname. This tweet sums the debate up.
Nice win for #DCTeamNameTBD. Congrats to the #DCTeamNameTBD and the #DCTeamNameTBD fans… #Chargers

— Eric Stangel (@EricStangel) November 3, 2013
In unrelated Redskins news...
Is this Redskins doll baby creepy, or the creepiest? pic.twitter.com/VNPjEYQYip

— Sarah Kogod (@SarahKogod) November 3, 2013
It appears Larry Fitzgerald spent his bye week watching very little football.
My dad enjoying himself at the AZ State Fair this afternoon. I hope I can never rest my phone on my stomach. Lol pic.twitter.com/OZdwoR2crq

— Larry Fitzgerald (@LarryFitzgerald) November 4, 2013
Tom Brady had one of the best games of his career, but this is all we'll remember about him in Week 9.
The photoshop possibilities... pic.twitter.com/FoTeUlhyaH

— World of Isaac (@WorldofIsaac) November 4, 2013
Nick Foles had the best game of his career. His critics were oddly quiet.
Amazingly.. Marcus Vick has no comments on The Eagles QB play today.

— trey wingo (@wingoz) November 3, 2013
Things aren't going well for new Falcons running Steven Jackson. Actually, things aren't going well for any Falcons this year.
Steven Jackson moves with the grace of an oil tanker.

— Jeff Borzello (@jeffborzello) November 3, 2013
And the Chargers still lost...
The Chargers hadn't blocked a field goal in 11 years. They've blocked two Kai Forbath kicks today.

— SI NFL (@si_nfl) November 3, 2013
Pick Six Newsletter
Get the day's big stories + fun stuff you love like mock drafts, picks and power rankings.
Please check the opt-in box to acknowledge that you would like to subscribe.
Thanks for signing up!
Keep an eye on your inbox for the latest sports news.
Sorry!
There was an error processing your subscription.
Bell will play under the franchise tag for the second consecutive season

The NFL reportedly won't take any further action against Keim

The future Hall of Famer doesn't sound like he wants to chase a ring elsewhere
The Packers QB likes the idea of tying his value to a percentage of the cap, but good luck...

The move puts Cooks among the top wide receivers in the NFL in terms of salary

After a lengthy period of time away from football, the former second-round pick is back