NFL Week 9 Game Rankings: Hard to beat Tom Brady vs. Peyton Manning
Tom Brady vs. Peyton Manning for possibly the final time is reason enough to tune in to Broncos-Patriots in Week 9. Here's a look at the full slate of games.
• 32 min read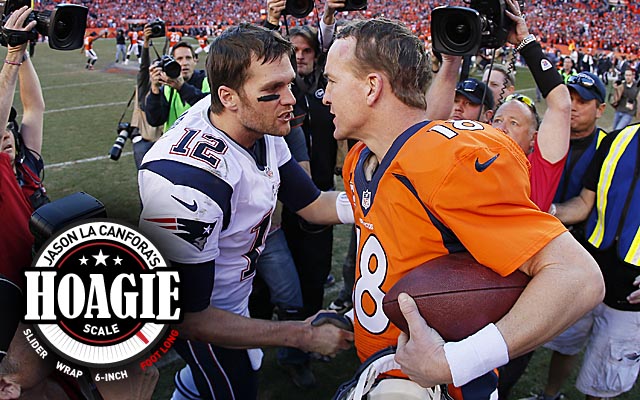 Last week was Statement Week for pretty much every team in the league that needed a win.
Can that continue again?
Every potential contending team that was under extreme duress to win -- Seattle, New Orleans, Cincinnati, Pittsburgh and Buffalo -- won. Even those that simply couldn't really afford to lose to weaker opposition, like Detroit and Cleveland, got the job done. Then there's Chicago. The Bears imploded in New England and is sinking to new depths.
But you get the prevailing sentiment that comes into this week. The team that needed the game most, in almost every instance, won in Week 8 -- whether it was a blowout or hard-fought. This week there aren't nearly as many cases where one team that's in the playoff mix really has its back against the wall and needs to prove something.
With six teams on the bye -- the Lions, Falcons, Packers, Bills, Bears, and Titans -- there is a dearth of divisional games. There are three total, although two of them are humdingers -- Ravens at Steelers and Saints at Panthers. And, in the coveted 4:25 p.m. (EST) slot, which always dominates ratings, we have on what might be the regular-season game of the year on CBS -- possibly the final meeting between Tom Brady and Peyton Manning.
So why don't we get right to the footlongs on that note, my friends.

| | | |
| --- | --- | --- |
| |  at  | |

Denver at New England
Sunday, Nov. 2, 4:25 p.m. ET (CBS)
Why To Watch: I'd have a significantly more difficult time trying to come up with reasons not to watch this game. And honestly, I can't come up with one. It's a battle for the first-overall seed in the AFC, quite possibly, and it's two teams that have been regulars in the AFC title game in recent years. It also happens to be the aforementioned Tom Brady and Peyton Manning reunion is probably the greatest individual rivalry in the game despite both uber-competitive quarterbacks going out of their way to downplay it. Well, I've got a newsflash for you -- they each get a real kick out of beating the other one, they are both acutely aware each time one shatters the other one's record and they are quite cognizant of their legacies. Absolutely none of it is lost on either of them. There are no guarantees they'll meet in the postseason. It's no lock Manning returns next season. Both the New England and Denver offenses look as good as they have all season. So let's savor this one.
What To Watch For: Brady has the all-time lead in this series (10-5) over Peyton, but it has been a while since either held the Lombardi. These two realize it's all about February for them, so don't expect reminiscing and bro-love moments during warm-ups or the postgame. That's not how these two roll. They want to beat the other guy's brain in. They'll never admit that ... Rob Gronkowski looks like the old Gronk, while Julius Thomas has become the odd-man out in Denver's loaded offense lately. Given the injuries to Patriots linebackers, wonder if we see more Thomas in this one ... Darrelle Revis vs. Demaryius Thomas is the battle of the weekend. This is the sole reason why Revis is in New England. Period. Win this match-up Sunday -- and especially in the playoffs -- and the Pats might get another title. He has to hold up here ... Wes Welker's revenge game is almost an after thought with how little he's played lately, but fear not, Manning is keenly aware. Bet he feeds the slot guy plenty here ... Bigger problem for Pats will be finding someone to stay on Emannuel Sanders; you can only double so many people ... Pats were fine without Chandler Jones and Jerrod Mayo last week, but not sure how long that will last. Will Patriots coach Bill Belichick bring the heat to try to force Manning to pick up his feet? Have a feeling he plays less coverage than usual ... Ronnie Hillman is turning into a real difference-maker for Denver ... Broncos coordinator Adam Gase will focus on staying balanced offensively and Broncos will feel like they can be physical with this defense.  
| | | |
| --- | --- | --- |
| |  at  | |

Baltimore at Pittsburgh
Sunday, Nov. 2, 8:30 p.m. ET (NBC)
Why To Watch: So if Brady-Manning is the best individual rivalry in the game, this is the best team rivalry. It runs deeper than the 49ers-Seahawks rivalry and these teams are always at least .500 and usually battling for the AFC North title, if not the AFC title. Every game means so much and each comes down to the last possession or last play -- except for Week 2, when the Ravens whacked the Steelers at home on a Thursday night. So much has changed since then and now they're tied. Baltimore has already been swept by the Bengals; losing another divisional game would likely preclude them from taking the AFC North title. Whichever team wins this game is catapulted forward and the loser is all of a sudden scrambling. The Steelers have already lost two division games, and getting swept by the Ravens after already splitting with the Browns would likely take them out of the AFC North title equation. Sound familiar? These two teams have embodied the week-to-week, topsy-turvy nature of this NFL season, and there will be an electric, playoff atmosphere at Heinz Field for this. There is genuine dislike on display, and the teams come in off very different Week 8 experiences -- Pittsburgh trouncing the Colts and the Ravens losing a heartbreaker at Cincinnati.
What To Watch For: The Ravens need to beat a quality team -- preferably on the road -- to be taken seriously as an elite AFC team. They've destroyed the NFC South, but have been lacking too often against better teams. Their pass rush has feasted on teams with no offensive line, but it's going to take Terrell Suggs and Elvis Dumervil getting it done against the big boys to keep this defense where it's used to being ...  Loss of stud corner Jimmy Smith last week changed the entire game with the Bengals. Not having him against Antonio Brown creates a massive void that could change the entire course of this game as well ... Expect to see more of the Steelers' younger linebackers, who are just getting healthy, in this game. More speed is on its way to that defense ... Steelers linebacker Jason Worilds comes in off his best game of the season and Lawrence Timmons has been great the last few weeks; young right tackle Ricky Wagner will be tested ... The Ravens badly need to get tight end Owen Daniels back to have more options in the slot ... Steve Smith gave the Steelers fits in the first meeting; Steelers secondary has been a concern ... Joe Flacco has not been good on the road this season. Too many poor decisions last week, which played a key role in their defeat. Will he bounce back? ... Expect to see more of Ravens powerful rookie running back Lorenzo Taliaferro in this one. His bruising style in the red zone and around the goal line is vital ... Baltimore been very poor on fourth-and-short situations all season. Would expect Gary Kubiak to come up with a few new designs to get that improved. It's cost them big in several games ... Few secondaries tackle as poorly as Baltimore's, especially its youngsters. Guys like Bryant will shred them after the catch if that doesn't improve.
| | | |
| --- | --- | --- |
| |  at  | |

Arizona at Dallas
Sunday, Nov. 2, 1 p.m. ET (FOX)
Why To Watch: Who knew this could be a potential NFC title game preview when the schedules came out? I certainly didn't. Two of the real feel-good stories in the league meet right around the midpoint of the season with the winner potentially having sole rights to the top seed. We know the tiebreaker ramifications that can come from a head-to-head victory if these two teams can remain on this course. If Bruce Arians isn't the favorite for NFL Coach of the Year, again, then I don't know who is. All he does is win in whatever fashion is necessary and few teams exude belief and buy-in the way his scrappy bunch does. So, they had a few more guys go down last week including top corner Patrick Peterson? So what? They get it done anyway. And the Cowboys' defense has to be the single-most surprising unit in football -- at least until Colt McCoy shredded them pretty good on Monday night and had big-play opportunities deep on almost every drive. And we know Arians loves the deep ball. Might there be some issues in Big D looming?
What To Watch For: Tony Romo's back always figured to play some role in the Cowboys season after another surgery in the offseason. Cowboys would be wise to be extra cautious with it ... If Peterson remains out with a concussion it's a big problem. They need him matching his physicality with Dez Bryant's. That would be the second-best individual receiver-corner meeting of the week. It could go a ways to deciding this game ... With Michael Floyd ailing last week, Larry Fitzgerald showed that you'd better not sleep on him. Flashed some breakaway speed that will remind Carson Palmer what he can do after the catch ... DeMarco Murray may have met his match. Even without Darnell Dockett the Cardinals are suffocating opposing runners, allowing just 78 yards per game (third-best in the NFL) and just 3.32 yards per carry (third best as well) ... I'd expect to see plenty of Andre Ellington against a Dallas defense allowing nearly five yards per carry. Ellington hasn't averaged even four yards per carry in a game since Week 2, but might he change that here? He's been targeted at least seven times a game in each of the last four contests as well ... Have a hunch Tyrann Mathieu, who looks healthier and better each week, makes a big impact in this game. I see him jumping an underneath route and taking something to the house ... Cards rising star defensive coordinator Todd Bowles will find ways to probe the right side of the Dallas line with tackle Doug Free out lately. He won't stop blitzing no matter how agile Tony Romo is ... Arians loves the vertical stuff. Wonder if they catch a Cowboy or two with a double move?

| | | |
| --- | --- | --- |
| |  at  | |

San Diego at Miami
Sunday, Nov. 2, 1 p.m. ET (CBS)
Why To Watch: These teams are in the thick of the AFC playoff race, but both happen to be stuck behind lingering juggernauts -- Denver and New England -- that really can't help but win their respective divisions. So this is yet another potentially massive tie-breaker in a head-to-head match-up. The Dolphins have quietly won three of their last four games and scored 24 points or more in three straight, but are entering a brutal stretch of games where they face the Chargers, Lions, Bills, Broncos, Ravens and Patriots in a seven-week span -- four of those games are on the road. Will they survive? If so, they'll be battle tested for the playoffs. The Chargers, meantime, settle into a stretch where they play only once in about three weeks, having last played on a Thursday, then they go on the bye after this game. The Chargers need to stack wins the next few weeks as well, because they finish the season with the Ravens (away), Patriots, Broncos, 49ers (away) and Chiefs (away). So, yeah, this is a big game.
What To Watch For: The Dolphins' deep rotation of defensive linemen will give San Diego's line some fits. The Chargers' depth is being tested all over, especially the interior of the offensive line, and on what could be a hot day, the Dolphins can keep throwing big ugglies at you up front. In a close game, does a fourth-quarter sack settle this game? ... Dolphins coaches take their share of abuse, but credit coordinator Bill Lazor -- they have scored more points on the opening drive of the second half than any team in the NFL ... Dolphins are winning with special teams -- they have the best average starting field position of any team in the NFL (32.1), a big factor in helping their offense. If backed up deeper, it might lead to problems ... Only four teams have produced more takeaways than Miami this season (14), and all of those teams have played one more game than the Dolphins, who already had their bye ... Plenty of rest for Antonio Gates should bode well for him. He remains the go-to guy in the red zone ... Mike Wallace hasn't caught more than five balls or had 75 yards receiving since Week 1, though his five touchdowns have been huge. Big plays just aren't there -- just four catches over 25 yards all season and a pedestrian 13.1 yard per catch average. If Brandon Flowers is back he might be able to shadow him and free up safety Eric Weddle to disrupt elsewhere ... Chargers are fourth in the NFL in third-down conversions, at over 50 percent. The Dolphins are 30th in the NFL allowing teams to convert over 47 percent of their third-down chances. Might that be where Philip Rivers pulls this out?  
| | | |
| --- | --- | --- |
| |  at  | |

New Orleans at Carolina
Thursday, Oct. 30, 8:25 p.m. ET (NFL Network)
Why To Watch: I struggled with making this a footlong, since it likely will decide a division. But then again, that division is the NFC South, which is flippin' brutal, so it has to get knocked down a notch. It's still a quality game, however, and if the Saints do indeed prevail here -- the playing field just might be leveled some. New Orleans knows it must string together some victories, even in its woeful division where no one else can come close to doing that, and the Saints have bigger aspirations than just sneaking into the postseason (Saints haven't won two in a row yet this season). With quarterback Drew Brees, they think they can win the whole damn thing. Cam Newton has been trying to do too much at times for Carolina, and with so little around him and a defense that hasn't been able to stop anyone, I don't entirely blame him. Watching New Orleans on Sunday night, it sure seemed like they were getting their mojo back, but we'll see if that gets extended outside the dome.
What To Watch For: Jimmy Graham is still laboring with that shoulder injury, and a short week will do him no favors, but he looks poised to catch a few balls in the red zone if nothing else, and that could be the difference. I really like his chances against this secondary ... Mark Ingram doesn't look like he wants to give up that feature back role anytime soon, especially the way he ran all over the Packers -- and I wouldn't be surprised at all if he doesn't. The Panthers have been horrible against the run, and are especially vulnerable on the outside, where he can cut it quickly ... Panthers may have a full compliment of running backs for this game, and diversity in the running game has been their forte when they're going well ... Saints defensive coordinator Rob Ryan called a near-perfect game last week after a brutal first half. Was that an aberration, given the import and setting of that game with Green Bay, or a sign of things to come? ... Sean Payton made a point of getting Brandin Cooks re-integrated into this offense last week. That will be anything but an anomaly I figure ... Would expect the Panthers to throw everything they can at Brees. They have nothing to lose, and at home on a short week against a team that can control the ball on the ground, they're going to need to pressure Brees and create turnovers like they did to Russell Wilson last week. Go big or go home.
| | | |
| --- | --- | --- |
| |  at  | |

Indianapolis at N.Y. Giants
Monday, Nov. 3, 8:30 p.m. ET (ESPN)
Why To Watch: If the Giants are more than pedestrians in this NFC playoff race, now would be the time to show it. They come in off the bye, needing a win, and the Colts were humbled by the Steelers last week and have to play again away from home, where things tend to be much more difficult. Indianapolis will be motivated to show that last week was far from the norm, but you can't help but wonder if that kind of historical beatdown to their defense will allow some doubt to creep in; the no-name unit had been thriving but there were plenty who wondered if they could keep it up. This should be a decent enough test for them. And, the Colts lead the NFL with 250 points scored, so we know the Giants defense is in for all it can handle.
What To Watch For: What did the Giants learn from self-scouting or otherwise during the bye week? They dropped their last two games, haven't been able to play consistent football and I can't imagine Giants coordinator Ben McAdoo didn't spend a good but of his break finding new ways to get the hand in Odell Beckham's hands. I foresee some reverses (this team is averaging just 3.7 yards per carry and needs all the help it can get moving the ball on the ground) and trick plays. He's the best chance they have to add some spark and creativity into the offense ... What happened to Giants tight end Larry Donnell? Any chance he got his groove back and will be able get, and keep, his hands on the football from here on out? ... Giants defense has its issues, but one thing it can do is pick the ball off, and Andrew Luck will put it up for grabs ... Gotta think Hakeem Nicks shows up big here. I know last week it was all Donte Montctief -- and man did he make an impression snatching balls all over the place -- but this is a homecoming for Nicks, who at one point probably thought he'd be a Giant for life. Oh yeah, and you don't think Ahmad Bradshaw, as big as he plays, isn't extra fired up to face his old team, too? He remains one of the the most important players in the Colts' offense and they love to get him involved right away on screens. Bet he gets plenty of looks in the red zone too against his former teammates ... Dropped passes been a big problem for the Giants, over 9 percent of their catchable passes have been dropped, so imagine what Eli Manning's completion percentage would be if not for that. He'd be right at that 70-percent benchmark I reckon.

| | | |
| --- | --- | --- |
| |  at  | |

St. Louis at San Francisco
Sunday, Nov. 2, 4:05 p.m. ET (FOX)
Why To Watch: The Rams enjoy being spoilers -- what choice do they have? -- especially against divisional foes, and you can ask the Seahawks about the creative lengths they will go to against opponents to get a win. If they can keep this game close, a big if to be sure, then perhaps Jeff Fisher has a few more special teams tricks up his sleeve. The 49ers need to take off in the second half of the season coming off their bye if they want to keep pace with Arizona, and after three straight NFC title game appearances and one Super Bowl berth, it might require some help for this bunch to reach the postseason in what could well be Jim Harbaugh's swan song in the Bay Area. (Also can't help but think, whenever these two teams play, about how badly Dolphins owner Steve Ross wanted both of them, and swung boldly and missed at both). It's go time for the 49ers and they're going to need every win against a lesser NFC team they can get, with the Cardinals already 4-0 against the conference and the 49ers and Seahawks each at 3-2. The 49ers actually have a negative point differential -- they have allowed seven more points than they have scored -- which is one of many things Harbaugh will be hoping they will correct coming out of the bye.
What To Watch For: Would expect some new wrinkles for Colin Kaepernick out of the bye. Harbaugh has tended to unleash him more and expand the playbook at the seasons have gone on, holding back some looks for later in the season ... Would figure on seeing plenty of Brandon Lloyd in this game as well, since the are Rams very vulnerable to the deep ball and his wheels -- combined with Colin Kaepernick's arm -- have been a key to expanding the scope of this attack ... Been tough sledding for Frank Gore in recent weeks. Given all the pummeling he's taken over the years, the bye must have been huge, but I wonder about the division of labor in that backfield moving forward ... San Francisco's defense should hit new levels in the next few weeks as star players return from injury. Should give a substantial jolt to the pass rush ... Tough outing for rookie running back Tre Mason for the Rams last week; I still like Benny Cunningham as a guy who needs to see a fair amount of touches if this team is going to stay balance ... Intrigued to see how rookie Greg Robinson, a top-three pick who couldn't crack the Rams suspect offensive line for whatever reason for the first six weeks of the season, now fares as the team's starting left tackle. Massive size but lateral movement may be in question against speed rushers.
| | | |
| --- | --- | --- |
| |  at  | |

Philadelphia at Houston
Sunday, Nov. 2, 1 p.m. ET (FOX)
Why To Watch: Wasn't that long ago that Bill O'Brien and Chip Kelly were both hotshot college coaches being coveted by the same NFL teams. In fact, from what I've heard, O'Brien was actually the Eagles' top candidate in 2013, but when word of his pending interview leaked he opted to remain at Penn State, for what turned out to be just one more year. Thus began the on-and-off saga between the Eagles and Kelly then ended up with them landing him after agreeing to hand the keys of the franchise over to him. Looks like a very wise decision thus far. Both coaches have enjoyed great immediate success (Houston has already doubled its win total from last season at the midpoint of this season), and O'Brien's team has played the NFC East very tough to this point, and with a favorable upcoming schedule, just might be able to hang around the AFC playoff picture for a while.
What To Watch For: This can be a very simple game at times. The team that best holds onto the football usually wins. The Texans have been their own worst enemies in their losses this season, but they aren't facing a menacing defense here and Ryan Fitzpatrick should be able to maintain some ball security one would expect ... Speaking of turnovers, things much tougher for this Eagles offense with Nick Foles giving it away with abandon this season. Only Blake Bortles has given the ball away more than Foles (12, which is as many as Jay Cutler). That, more than anything else, has held this Eagles defense back ... Darren Sproles should be good to go this week; despite all the talk of him not being a key for them, his stuff in the screen game was vital for this offense early on, and it still hasn't been close to last year's levels ... Cary Williams remains a ticking time bomb for the Eagles on field and off. Getting beat for a game-losing sequence last season only heightens the tension around him. Andre Johnson showing signs of life lately. Might not be a bad matchup for O'Brien ... Texans could use Owen Daniels; they have just 16 receptions from their tight ends at the midpoint of the season, have no tight end with even 15 catches and no touchdowns. Don't really have to worry about covering them at all; JJ Watt's been their most effective tight end ... Jadeveon Clowney should make more of an impact here. Will be something if they can get him and Watt going, especially at home in that dome.

| | | |
| --- | --- | --- |
| |  at  | |

Jacksonville at Cincinnati
Sunday, Nov. 2, 1 p.m. ET (CBS)
Why To Watch: The Bengals got back on the good foot and I'd expect that to continue here. Jags trying hard on defense and improving there, but experiencing a turnover-a-polooza with their young quarterback. With the AFC North looking like possibly a four-horse race, these teams better continue beating up on non-divisional foes -- the other three teams in this division are a combined 8-3 outside the AFC North, while Cincy is 2-2-1. This should be the return of A.J. Green as well, which breathes new life into the Bengals offense. They hit on a few big plays last week -- largely due to the Ravens abysmal secondary once top corner Jimmy Smith left the game early. Even as a decoy, Green commands respect
What To Watch For: How explosive does Green look, and particularly if this game gets lopsided, Bengals right tackle Andre Smith is, in the words of Joe Namath, ssstruggglinnggg right now. Jags coach Gus Bradley will attack him from beginning to end -- what have the Jags got to lose at this point? -- and Andy Dalton had best not roll to the right all that often ... Bortles has to cut down on the picks, especially inside the opposing team's 30. He's stalled some drives early in games with the Jags looking like they were up for the challenge. The momentum killers are touch much for this rebuilding outfit to overcome against most opposition, Sunday's included ... Geno Atkins played his best game of the season last week. Getting something like that from him each week would change the complex of this defense, which has not created much pressure ... Interesting "sellout" in Cincy last week for a huge game with the Ravens on what might be the last gorgeous day in that city till the spring, with wide swaths of the upper deck pretty vacant. That's likely to be more of an issue with the sad-sack Jets in town. Check out the stadiums shots as they cut to commercial break and you might be astonished.
| | | |
| --- | --- | --- |
| |  at  | |

N.Y. Jets at Kansas City
Sunday, Nov. 2, 1 p.m. ET (CBS)
Why To Watch: The Jets are the best trainwreck going in this league right now and they are destroying the competition in the most tweets inspired by one press conference category as well. It will be a slow death march to January now, for the coaching staff and front office, and, we suspect, Geno Smith, who they might as well just shelve a la EJ Manuel at this point. Then again, in a league where something crazy happens every week, I'm sure the sad-sack Jets could make the case -- why not us, at Arrowhead? It's kind of hard to see right now, and the Chiefs seem to have the advantage across the board here. And Mike Vick is gonna want no part of Tamba Hali and Justin Houston and all of the injuries the Chiefs have suffered shouldn't really matter here.
What To Watch For:  Doesn't seem like Rex Ryan and Jon Idzik are on the same page in NYC does it? Both likely to meet the same fate at this point at the end of the season I figure. Will the decision to start Mike Vick, who hasn't exactly been brimming with enthusiasm to get in these games, really light any sort of spark under this moribund bunch? I kinda doubt it ... Expect to see plenty of force-feeding to Percy Harvin early, and not much to come of it ... Even less of a role for Chris Johnson with Harvin now there ... The Jets have allowed 22 touchdowns throws through half a season, five more than any other team in the NFL. That's crazy. Opposing quarterbacks have a rating of 113.5 -- best, or worst, in the NFL, depending on your perspective. Oh, and they have one interception. One! So that's a 22-1 ratio. I don't want to go all Francessa here, but Sammy Watkins has like 150 yards on three catches last week. They can't cover or tackle back there. Jamaal Charles in the screen game, with all that YAC, will be a killer and Dwayne Bowe should show up plenty downfield ... I am sure there will be no lack of camera shots trained on deposed Jets starter Geno Smith on the sidelines to monitor just how engaged he is in this contest.
| | | |
| --- | --- | --- |
| |  at  | |

Oakland at Seattle
Sunday, Nov. 2, 4:25 p.m. ET (CBS)
Why To Watch: The Seahawks are under siege! Locker room chaos! More stars on their way out, allegedly, next season! The season in the balance! Everywhere the Super Bowl champs look, someone is out to get them! Well, the reality is, this is still a damn good football team, albeit one that is finding ways to beat themselves in a manner they simply did not a year ago. Last week's struggle to escape Carolina was another example, as they fumbled repeatedly and continued to drop easy interceptions and just couldn't get out of their own way until finally score late to get the win. And you know what, that's all that really matters. Style points don't exist. Now the schedule makers do them a favor getting back to their cozy confines at home, and getting the lone winless team in the NFL coming to town. So all should be well in the Pacific Northwest come Sunday night. Good opportunity to get their swag back and feast on a rookie quarterback and get back to turning teams over rather than giving it away themselves.
What To Watch For: Seahawks will continue to rely on their young wide receivers post-Harvin, and I bet rookie Paul Richardson has a big game here against a secondary that has been downright brutal. He's a burner and a potential big-play kid ... Raiders need to see something from corer D.J. Hayden, their 2013 top pick, down the stretch. Has to be around the football and making plays ... Raiders 2014 top pick Khalil Mack seems to get a little better each week and find ways to impact the game more regularly ... I love the revenge angle -- as regular readers know well by now -- and I bet Tom Cable still has some special feelings for the Raiders after his dismissal there despite doing the impossible and posting a .500 season in Oakland. The Seahawks offensive line coach has a mad Marshawn Lynch ramped up and ready to go (OK, Lynch is always mad, but I'd imagine he is particularly angry after the reports of his imminent demise in Seattle) and is facing a defense that has actually been very good against the run lately. Would expect him to be up to the challenge ... Check out the Raiders schedule -- don't see too many opportunities, at least on paper, where they will be seen as having a chance to win. Maybe against the Rams at the end of November. Everyone else left on their schedule has a winning record right now.
| | | |
| --- | --- | --- |
| |  at  | |

Washington at Minnesota
Sunday, Nov. 2, 1 p.m. ET (FOX)
Why To Watch: I smell (yet another) quarterback controversy in Washington. That town lives for this stuff. OK, actually, they don't at all, but it's all they've been mired with for the last 15 years or so -- hope that the stiff holding the clipboard is better than the retread, has-been, never-was, or flash-in-the pan currently under center. It's a byproduct of a lack of a true starter and so few options, more so than any fan desire to always lust for the guy in the ball cap and not the helmet. So I say ride the hot hand and see what Colt McCoy can do this week. On second thought, nah, let him ride off into the sunset after that stunning outing in Dallas on Monday night. The Skins played with tremendous heart, but they are going nowhere this season and they need to see everything Robert Griffin III has at this point before making a critical evaluation (again) at the quarterback position this offseason. This could well be the return of RG3, and after looking a little lost and plenty less athletic early this season before getting injured (again), I'll be keep an eye on this one to see how spry and nimble and confident he is.  
What To Watch For: With each passing week you hear less and less about Adrian Peterson's copious personal and legal problems it seems. A player once the unquestioned face of this franchise is gone without a trace, and I wonder if with each passing week we see less and less of his jersey in the stands at these games, as well? The crowd was loaded with them for the first game he missed after being charged with child abuse ... Teddy Bridgewater continues to take some baby steps, but the lack of a tight end has put a big cramp in Norv Turner's offense ... Right tackle remains a black hole for the Skins. Will have to be addressed (again) in the offseason ... Ryan Kerigan had a great game last week without Brian Orakpo (who is injured, again) on the other side trying to balance out the pass rush. Still can't figure out how he didn't fall on that fumble at the end of the fourth quarter, though ... Skins rediscovered their run game in Week 8, not just Alfred Morris but effective change-of-pace carries for Roy Helu as well -- this would be a good spot to keep that going ... Vikings are getting progress from some of the youngsters in their secondary. It will be imperative to continue that growth in the second half of Mike Zimmer's first season at the helm. We'll see if they come into this game with an edge after finally winning on the road last week (albeit in Tampa, where everyone plunders the Bucs).
| | | |
| --- | --- | --- |
| |  at  | |

Tampa Bay at Cleveland
Sunday, Nov. 2, 1 p.m. ET (FOX)
Why To Watch: Speaking of those Bucs, man was I wrong about them. Not only haven't they taken the leap forward I expect, they have actually regressed. Lovie Smith's defensive scheme has been a total bust, and they continue to lack an identity and cohesion on offense having to operate without a true offensive coordinator due to Jeff Tedford's medical condition. But they meet a Browns team that more often than not is plenty happen to concede bug chunks of yards both on the ground and through the air. They almost revel in it. But they managed to put away the hapless Raiders in the second half last week and the Browns face another must-win game at home against a weak foe if they are going to remain a factor in the AFC North race. Beating up on the NFC South has become a cottage industry for Baltimore, Cleveland and Cincinnati this season, while the Steelers suffered a blemish, again, somehow, these Bucs.
What To Watch For: It's not always going to be pretty for Browns quarterback Brian Hoyer, and he can roll with that as long as a victory comes with it. Still some brutal drops last week and this run game and pass protection simply is not the same without Alex Mack. We've seen it two weeks in a row against less than ferocious opponents and Bucs defensive tackle Gerald McCoy, a newly minted $50-million man, could take even further advantage of it Sunday. I'd expect Kyle Shanahan, Browns coordinator, to have that pocket moving all over the place and for Hoyer to be plenty of chucking on the run ... Looks like Terrance West is now the new in favor running back behind Ben Tate in Cleveland, but the bread-and-butter of this offense, outside zone plays, not nearly as effective as in the first six weeks of the season ... Tough luck continues for talented Browns tight end Jordan Cameron and last week it came in the form of a brutal blow to the head after making a ridiculous catch. He's a massive player for them, especially until Josh Gordon comes back from suspension ... Bucs hopeful to get rookie running back Charles Sims back from IR-Designated To Return, and if they do, expect him to become their primary cog in the run game without too much time passing ... Despite all the money the previous regime in Tampa sunk into its secondary, as well as the current one, it remains a mess. Holes abound in this version of the Tampa-2, and spindly Browns slot receiver Andrew Hawkins excels at finding just those kind of nooks and crannies. Could be big in this one.
Check out the uniforms that Kansas City and Oakland will be wearing on Thursday

Cliff Avril's NFL career might be over

Oct. 18 is a very special day in NFL lore
The Falcons should not be making any plans for Minnesota in February

The Colts star quarterback could end up missing the entire 2017 season

Not even two Super Bowl wins is enough to get Eli Manning any respect