NFL Week 9 Injuries: Jimmy Graham active, Marques Colston out
Texans running back Arian Foster (hamstring) and Saints tight end Jimmy Graham (foot) are both listed as questionable for Sunday.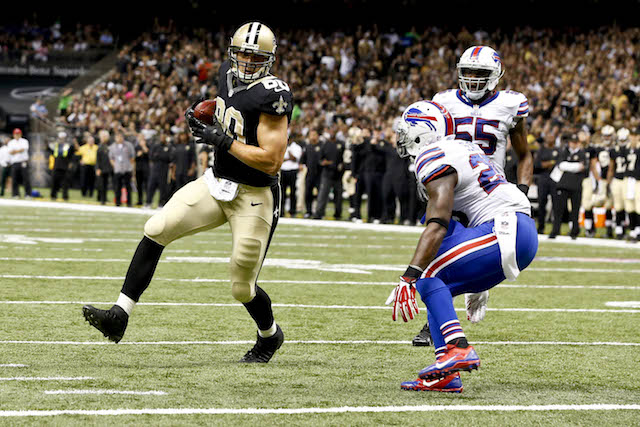 For more injury news and notes from around the league, be sure to check out CBSSports.com's NFL Rumors blog. And on Sunday follow our comprehensive list of Week 9 game-day inactives.  
Kenbrell Thompkins, Aqib Talib inactive for Patriots
Rookie wide receiver Kenbrell Thompkins won't suit up Sunday when the Patriots host the Steelers. He has 23 receptions for 334 yards and 5 touchdowns this season. Talib is also out with a hip injury.
Robert Woods leaves with leg injury
<a href=  wide receiver  <a href=  left Sunday's game against the Chiefs in the third quarter after injuring his leg on a long pass from Jeff Tuel. 
Woods didn't seem to have an obvious injury on the play -- he was diving for a catch and wasn't hit by anyone on the Chiefs as he appeared to hit the ground normally -- but was down for a few minutes before being helped to the locker room. He's questionable to return.
Vikings TE Kyle Rudolph suffers foot injury
Vikings tight end Kyle Rudolph suffered a foot injury on  his touchdown reception and he is questionable to return to Sunday's game against the Cowboys.
Saints RB Darren Sproles leaves game with concussion
<a href=  running back  <a href=  had his day cut short early Week 9 at N.Y. Jets because of a concussion. Sproles was sent to the locker room to be evaluated for a concussion after taking a hard hit on his only catch -- a 2-yard reception on the third snap of the game.
Sproles was then ruled out for the rest of the game midway through the second quarter. He was originally listed as questionable to return.
The Saints are back in action Week 10 vs. Dallas
Jeremy Kerley suffers elbow injury
<a href=  wide receiver  <a href=  had his day cut short Week 9 vs. New Orleans because of an elbow injury. He had one catch for 1 yard before getting hurt in the second quarter.
Kerley also had just one target before leaving the game. The Jets are on a bye Week 10 before returning to action Week 11 at Buffalo.
Saints TE Jimmy Graham active, WR Marques Colston out 
Jimmy Graham played on one bad foot last week and caught two touchdown passes, the Saints are hoping he can do the same this week. Graham (foot) was limited in practice all week but will play Sunday. Wide receiver Marques Colston, meanwhile, is inactive with a knee injury. 
Texans RB Arian Foster could miss his first game since 2011
CBSSports.com NFL Insider Jason La Canfora went on Fantasy Football Today Sunday morning to report that  <a href=  running back  <a href=  may not play in Week 9 against the Colts. He said it "doesn't look good" for his chances of playing through a hamstring injury, which will likely leave  <a href=  (ribs) as the starter for Sunday night's game.
Bills will start Jeff Tuel at quarterback against Chiefs
Jeff Tuel will start for the Buffalo Bills Sunday against the unbeaten Kansas City Chiefs, according CBS Sports NFL Insider Jason La Canfora. The Bills have not announced a starter with Thad Lewis listed as doubtful, but Tuel, an undrafted free agent, will make his first start, the source said. Matt Flynn will be the primary backup and Lewis is not expected to be active.
Falcons WR Roddy White inactive vs. Panthers
Before Week 7, Roddy White had never missed an NFL game in his nine-year career, now he'll his third straight. White has missed the past two weeks with injuries to his hamstring and ankle, and those two injuries will keep him from playing against Carolina.
Josh Freeman inactive in Week 9
The  <a href=  already announced Friday that quarterback  <a href=  will not start in Week 9 against the Cowboys, and now he won't be in uniform at all. Freeman is inactive Sunday, despite being healthy. Matt Cassel will be the backup with Christian Ponder starting. 
DeMarco Murray starting Sunday
After missing two games with a knee sprain, Cowboys RB DeMarco Murray is active and will start Sunday against the Vikings.
Daryl Richardson unable to take the field; Zac Stacy active.
<a href=  running back  <a href=  (foot) struggled with his injury throughout the week in practice, and it will keep him off the field in Week 9. Richardson is listed among the team's inactives Sunday, prior to the game against the Titans. But running back  <a href=  (foot) is active and in uniform, as expected. Despite being limited at times during practice, Stacy will start Sunday's game.
John Fox to undergo heart procedure
<a href=  head coach John Fox will undergo an aortic heart valve replacement early next week at a Charlotte-area hospital. The procedure is expected to keep him in the hospital for at least two weeks. 
"Although I am disappointed I must take some time away from the team to attend to this pre-existing health condition, I understand that it's the right thing to do. I have great confidence in our coaches and players, who are fully committed to our goals," Fox said in a statement. "I look forward to returning to coaching as soon as possible."
Saints activate LB Jonathan Vilma
Jonathan Vilma has been activated from injured reserve and he is eligible to play Sunday. And while the team hasn't announced that Vilma will be on the field when the team faces the Jets, it's reasonable to think that they wouldn't put him on the active roster unless there was a plan to use him.
Steelers OG David DeCastro ruled out
Ben Roethlisberger is running out of people to protect him. Steelers starting right guard David DeCastro (ankle) didn't practice all week and has been ruled out for Sunday's game against New England. That's bad news for a Pittsburgh offensive line that's struggled this season. Roethlisberger has been sacked 26 times, the fourth most in the NFL. DeCastro's replacement, Guy Whimper , was on the injury report this week with a knee problem, but will play against the New England Patriots . 
Eagles QB Michael Vick officially out, Nick Foles will start
If you were hoping a last second miracle would heal Michael Vick (hamstring), it didn't happen. Vick has officially been ruled out for Sunday's game against the Oakland Raiders . Earlier this week, Eagles coach  Chip Kelly said Nick Foles would be the starter in Oakland and he wasn't kidding, Foles will be the starter in Oakland. 
After six weeks of football, is any team any good? Check back next month

The league has been working closely with civic-minded players on ways to assist them in their...

The 2018 draft class is shaping up to be absolutely loaded at the running back spot
Micah Roberts is gunning for nine straight winning NFL picks on 'Thursday Night Football'

Did Jackson text Deshaun thinking it was DeShone? Not the case, according to the Browns co...

The Vikings coach says the way that linebacker Anthony Barr tackled Rodgers was within the...