NFL Week 9 picks: Surging Panthers will beat up struggling Falcons
Here are three reasons why the Panthers will cover the 7.5-point spread vs. the Falcons.
• 2 min read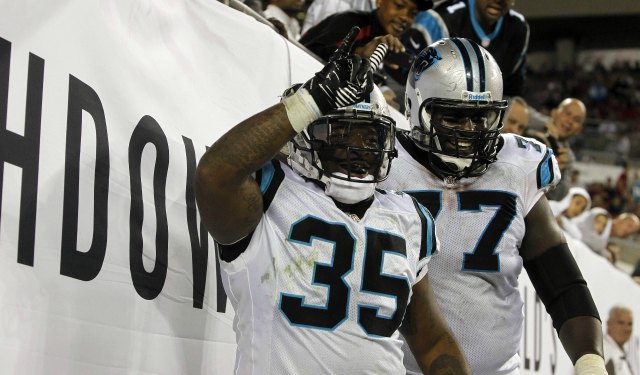 If you'd asked me two weeks ago, I probably would have guessed the Falcons would be 7.5-point favorites against the Panthers heading into Week 9, and yeah, I probably would have taken Atlanta.
But man, there's been a huge change in how I see these teams, especially after their Week 8 performances. Carolina went to Tampa Bay on a short week and dominated a Buccaneers team already in its death spiral. Still, the Panthers performance was awesome and had some people thinking Carolina could make a run to the playoffs.
Meanwhile, the Falcons traveled to Arizona and looked absolutely terrible vs. the Cardinals. Considering Atlanta is 2-5, the playoffs are almost completely out of the question for a team some thought could make the Super Bowl.
Now, I like the Panthers at -7.5, and here are the three reasons why.
1)Cam Newton is playing like a No. 1 overall pick and Matt Ryan is not. OK, the Falcons quarterback went No. 3 overall, but still, the point remains. Ryan signed a $113 million deal in the offseason, and he's not exactly playing like it (he's actually not having a bad year, but he's also not getting much help from the rest of his offense). Newton, on the other hand, is going through the best three-game stretch of his career. See what I mean?
 
Passing
Rushing
Rk
G#
Date
 
Opp
Result
Cmp
Att
Cmp%
Yds
TD
Int
Rate
Att
Yds
Y/A
TD
5
5
2013-10-13
@
MIN
W 35-10
20
26
76.92%
242
3
0
143.4
9
30
3.33
1
6
6
2013-10-20
 
STL
W 30-15
15
17
88.24%
204
1
0
136.3
10
26
2.60
0
7
7
2013-10-24
@
TAM
W 31-13
23
32
71.88%
221
2
0
111.6
11
50
4.55
1
Not shockingly, the Panthers have won three-straight and, at this point, are saving Ron Rivera's job.
2) The Falcons skills players are hurt or ineffective: We've seen the effects of how Atlanta's offense functions without injured receivers Julio Jones and Roddy White, and it's not pretty. Harry Douglas, as the new No. 1 receiver, has performed well, but if the opponent can double-team tight end Tony Gonzalez with little reason to worry about the rest of the Falcons weapons, the offense has an even tougher road. And though the team got running back Steven Jackson back this past Sunday for the first time since Week 2, he only gained six yards on 11 carries (that's a robust average of 0.6 yards per attempt) and looked old and slow. So, what does Ryan do? Well, if four of the past five games is any indication, he loses.
3) The Panthers defense is tough to beat. Carolina is ranked No. 3 overall in defense this season, and the Panthers have been even tougher against the run with a stout front-seven that includes Greg Hardy, Charles Johnson, rookie Star Lotulelei and Luke Kuechly. The last time the Panthers were this good on defense was 2005. That team went to the playoffs. Will this team follow suit? I'm not sure, but beating Atlanta will help propel the Panthers there a little bit faster.
Follow Josh Katzowitz on Google+
Chiefs quarterback Alex Smith has a 9-1 career record against the Raiders

The 49ers have been competitive despite an 0-6 start. Are they getting the Cowboys at the right...

Kansas City is looking to bounce back from its first loss of the season
Check out the uniforms that Kansas City and Oakland will be wearing on Thursday

Cliff Avril's NFL career might be over

Oct. 18 is a very special day in NFL lore