NFL Week 9: Seahawks-Bucs tickets almost as much as Bears-Packers
Seahawks tickets are expensive, no matter who Seattle's playing. The Seahawks are hosting the 0-7 Buccaneers on Sunday and the cheapest ticket to the game is over $100.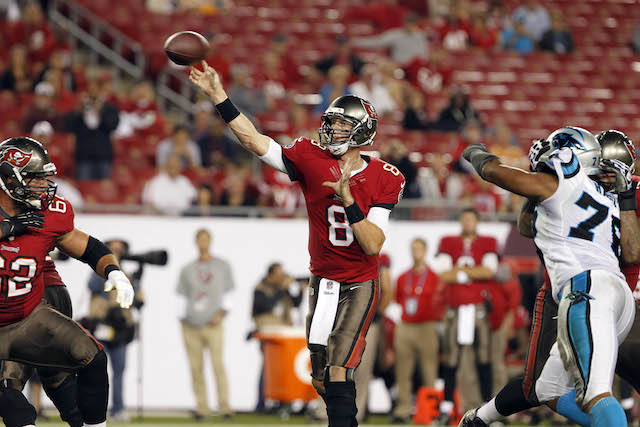 If there's one lesson to be learned from NFL ticket prices this week, it's that Seahawks fans would probably pay $100 just to watch the team eat ham sandwiches for three hours. 
The cheapest ticket to Sunday's game between the Seahawks and 0-7 Buccaneers in Seattle is $112 on TicketCity.com. We know Tampa Bay fans aren't buying those tickets because they don't even buy tickets for home games -- not that I'm blaming them --  if you need proof though, just look at this picture from Tampa Bay's Week 8 home game against Carolina.
The fact that Seattle fans are willing to empty their bank account to see the Seahawks shouldn't be a surprise to anyone. The highest ticket price so far this season came in Week 2 when Seattle hosted San Francisco. The cheapest ticket to that game on the secondary market was $222.
If you want to watch a winless team play for free, I'd say watch the Jaguars, but they're on a bye this week. So if you want to see a winless team play, it looks like you'll have to fork over the $112 for a Buccaneers-Seahawks ticket.
If you want to spend that kind of money, but actually watch two good teams -- instead of just one -- you can get a ticket to Monday night's game between the Bears and the Packers for $121.
On the other hand, if you only have a $10 budget for the week, but you still want to see an NFL game, I hope you live in St. Louis. Tickets to the Rams-Titans game are going for as low as $9. Rams tickets are obviously in high demand this week because they've shot up in price. In Week 8, you could get into the Rams Monday night game for only $6. 
Before you say no to going to the Rams game, ask yourself this: Would I rather spend my $9 on six double whoppers or a ticket to the game. See what I mean? Not as easy to answer as you'd think. 
Finally, if you've been dying to wear your Ray Finkle, Dan Marino, Ace Ventura group costume to an NFL game, Thursday seems like a good time to do it. It's Halloween in Miami and the Dolphins are hosting the Bengals in a game you can see for as little as $27. Of course, if the Dolphins lose on a last second 26-yard field goal because the hold is not laces out, don't blame me. 
Here's the lowest ticket price on Ticket City for each Week 8 game as of 3 a.m. ET on Thursday. The second price is the lowest price on the NFL ticket exchange run by Ticketmaster. Keep in mind, ticket prices change often.
1. Chicago at Green Bay: $121 -- $100
2. Pittsburgh at New England: $121 -- $89
3. Tampa Bay at Seattle: $112 -- $116
4. Minnesota at Dallas: $97 -- $95
5. Philadelphia at Oakland: $72 -- $83
6. Kansas City at Buffalo: $61 -- $56
7. New Orleans at NY Jets: $60 -- $62
8. Indianapolis at Houston: $55 -- $60
9. Atlanta at Carolina: $54 -- $49
10. San Diego at Washington: $44 -- $38
11. Cincinnati at Miami: $27 -- None available
12. Baltimore at Cleveland: $14 -- $21
13. Tennessee at St. Louis: $9 -- None available
From our friends at TicketCity, you can see the average ticket prices for some of the hottest Week 9 games.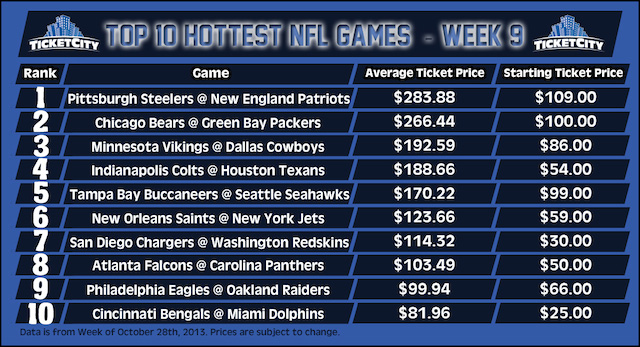 Are you a Tampa Bay fan in Seattle who hates life? Are you buying 100 tickest to the Rams game because tickets are only $9 this week? Let me know in the comment section or on Twitter or make a giant sign that says 'HI JOHN BREECH' and I'll look for you on TV.
---
Follow John Breech on Google+
Plus the Eagles' formula for winning late, the AFC playoff mish mash and a budding young Vikings...

Here are the Week 11 grades for every team that played Sunday

The Eagles move to 9-1 after beating the Cowboys by four touchdowns
Peterman threw five interceptions in the first half before getting yanked

The Vikings' coach addresses the team's cloudy quarterback situation after their eighth win...

Green Bay could have brought in a veteran quarterback but decided to stick with Hundley