NFL wild-card playoff picks: Packers stun Redskins, Bengals end drought
The NFL's first playoff weekend should get pretty wild.
We're less than a week into 2016 and I already have my favorite sports story of the year. If we all just want to agree to flip the calendar to 2017, I'd be fine with that because nothing's going to top Johnny Manziel skipping out on the Browns game to reportedly go to Las Vegas. 
To be fair, if any normal person had the choice of going to Vegas or a Browns game, pretty much everyone's going to pick not the Browns game.
The best part of the story isn't that Manziel was reported to be in Vegas, but what he was wearing while he was in Vegas.  
So ESPN Las Vegas is reporting Manziel was in the club Sat. night in a blonde wig, fake mustache and gasses. Dude is an absolute jester.

— Brandon Castel (@BCastOhio) January 5, 2016
Honestly, I can't fault Manziel here because I have an entire closet full of wigs and fake mustaches I only wear in Vegas. 
The only downside to Manziel's trip is that the city's probably going to have to change its slogan now, because apparently, what happens in Vegas doesn't stay in Vegas anymore. 
Speaking of Vegas, call your bookie because it's almost time for my wild-card picks. 
Before we get to the picks though, I should mention that I'm adding one thing this week, which will be me trying to tell you why I may or may not know what I'm talking about. 
Here's how it works, I've tabulated all my picks from the season and now you'll know how I did picking each individual team. For instance, I went 11-5 picking Packers games, which I would've been more proud of if I had gotten some free cheese out of it. 
Anyway, now it's really time for the picks, and don't forget, you can check out the wild-card picks from every CBSSports.com expert by clicking here.
Wild Card Weekend Picks
Jan. 9 (AFC games)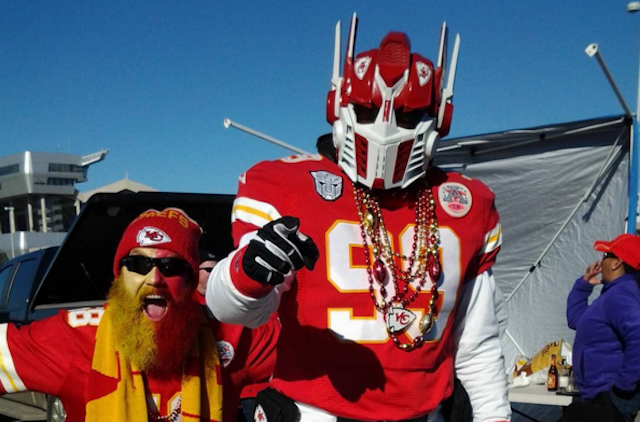 | | | |
| --- | --- | --- |
| |  at  | |

No. 5 Kansas City at No. 4 Houston (9-7)
Saturday, January 9, 4:35 p.m. ET (ABC/ESPN)
The last time that these two met, Brian Hoyer was so bad that he got benched in favor of Ryan Mallett. The same Ryan Mallet who slept through so many meetings he basically gave the starting job back to Hoyer. 
Hoyer and Mallet were two of the four starting quarterbacks the Texans used. Using that many quarterbacks is never a good thing, at least when it comes to the playoffs. Since 1986, there have been a total of five playoff teams that used four or more starting quarterbacks in a season and those five teams combined to go 0-5 in the playoffs. That list includes the 2013 Packers, who lost in the playoffs with Aaron Rodgers. 
The problem with starting so many quarterbacks is there's no continuity and continuity is important when trying to put together an efficient offense, which the Texans will need because they're going up against the NFL's No. 7-ranked defense. 
Besides the Chiefs game in Week 1, the only other top-10 defense Hoyer and the Texans faced this season came in a 27-6 loss to the Patriots. I just don't see the Texans being able to score very many points. On the other hand, I don't expect much from Kansas City's offense either, but I think they will play slightly better than Houston's offense. 
On a somewhat related note, although everyone talks about the Bengals playoff drought, the Chiefs' have one that's almost as ugly: Kansas City hasn't won a postseason game since Jan. 18, 1994 vs. the Houston Oilers. The starting quarterbacks were Warren Moon and Joe Montana. I feel like we might not see that type of talent from the quarterback position on Saturday. 
The Pick: Chiefs 24-17 over Texans. 
Record picking Kansas City games this season: 11-5
Record picking Houston games this season: 9-7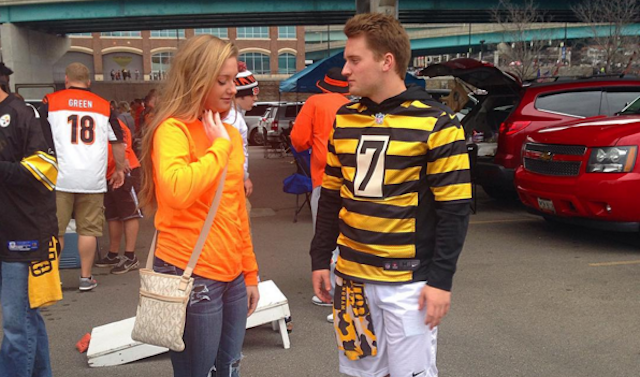 | | | |
| --- | --- | --- |
| |  at  | |

No. 6 Pittsburgh (10-6) at No. 3 Cincinnati (12-4)
Saturday, January 9, 8:15 p.m. ET (CBS)
I have a confession to make, I was at the game the last time the Bengals won in the playoffs. I think I ate some nachos. I definitely didn't have any beer, because I was only 8 at the time, and even Ohio doesn't let 8-year-olds drink, which I think is the only drinking law the state has. I'd show you pictures of that day at Riverfront Stadium, but my parents didn't take any because I was an ugly kid and they didn't want to waste any film on me, which I can't really argue with. 
The point is I've watched a lot of Bengals playoff games and I've expected them to lose pretty much every single one. For instance, last year, I picked them to lose to the Colts and then they lost to the Colts because basically that's all they do in the playoffs is lose.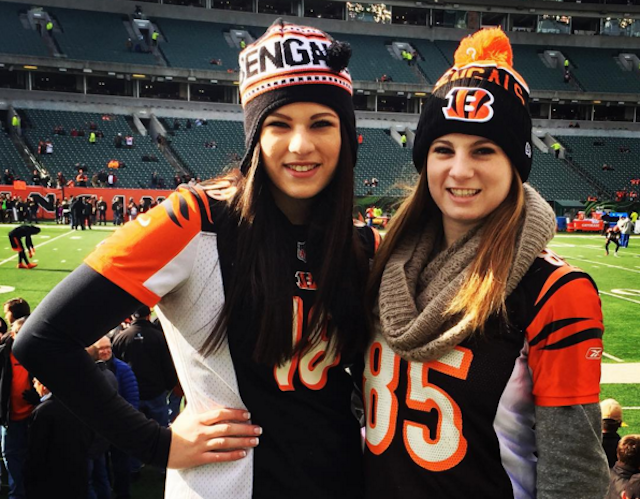 If you've lost track of all the Bengals playoff losses, which is easy to do, especially recently, they're 0-6 since 2005 and haven't won a postseason game since Jan. 6, 1991.
The last time the Bengals won a playoff game was Jan 6, 1991. Boomer Esiason beat the Oilers 41-14 and Jim Breech had two FGs. Jim Breech!

— Peter Schrager (@PSchrags) January 3, 2012
The guy who will likely be starting at quarterback for the Bengals this week, AJ McCarron, was a 4-month old baby when Cincy won its last playoff game. 
The crazy thing here is the Bengals' best chance at a playoff win in 10 years is going to come Saturday. For one, everyone's expecting them to lose, so there's less pressure. Most important though, the Bengals are more talented than the Steelers at almost every position. Ben Roethlisberger is definitely better than McCarron and Antonio Brown is slightly better than A.J. Green. Other than that, the Bengals have an advantage at almost every other position. 
Also, the fact McCarron is starting on Saturday isn't the worst thing in the world. The former Alabama quarterback played in two national title games in college, so there's no way the spotlight's going to be too big for him, which sometimes happens to the Bengals' other quarterback, but I won't mention any names. 
Finally, let's not forget the Bengals aren't the only ones who have been struggling in the playoffs. Since Andy Dalton's rookie year, he's not the only one who doesn't have a playoff win, the Steelers haven't won a postseason game since 2011 either, and that losing streak includes a loss to an 8-8 team that was quarterbacked by Tim Tebow, so let's not pretend like McCarron can't do this.  
Steelers fans coming hard with their signs today #Bengals (via https://t.co/6i3a57Msg0) pic.twitter.com/dTl6TJsil5

— John Breech (@johnbreech) December 13, 2015
The Bengals will win or go down in flames and lose by three touchdowns. If that second one happens, you might as well move the Bengals to Los Angeles because I'm not sure Cincinnati would be able to emotionally handle them anymore. 
If the Bengals don't win I might go and cry in a corner

— Allison Harris (@NewtHarris) January 5, 2016
The Pick: Bengals 23-20 over Steelers. 
Record picking Cincinnati games this season: 12-4
Record picking Pittsburgh games this season: 10-6
Jan. 10 (NFC games)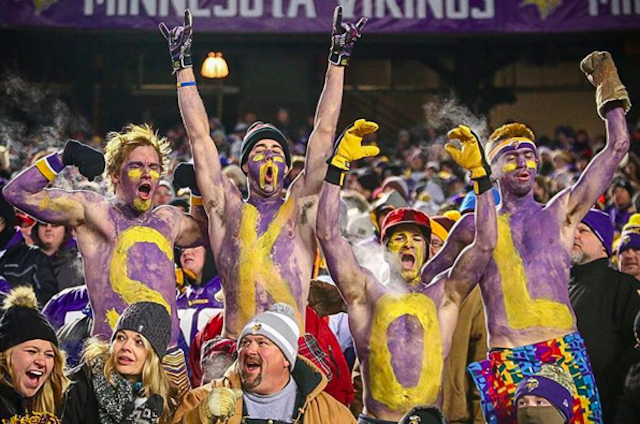 | | | |
| --- | --- | --- |
| |  at  | |

No. 6 Seattle (10-6) at No. 3 Minnesota (115)
Sunday, January 10, 1:05 p.m. ET (NBC)
I know exactly one Vikings fan and I don't think he's smiled once since he found out Minnesota would be hosting the Seahawks, and I feel bad for him, so I decided to do some research that might cheer him up. 
If you watched the Seahawks steamroll the Vikings 38-7 in Week 13, then you're probably thinking Minnesota has a zero percent chance to win Sunday, and that's not a crazy thought. I also thought it.
Anyway, that got me to wondering, when was the last time a team lost by 30 or more points to a non-division opponent during the regular season and then beat them in the playoffs?
I say non-division because it's not that shocking when it happens in a playoff game with two division rivals. For instance the Patriots beat the Jets 45-3 during the 2010 regular season, then lost to the Jets in the playoffs. The Patriots' loss wasn't that shocking, because the Jets had already beaten the Patriots once during the regular season. 
And yes, I'm sorry for mentioning the Patriots in a week when they're not playing. 
Back to my original point. The answer is yes, a team has beaten a non-division opponent in the playoffs after losing to the same club by 30 or more points in the regular season, but it doesn't happen often. Ironically, the last time a team lost by 30 points or more to a non-division opponent in the regular season and then beat that same team in the playoffs came in 1993, and guess what, it came in the Chiefs' last playoff win.
Kansas City lost to Houston 30-0 during the regular season and then beat them 28-20 in the playoffs. So it is possible. It won't happen Sunday, but it is possible.
The Vikings scored zero offensive points in the first game between these two and I don't see them doing much better this week.
Unless the Vikings bring Ragnar back and he hits the Seahawks with some sort of Norseman curse, I don't see Minnesota winning. 
The Pick: Seahawks 27-13 over Vikings. 
Record picking Minnesota games this season: 9-7
Record picking Seattle games this season: 11-5
Note: The Vikings will never bring Ragnar back. He's a traitor. 
VIDEO: Former Vikings mascot Ragnar puts on a cheesehead hat, chants 'Go Pack.' https://t.co/O72HFcBQ4r pic.twitter.com/zWabwTabZl

— theScore (@theScore) January 3, 2016
| | | |
| --- | --- | --- |
| |  at  | |

No. 5 Green Bay (10-6) at No. 4 Washington (9-7)
Sunday, January 10, 4:40 p.m. ET (FOX)
The Packers offense has basically been horrible for the past eight weeks, which is usually a giant problem when a team's trying to win in the playoffs, but Aaron Rodgers says it's not a problem, so it's not a problem.  
During a recent interview, Rodgers said it doesn't really matter how bad the Packers have played recently because they'll show up when it counts. "I have confidence in those guys and myself that when it matters for all the marbles, we're going to show up," is exactly what Rodgers said. 
I'm not sure how many marbles are on the line Saturday, but I think it's all of them and I believe Rodgers when he says the Packers are going to show up. Rodgers has never let me down before. For instance, he said Juwanna Mann was a good movie and not coincidentally, Juwanna Mann is now my favorite sports movie of the past two decades. 
Wish I could have been in that heat locker room last night when Juwanna Man gave his speech. #leader #suitgame #midrange #

— Aaron Rodgers (@AaronRodgers12) May 31, 2013
Juwanna Mann's not the reason I'm going to pick the Packers though. I'm picking the Packers because if they could've hand-picked their opponent for Saturday, they would've picked the Redskins, thanks in large part to the fact Washington has the NFL's 28th-ranked defense. Rodgers will basically be playing against air, which isn't exactly an insult to the Redskins because I'm not convinced the Packers could beat a defense made of air right now. 
Finally, I'm not saying it means anything, but I'm going to go ahead and point out the fact the Redskins played three teams in 2015 that finished with a winning record. In those three games, the Redskins went 0-3 and were outscored 105-46. The Packers had a winning record. 
The Pick: Packers 20-17 over Redskins. 
Record picking Washington games this season: 10-6
Record picking Green Bay games this season: 11-5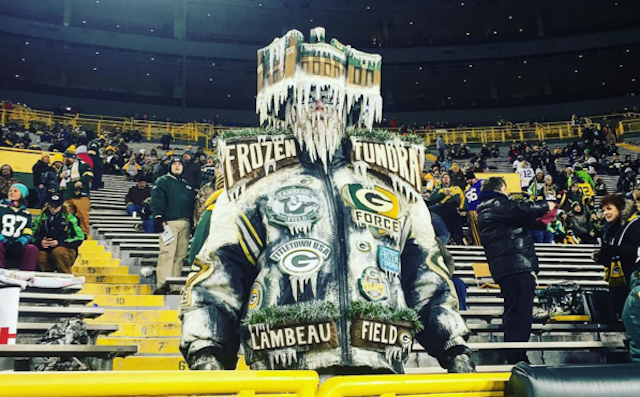 Last Week 
Best Pick: Last week, I picked the Packers to lose by seven to the Vikings and then the Packers went out and lost by seven to the Vikings. Basically, I said the game would be the lock of the century because I thought the Packers would play horrible on purpose so Green Bay wouldn't have to play Seattle in the playoffs. I ended up being about half right. The Packers were definitely horrible, I'm just not sure it was on purpose. 
And just for the record, I'm not the only one who thought the Packers completely tanked it against the Vikings so they could avoid the Seahawks. 
I get a weird vibe the packers are tanking idk

— John (@Friar_Faithful) January 4, 2016
Packers out here tanking to avoid Seattle.

— Doc Kennedy (@DocHeelfire) January 4, 2016
Are the Packers this bad, or are they tanking so they don't have to play Seattle next week?

— Shawn Deal (@ShawnDeal) January 4, 2016
The Packers' "tanking" plan worked to perfection though, even if they weren't technically tanking. The only way the Packers could end up playing the Seahawks in the playoffs would be in the NFC title game and if that happens, the game will be played at Lambeau. 
On the other hand, if the Packers weren't tanking and they're just that bad, then my Redskins-Packers pick is going to be horribly wrong and Green Bay's going to lose by 40. 
Worst Pick: From 2011 to 2014, Rex Ryan did a fantastic job of making sure the Jets didn't get to the playoffs while he coached the team, so why would I think that would change just because he's now the coach of another team?
It didn't change.
For the fifth straight year, Ryan was single-handedly responsible for the Jets not making the playoffs. The problem for me personally is that I picked the Jets to beat the Bills. In Buffalo. With Ryan Fitzpatrick. 
If I were a Jets fan, I'd spend the entire month of January drinking Keystone Light and trying to forget Week 17 ever happened. However, if you're a Jets fan and you decide to go that route, don't forget everything about Week 17, make sure you hold on to the memory of Dan Carpenter slamming a helmet into his own face. That's a keeper. 
Dan Carpenter will hate himself even more after this #BillsMafia #Ouch pic.twitter.com/QRJBYDsL00

— SiriusXM NFL Radio (@SiriusXMNFL) January 3, 2016
Picks Record
2014 Wild-Card record: 3-1
Straight-up in Week 17: 9-7
Final regular season record SU: 152-104
Against the spread in Week 17: 8-8
Final regular season record ATS: 126-130
Exact score predictions this season: 2
---
You can find John Breech on Twitter or on Facebook and if he's not doing one of those two things, he's cleaning his fake mustache collection.
Pick Six Newsletter
Get the day's big stories + fun stuff you love like mock drafts, picks and power rankings.
Please check the opt-in box to acknowledge that you would like to subscribe.
Thanks for signing up!
Keep an eye on your inbox for the latest sports news.
Sorry!
There was an error processing your subscription.
NFL Network host Dave Dameshek joins The Jonah Keri Podcast

The Broncos pass rusher also breaks down the differences between the 2015 and 2018 Broncos...

Apparently the Patriots have not traded for Josh Gordon yet
The former Rams running back wants every Hall of Fame player to get $300,000 per year from...

Mike McClure, a DFS pro with more than $1M in winnings, gives optimal DraftKings and FanDuel...

The FanDuel Sportsbook in New Jersey is refusing to pay a bettor the $82,000 his ticket said...